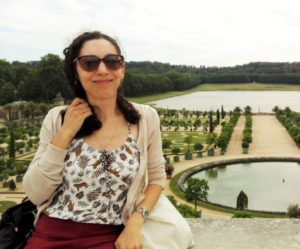 Who am I?
Before I wrote this section, I pondered… How can you summarize who you are in a few lines? That's crazy, isn't it?
But then I thought, it doesn't have to summarize me, it should simply introduce me to you, my dear reader.
First of all, I am flattered you are reading those few lines, it means you CARE! Thank you!
For the purpose of this blog, I decided to choose my own name, because it reflects much more on my personality than my real name. I chose Ella Travels because I am actually born on Saint Ella's day.
And I was a also a fan of France Gall when I was a kid. She left us in 2018, but she was always singing meaningful songs that touched my heart, like Ella elle l'a. A lot of people don't know that this song is originally from Michel Berger and sang by France Gall.
That's how I got to get curious about Ella Fitzgerald, and I thought we had lots of things in common. She was always travelling! Not for the same reasons like me obviously!
She loved singing, and even if I can't sing that way, I also love singing!
She was proud of her roots, and fight segregation with the means she had. I am also proud of my roots and I am always a foreigner for others, but I don't feel that way!
Did you know she also had a lack of confidence? In her last days she was wondering why she got so successful and thought that it was actually because people liked the songs….
And what I like the most about her, is that she was a fighter. She never gave up. Even when she lost her legs, she said she didn't need them to sing. What an inspiration for me who cannot stand for more than a few minutes!
Why do I write about travel?
It would not come as a surprise if I would start this page saying: "I love travelling bla bla bla…"
It doesn't mean much nowadays, we are so many who love travelling. And as a matter of fact, you may even have travelled at a larger extent than I did…
So how did I end up loving travelling?….Once upon a time…about "my roots"…
I was exposed to traveling at a very young age, because I am a mix of cultures and because of my father's profession.
A cultural shock for me was to go to Madagascar when I was 6. Being born in France, there is just so many differences between there and Europe…
I believe this triggered this passion I had about traveling, even though it took me a while before I could actually afford traveling.
A little background about this blog
Well, first things first… I love writing… before I even had the chance to travel, I remember at the time there were no computers at home, nor the internet (yeah well, relax, I am not THAT old!), I was writing long letters to long distance friends, pen friends (to learn languages) or family…or even to myself in a diary…
Writing to express myself, opening my heart to others, communicate to the world, I guess that's when you start traveling, isn't it?
You say what you think but more than what you think, it's what you feel.
Another important background about me…
I used to be a travel specialist for the French market of an American company who had over 45 000 clients. I absolutely loved my job, the more complicated the trip, the more I enjoyed organizing it! And with this job came a lot of perks like travel vouchers, highly discounted flight tickets or car rental, making it easy to travel. We even had free accommodation so I had the opportunity to learn a lot about how to organize trips and actually visiting myself great areas of our beautiful planet.
At the same time, I have seen the other side of the coin: destruction of the environment to accommodate the maximum tourists possible and make the most possible short term money… That is probably why I have decided to resign after 5 years, when most clients ask you for a Paris – Tenerife ticket, I realized that was not the kind of trips I wanted to promote (don't get me wrong, Tenerife has also a lot to offer besides Playa de las Americas and Los Cristianos!)
So what can you expect?
I want to reflect my values through this blog and I have a few important ones…
So one of my purposes here, besides giving you a few tips of course, is more about telling you how I felt about those places I have visited.. I can always recommend you a list of things to do but that has little value as you would be able to find that anywhere else in rough guides. What I really hope to achieve is to transmit my feelings and inspire you!
Another thing I wanted to mention here is why I chose this domain name: worldtravelable.com
I always wanted to travel the world, even though it was not always possible.
You may not be able to travel because of money, work, family, health… I am experiencing myself a few health challenges since I am a teenager but I decided that I would not let that hinder me from travelling. I want to be able to travel, no matter what!
So what I want to demonstrate here is that despite everything, there is always a way to travel.
I looked at options that could still enable me to experience any new trip, enjoying the ride and adventure of discovering new places!
My goal now when I travel is to do my best to adapt to those health challenges and look at ways I can still travel safely and enjoy fully my experience.
After all, there are people in worst conditions who still travel, so, why couldn't I? I am still healthy enough!
You could have young kids, have health challenges, a limited budget, or simply hate the hassle of walking a lot like my husband, have a look at my blog, I could come up with great ideas to make it easier for you!
And that's what I want people to do after they read my blog: get inspired, stop the excuses and pack their bags to discover a new place.
I also want people to realize that we need to travel responsibly. I have seen some of my favourite places in the world getting totally damaged… it broke my heart. I am also going to talk about this in my blog, in order to raise awareness. I think people are not bad people, they just don't realise how harmful their actions can be. And the best thing to do about it is sharing, teaching and telling. We all want to travel and see beauty I believe…
To conclude…
Travelling is the best university in life, you will discover other cultures, other people, other ways of thinking, other ideas, other ways of organizing, other types of architecture, other types of landscapes, other types of weather, and all in all, it will be worth the ride, I promise!
And the fact that you are exposed to all those different things, you will above all learn a lot about yourself, and hopefully develop a sense of flexibility and empathy. It will OPEN your MIND!
So what are you waiting for? Read my blog and…. pack your bags!! (Responsibly of course: we want our planet to stay beautiful!!)
Disclaimer: My views are my own, and very personal as an entrepreneur and content writer, and do not reflect the views of my employers, clients or online medias I write for, in any ways.