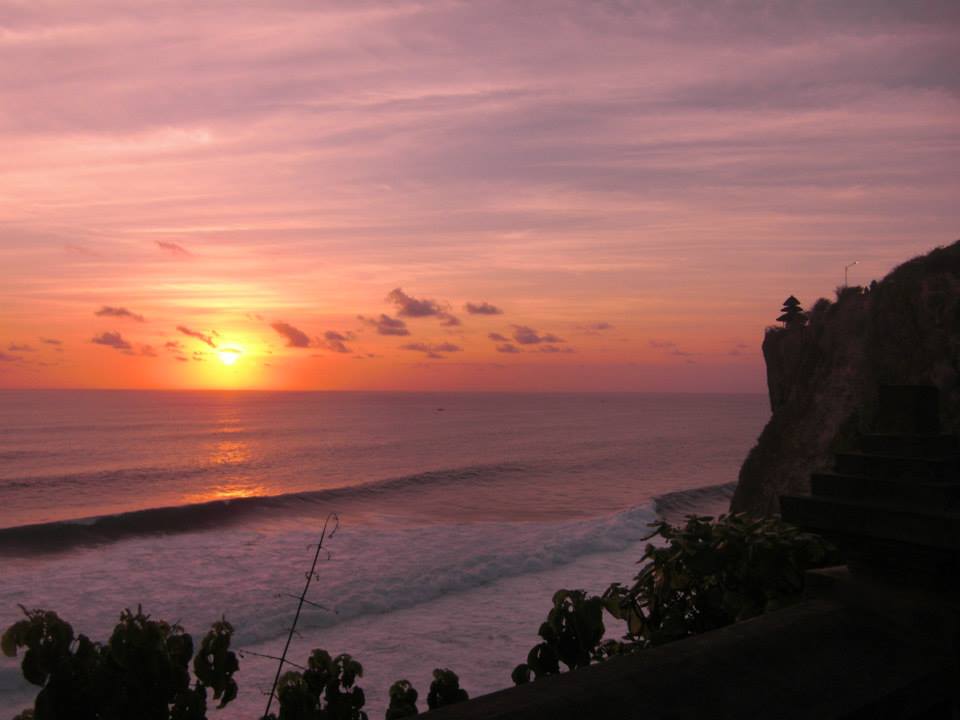 Where I found the best sunsets in the world!
I have always been chasing the best sunsets, in every destination I go to. I am indeed fond of sunsets since a very young age! The light changing at a relatively quick speed, and that transition between day and night has always fascinated me.
When you observe a sunset, you realize a lot of things…
You realize how fast our planet is moving… You realize beauty is ephemeral as well…
No wonder it is often correlated to romanticism…
I guess that's what is making it so special!
"Sunset is still my favourite color, and rainbow is second" ~Mattie Stepanek
For those of you who enjoy photography, you probably love sunsets as well. And if you do, I am sure you are looking for its best versions! Well, here I gathered a few of my best experiences! Enjoy the read and the pics!
Sunset in South Africa
That's one of my very first trips, and the kind of trips you cannot forget!
Many sunsets to enjoy, whether in Cape Town or the Mpumalanga area (Kruger park area).
In Cape Town I recommend going to Camp's Bay: I made amazing pictures that I have enlarged to decorate my place!
I always remember this very special moment, this special holiday, that special evening!
There was another great way to enjoy sunsets: take a sunset cruise! See a sunset with Table Mountain in the background is simply unique!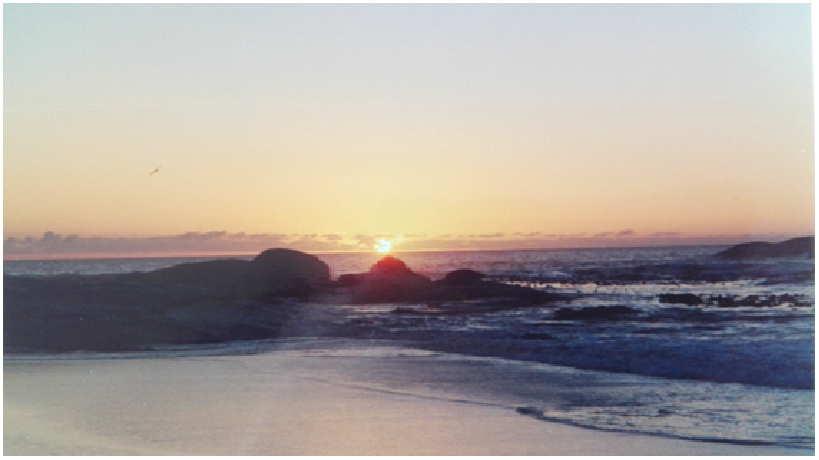 I also had the chance to visit the Mpumalanga area.
This is home to Kruger park, God's Window, Blyde River Canyon, Bourke's Luck Potholes, the Three Rondavels, the Mac Mac Falls and so much more! In this environment, I could totally feel my roots: AFRICA!
Africa gets into you, it's a feeling, an impression that cannot be explained… You need to go there to understand!
When I was in Kruger Park, I remember feeling at peace with nature.
You admire the wildlife, and you wonder why there are wars on this planet. You can't even imagine it because this place is so peaceful and beautiful!
Africa changes you forever, like nowhere on earth. Once you have been there, you will never be the same. " ~ Brian Jackman
Whatever the sunset there, it was always truly memorable! Fauna, flora, waterfalls, canyons in the background, you will not be disappointed!
It wakens your senses beyond the view: the smell, the sound of nature… Believe me, this place is like nowhere else!
Best Sunset in Mallorca: Playa de Palma
Let's go back to a place close by!
Mallorca is busy because it is easily accessible. But it has so much to offer for such a small island!
I was there on a business trip last year and extended it over the weekend to celebrate our anniversary.
During the first evening of the beginning of the fall, after a long day working, I decided to get out of my hotel room and take a walk before dinner.
That's when I realized I should have brought my camera with me, but I left it home!
I stayed in a small hotel on Playa de Palma area, a long stretch of beach near Palma.
Sunset there was definitely worth the stroll!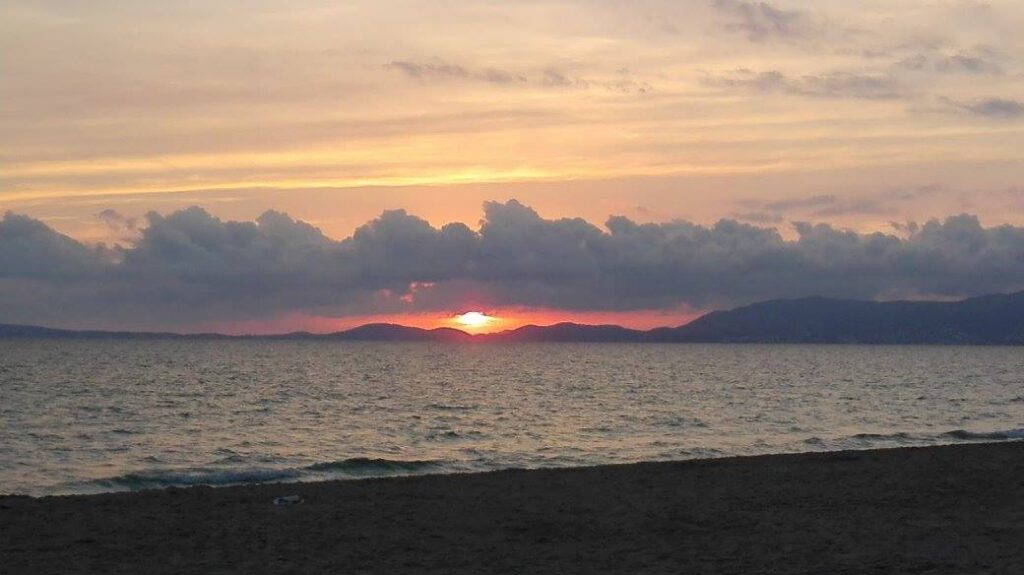 Menorca sunsets
This is one of my latest trips, made in 2021. And for me one of the nicest. If I could, I'd go back there every single year.
The best sunsets are in the west part of the island obviously.
We were staying in Ciutadella during the first week of our holidays, and we just took the car and drove north. We ended up around Punta Nati and many people were also walking along the coast, in this residential area, just to admire the beautiful sunset.
A picture is worth a thousand words as we say, so see it for yourself!
Sfinari sunset in Crete
Crete is a Greek island, that has so much to offer.
Sfinari is located on the west coast of the island, and has one advantage: even in the middle of August, it's not overcrowded like the rest of the island.
Why? Because it's rocky and difficult to access. I guess most people prefer sandy beaches and don't want to spend too much time to reach them.
Sfinari is still busy during lunch or dinner time, as it is known to serve the best fresh fish on the island.
And while you are savouring one of the delicious seafood or fishplates you can order, you will be able to watch one of the best sunsets of the Mediterranean sea.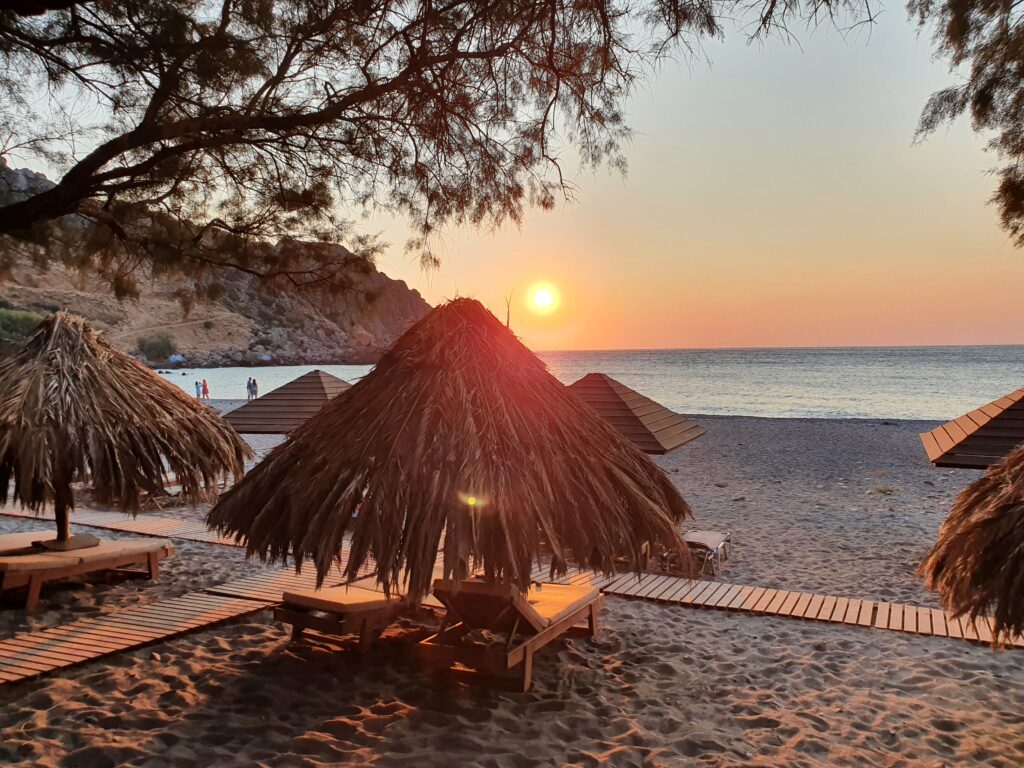 Bali Jimbaran & Uluwatu Temple
Bali's beaches are known all over the world to be a great place for surfing.
For sure I have seen dangerous waves over there!
Uluwatu is one of those places. However there is something else to enjoy: sunsets.
Probably the most beautiful sunsets of the island. You can visit at the same time the Pura Luhur temple of Uluwatu. Just be aware of stealing monkeys! Yes you read right: stealing monkeys! They are trained to steal your easy-to-pick belongings, like sunglasses. But then you will have a local who has also trained them to return your belongings, so that you can give them a tip for their service. If you are aware of this, you will take care that nothing happens! Then you will be able to enjoy a sunset from the top of a cliff with not only the background of monkeys but also a famous Balinese temple!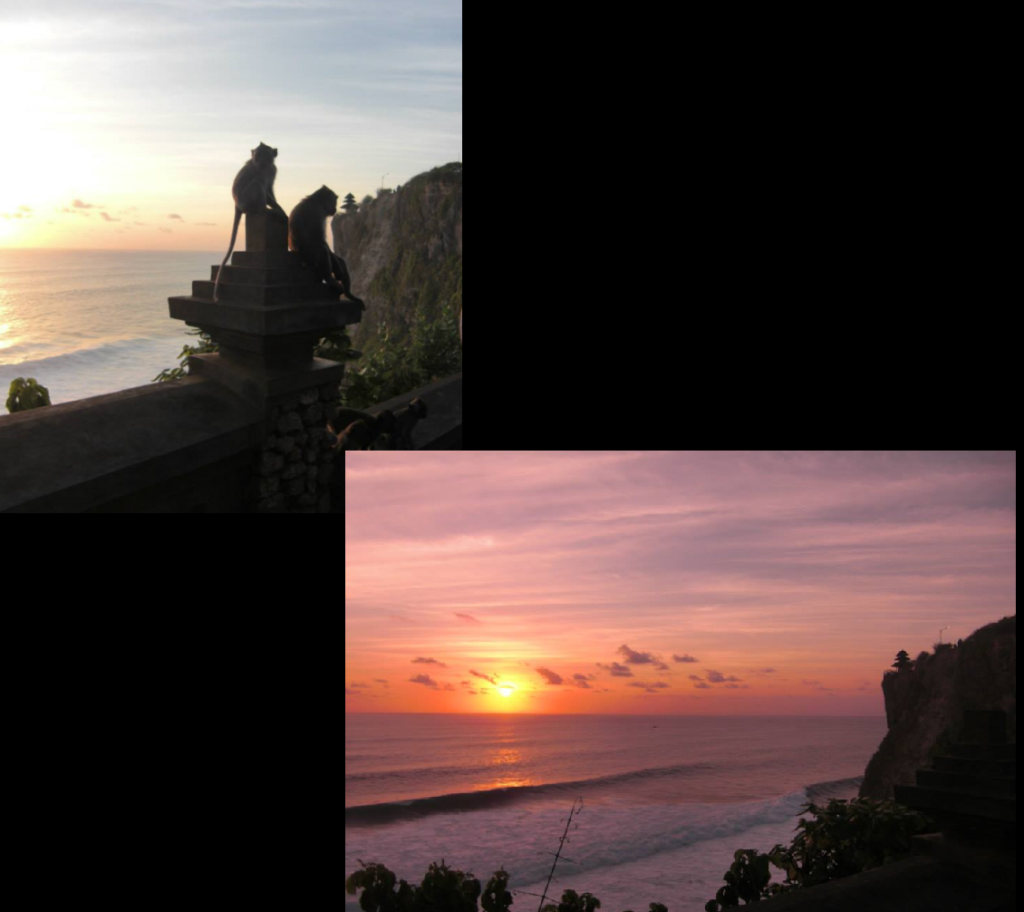 If you want a more quiet evening to enjoy the best sunsets of Bali, allied to a great seafood dinner, just go to Kampoeng Seafood in Jimbaran. You will be able to choose the piece of fresh seafood you want to have cooked on the spot! Then your dinner will take place directly on the beach so that you can enjoy the sunset show, followed by a Balinese dance show once it's totally dark. An unforgettable evening guaranteed!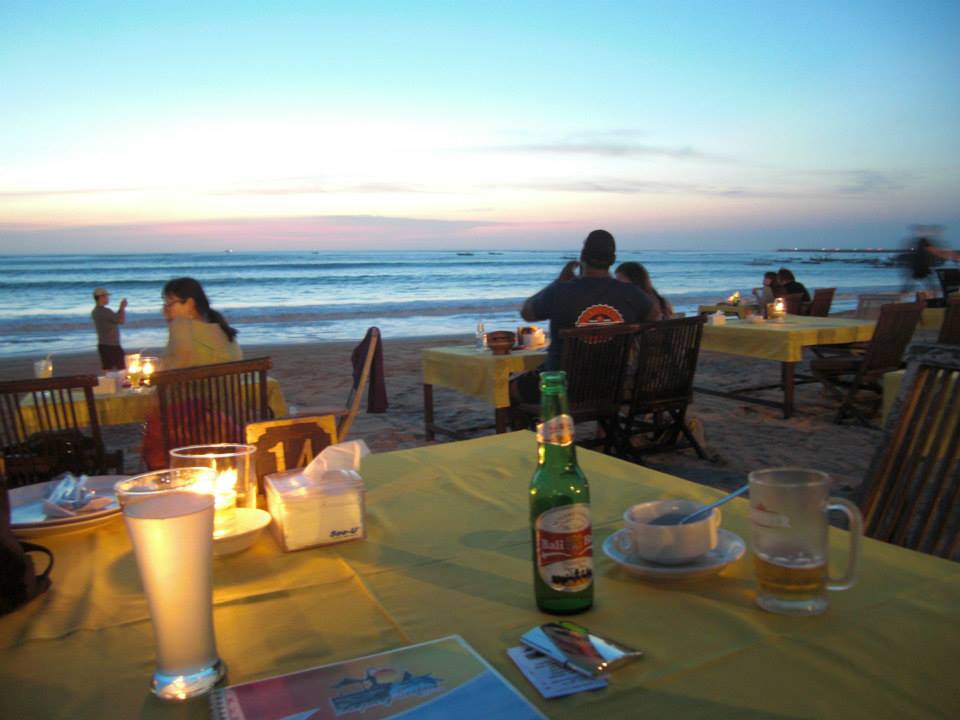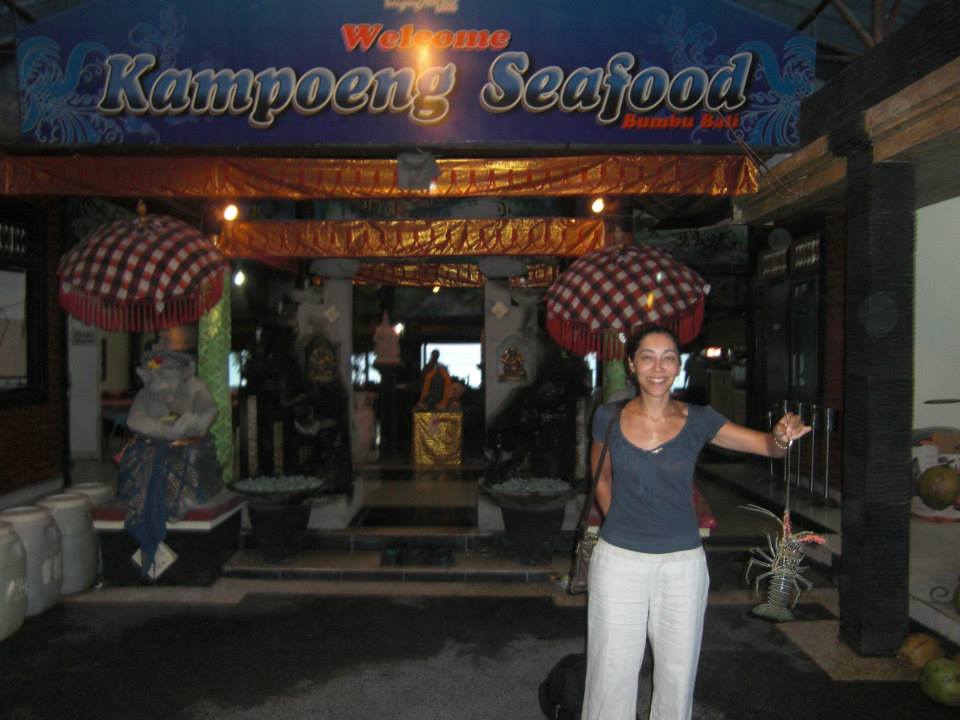 Majunga, Madagascar
Majunga is the 2nd largest harbour of Madagascar, on the west coast. So no wonder that you can enjoy the best sunsets on the island… Although one of my first trips to the island, I was in the south before it became touristic and it was totally amazing too…
But I have to say that I have been charmed in my last trip with the beautiful area of Majunga!
First of all, you have to see THE baobab tree! It is the symbol of the city for his old age, and impressive circumference: 21 meters!
See for yourself, it's a celebrity: Le Grand Baobab rebaptisé
Reunion island sunsets
Near Madagascar, "L'île Bourbon" is such a treasure of the Indian Ocean! There are so many different types of landscapes to discover…Beaches of all types and all colours due to its volcanic activity, a variety of colours due to its heterogeneous vegetation… And their sunsets are simply magic!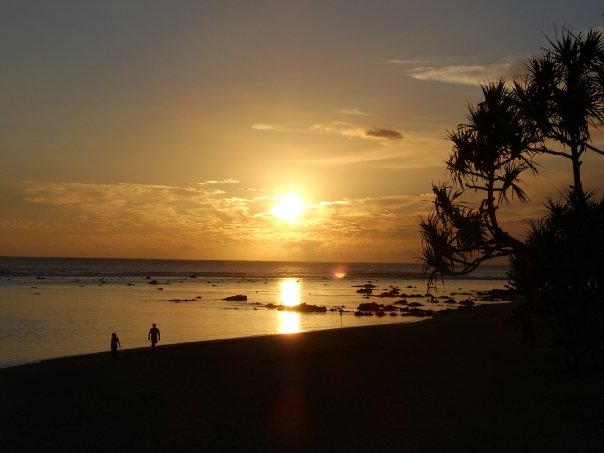 Sunset of Olbia, Sardinia, Italy
It's THAT simple: The first time I saw the sunset from my B&B room in Olbia, I thought it was so beautiful and so romantic that I wanted to celebrate my marriage there one day…
Haven't done so yet but I am already grateful I had the chance to experiment a tiny part of this big island of the Mediterranean!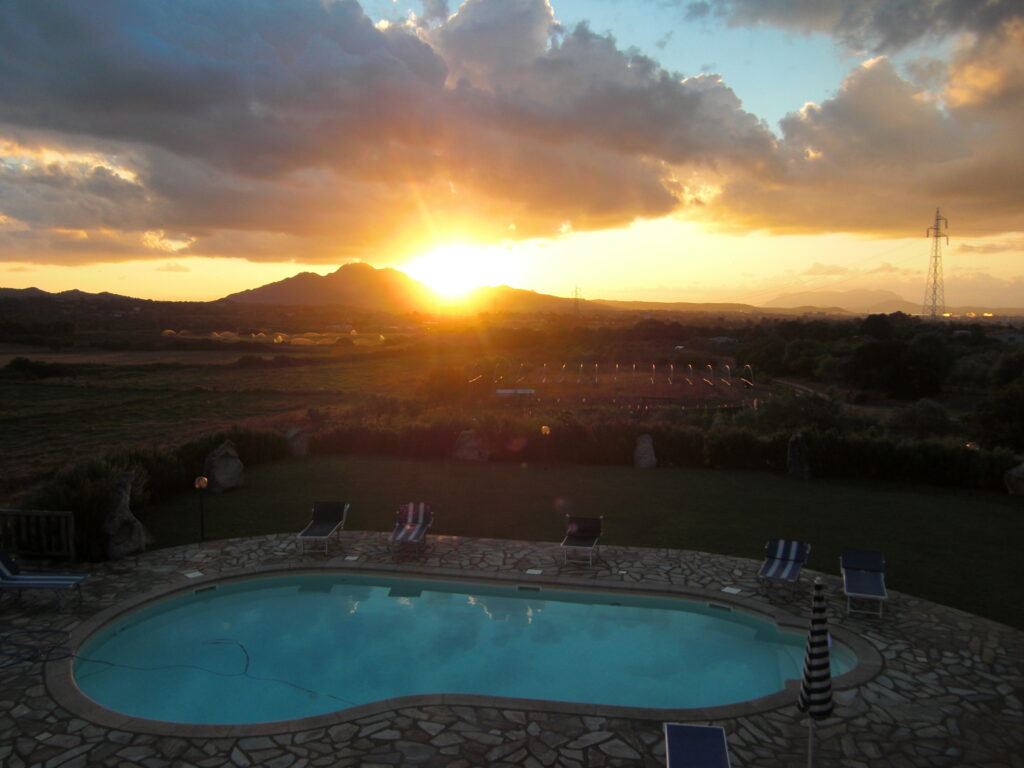 Fort Lauderdale, USA
This is a bit of an exception to my sunset list.
What I experienced there was a gorgeous moonlight over the sea. A really impressive way to transition to the night, see it for yourself!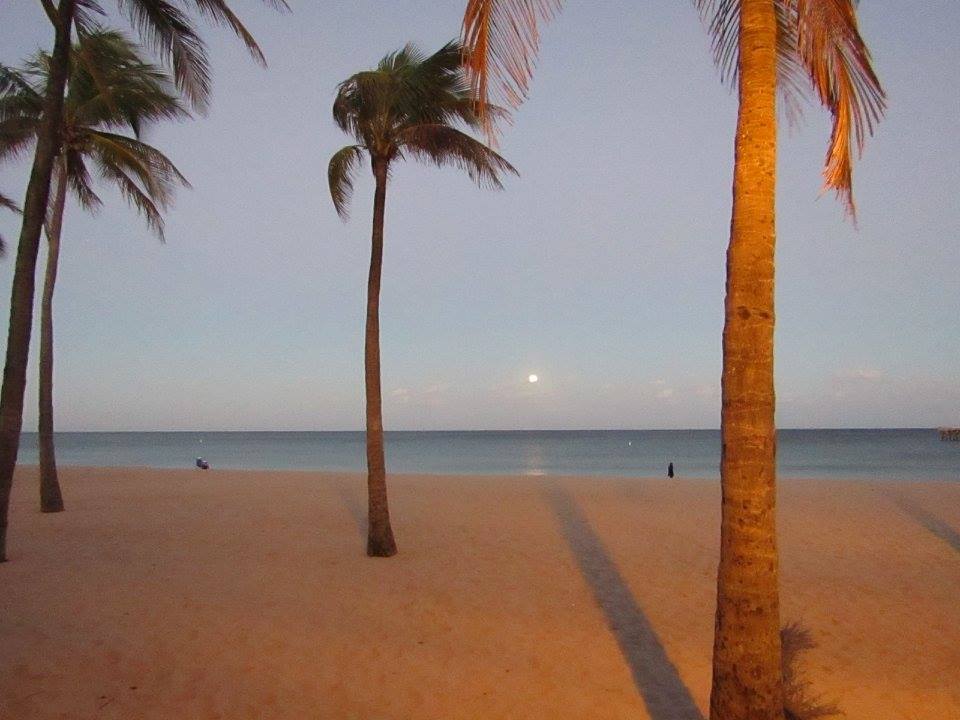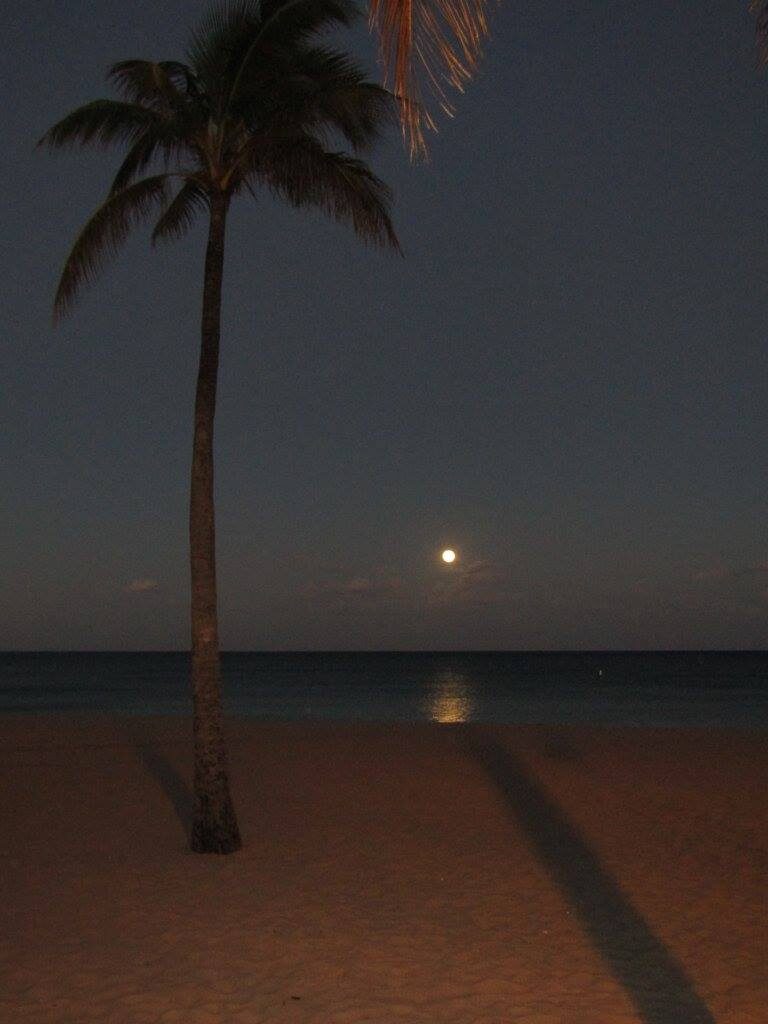 Miyajima island 宮島, The sanctuary island, Japan
Oh, Miya-jima… What can I say about Miyajima…? Well, I can tell you I live in a small apartment, and THAT picture of the sunset overlooking the Torii at high tide is the one I decided to enlarge and display on my living room's wall… Because when I see it, it reminds me of this amazing trip to Japan. A dream came true, Japan has so much to offer and Miya-jima is a MUST in your itinerary!
With the Shinkansen, it's only a few hours away from Tokyo. You will only need to change at Hiroshima to take a local train and then Miya-jima is a short boat trip away…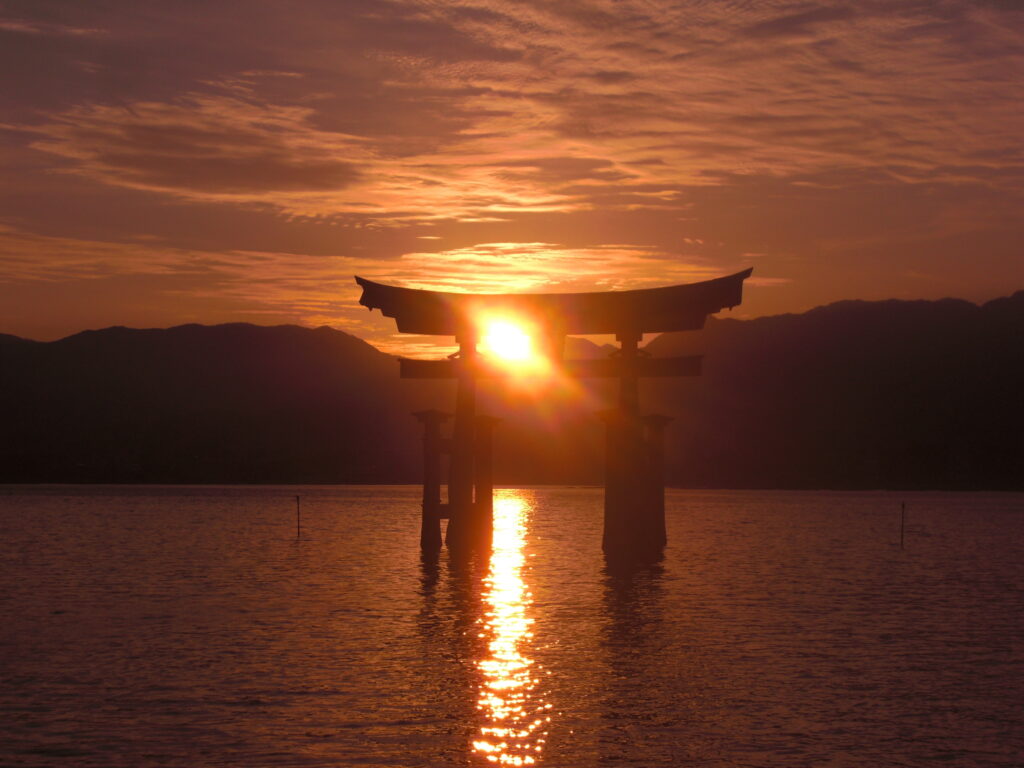 Brazil best sunset
You are probably thinking: oh yeah, Rio de Janeiro and its amazing beaches… Well, although I enjoyed a lot the sunsets while I was on the Sugarloaf, I have to say that Salvador de Bahia offers amazing sunsets, especially at the Faro.
But my favourite one is from Morro de Sao Paolo, which is about a 4-hour journey from Salvador! We went with locals we just met after going on a boat trip excursion the whole day, and it was definitely a great way to end the day! Our new friends brought us to one of the best spots to enjoy it: Toca de Morcego bar! (Meaning bat head).
The sunsets here are simply breathtaking! Lots of people go there around 5 pm to enjoy the sunset because they know the view over the sea is simply amazing…
That was my last holiday, and definitely one of the best I have seen!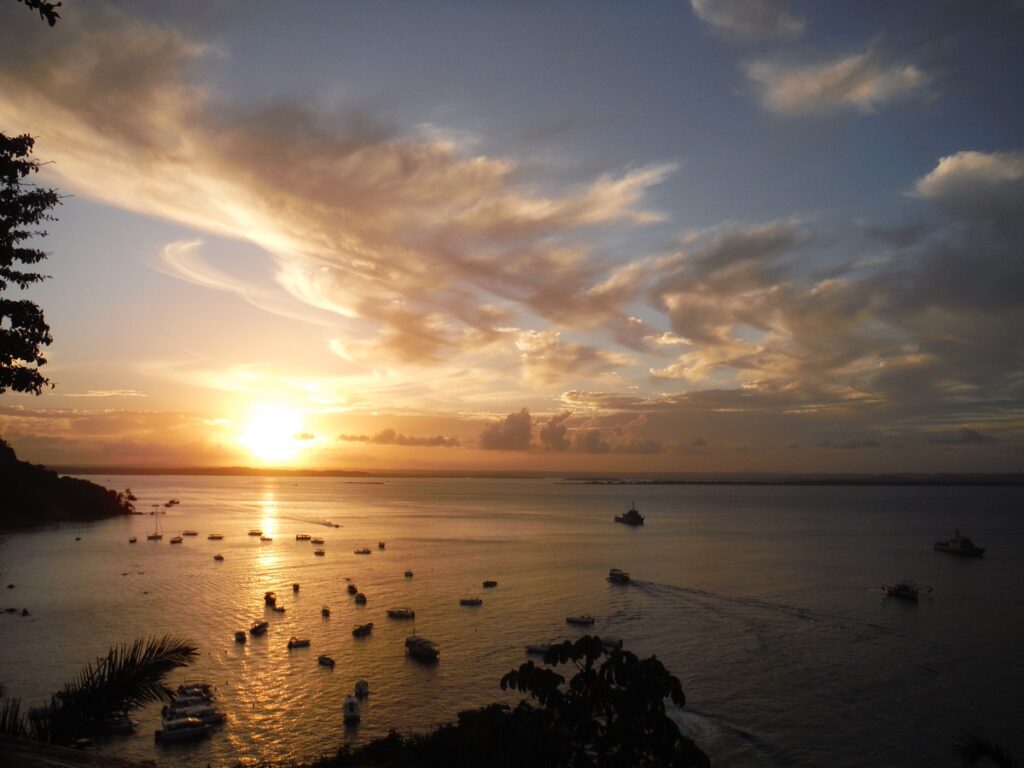 On a cruise!
I am not a huge fan of cruises, but for some destinations, it can be an interesting way of visiting! And if you have lots of physical limitations, it gives you great options! Moreover, many companies have imagined very creative ways to limit their footprint by adjusting the way they consume, I was quite impressed!

And since it is my husband's favourite way of holidaying… I had no other choice than going on the biggest cruise ship in the world for his 40th birthday: The Allure of the Seas!
But whatever cruise you do, you cannot miss the sunset on the sea… it is a true life experience! This one is the Caribbean Voyage from Miami to Haiti, Jamaica, Cozumel… Wonderful January sunset!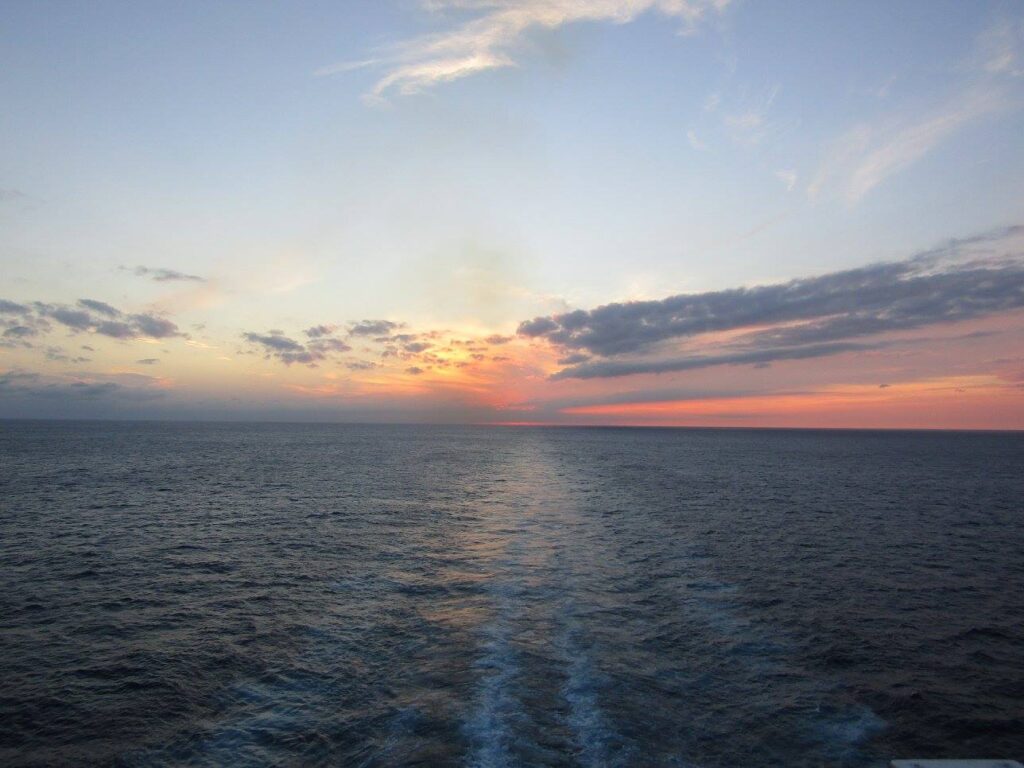 The canyons in the US
Check this out! At Antelope Canyon :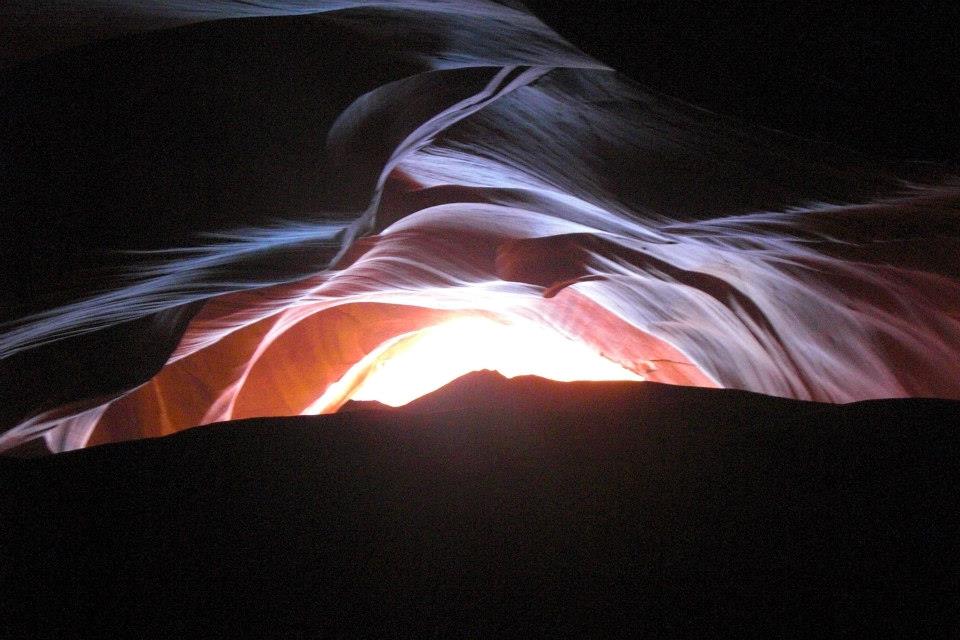 Ok, you are right, it's not a sunset… as such!
Still, it looks like one!
That is what I loved about Antelope Canyon! The lights coming in during the day are pretty depending on the time of day and you will be able to take photographs you could not even come to imagine!
Our tour guide is a native navajo and she knows every single spot of the canyon and how to get the best out of the lights! So even though I was mostly driving looking for a motel during my stay in the canyons at sunset time, I could at least enjoy Antelope's versions of sunsets!
Sunset from Home: Barcelona
Barcelona is on the east coast so it is logically more a sunrise place. However, if you are lucky enough to live in a place where you can see the mountainside, you can see beautiful sunsets towards the Tibidabo area.
I used to live in a 7th-floor apartment and could enjoy great views of the sunset over the mountain! If you don't, you can also enjoy it on a rooftop terrace. There are so many in Barcelona! One of my favourites I have seen lately was one of the Silken Diagonal hotel near the Torre Agbar in Poblenou area. You can basically enjoy the whole view from the sea to the mountain and sunsets there are impressive, to say the least!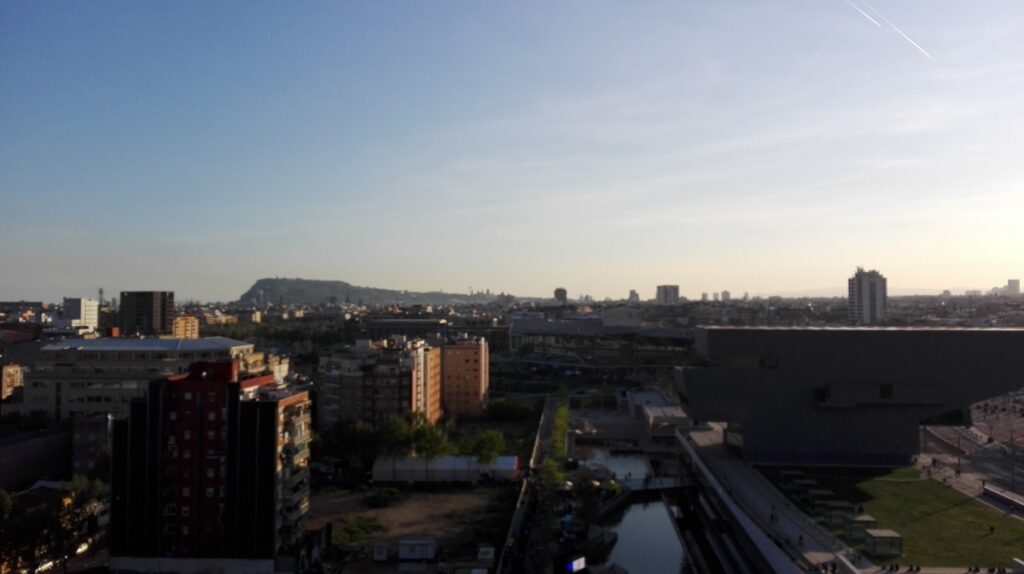 My other home… France! Brest area
Bretagne area is one of the most beautiful seaside locations in France because it kept its wilderness in many areas because the Atlantic side offers huge beaches among other reasons…
Brittany can offer great opportunities for surfers too, and I could not miss them in the background of those sunsets!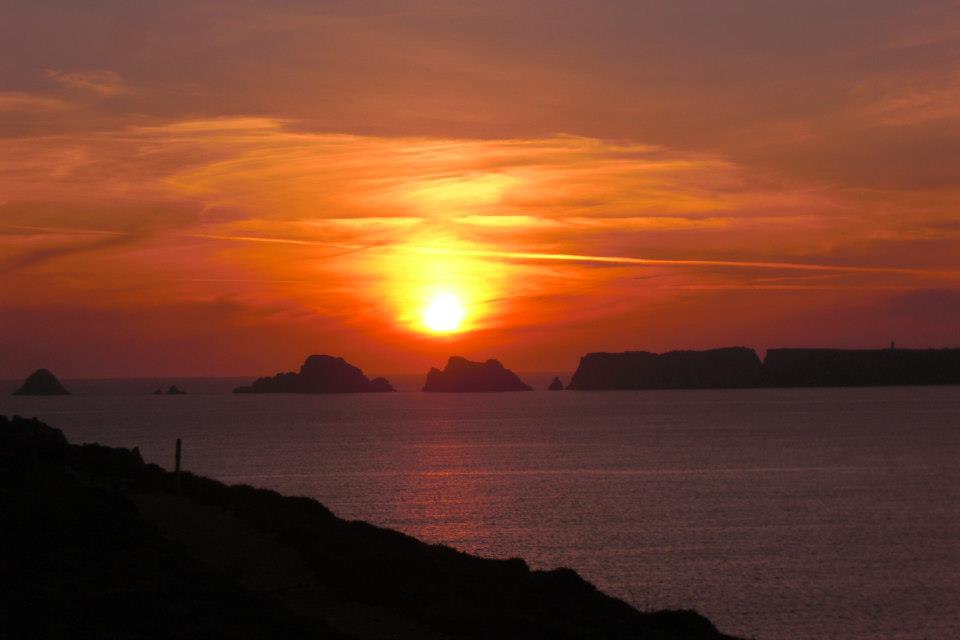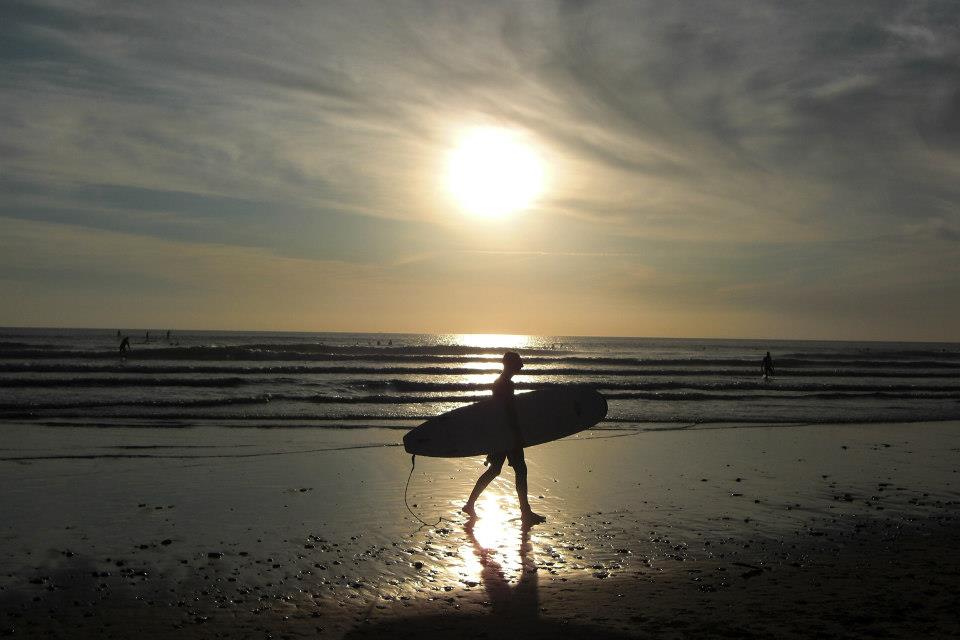 I hope I gave you a few ideas for your next trips. And I am keen on finding more places so please do not hesitate in commenting below and sharing your experiences as well! Our world is simply amazing if we take the time to enjoy those small things!
That's why one of our mission is environmental health, to protect our planet and the health of its people at the same time.
If you want to know more, follow us on our Facebook and Instagram page.
Summary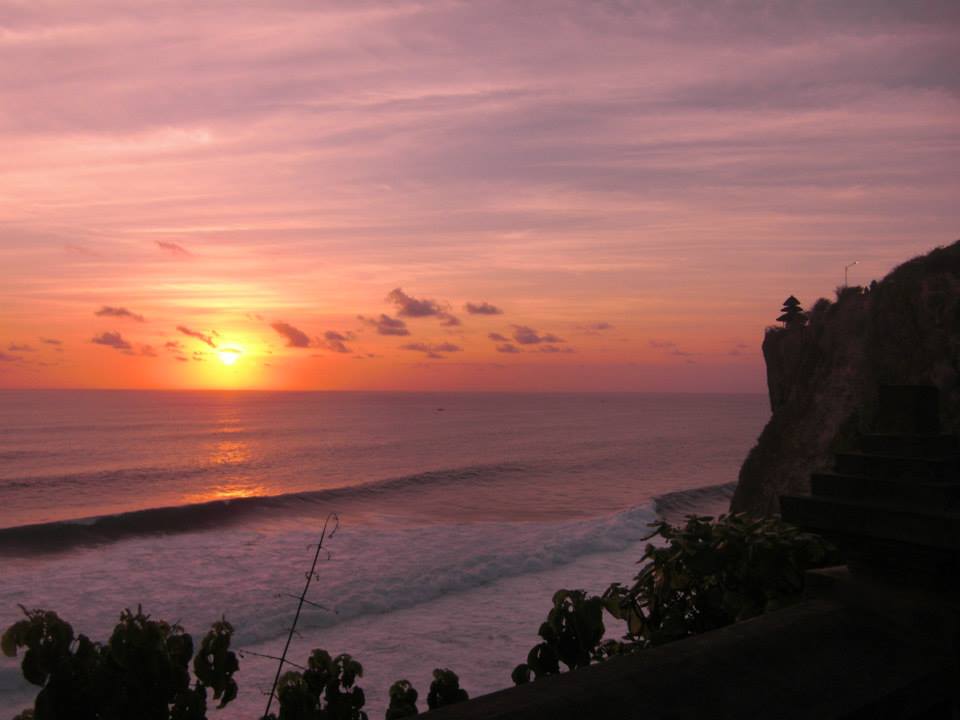 Article Name
Where I found the best sunsets in the world!
Description
A sunset is a symbol: holidays, summer or even life. This article shows you some of the best sunsets I had the privilege to experience around the world.
Author
You May Also Like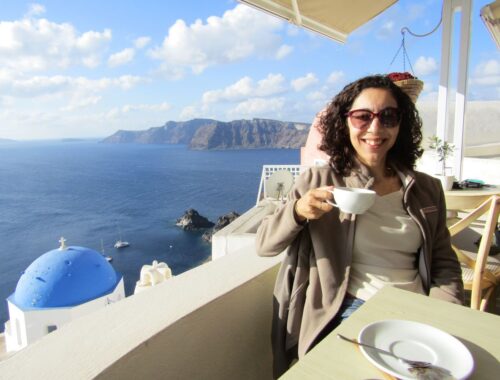 November 28, 2020