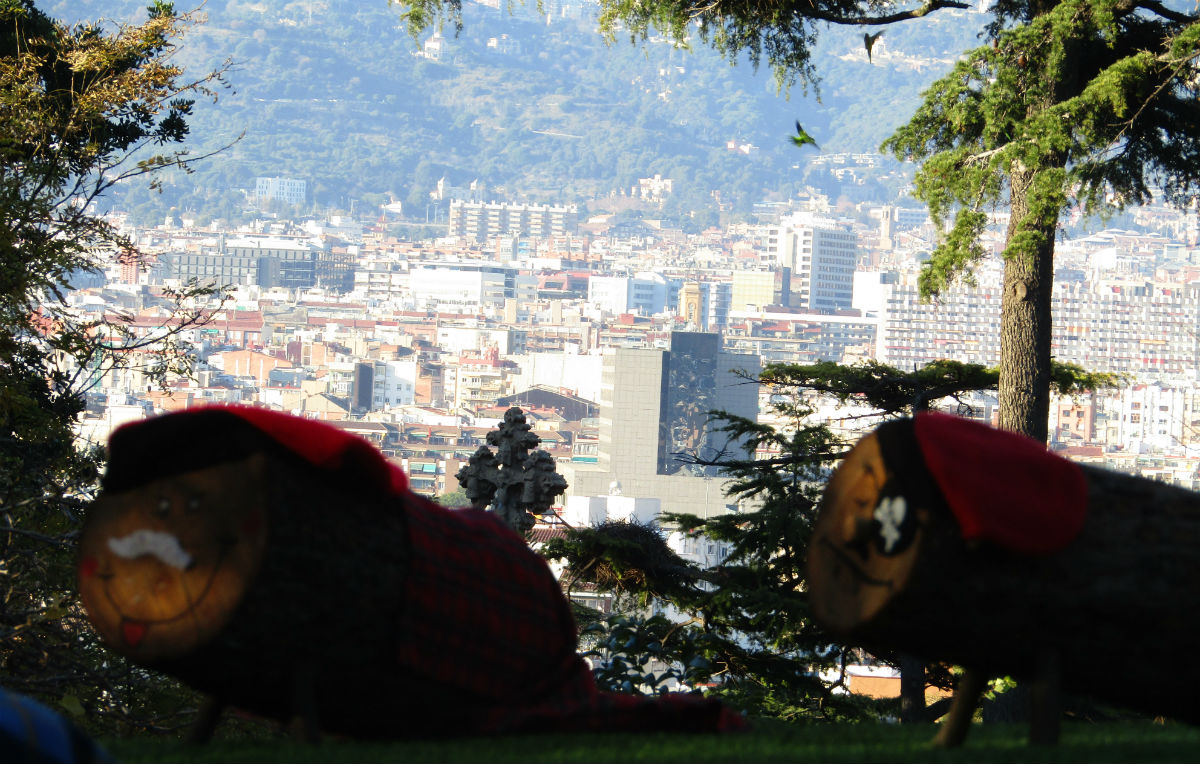 Enjoy the best Christmas markets of Barcelona in a sustainable way!
Christmas time has officially started and Barcelona has a lot to offer if you enjoy Christmas markets and these kinds of related events.
The meaning of Christmas for World Travel Able
Friends and Family
Before mentioning the great things to do in Barcelona at Christmas and talking about its Christmas markets, I would like to talk about what Christmas means for us.
At World Travel Able, we realize that Christmas is a time of the year where people consume excessively, and that's not the idea we want to promote. Buying stuff we don't need is contrary to the values we hold.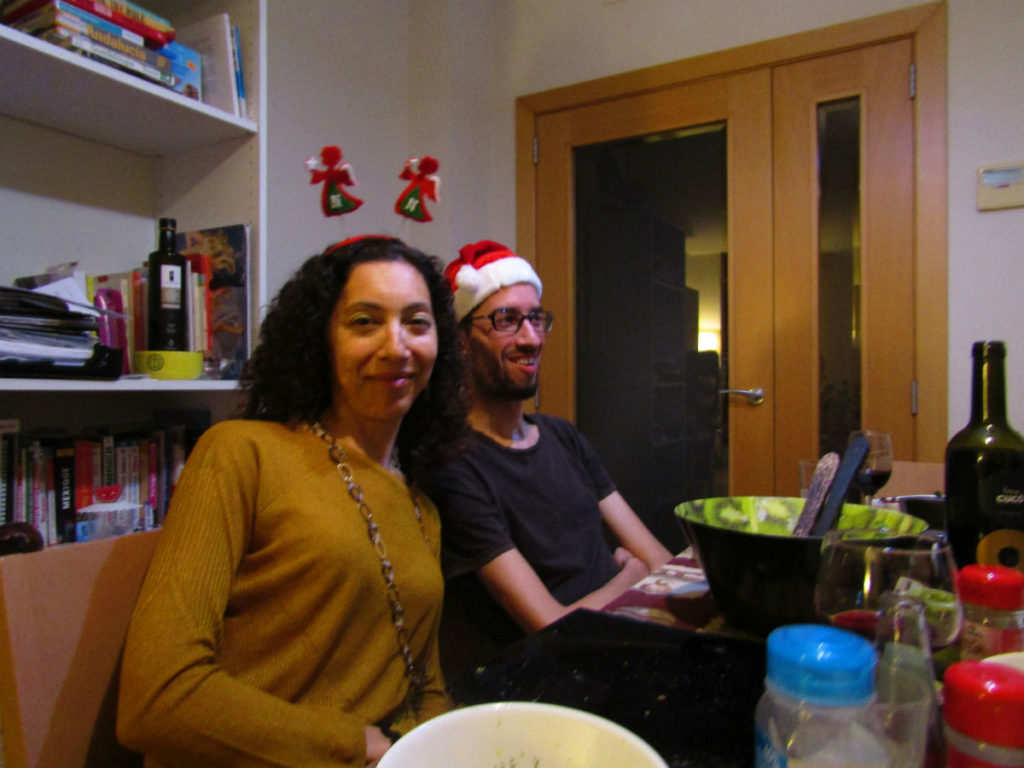 Having said that, I have often tried to "defend" Christmas because in the society we live in, it's often the only time of the year that we are more or less sure to all have holidays at the same time. When you have family spread over different parts of the country, the continent, or even the world, Christmas may be the only opportunity to get everyone together at the same time.
That's if we work for others who shut down for Christmas obviously.
There are exceptions like nurses, firemen, some shop attendants, the self-employed but the vast majority will have some time off and at last be able to hold this family gathering. There are other times in the year, but this is the most popular one.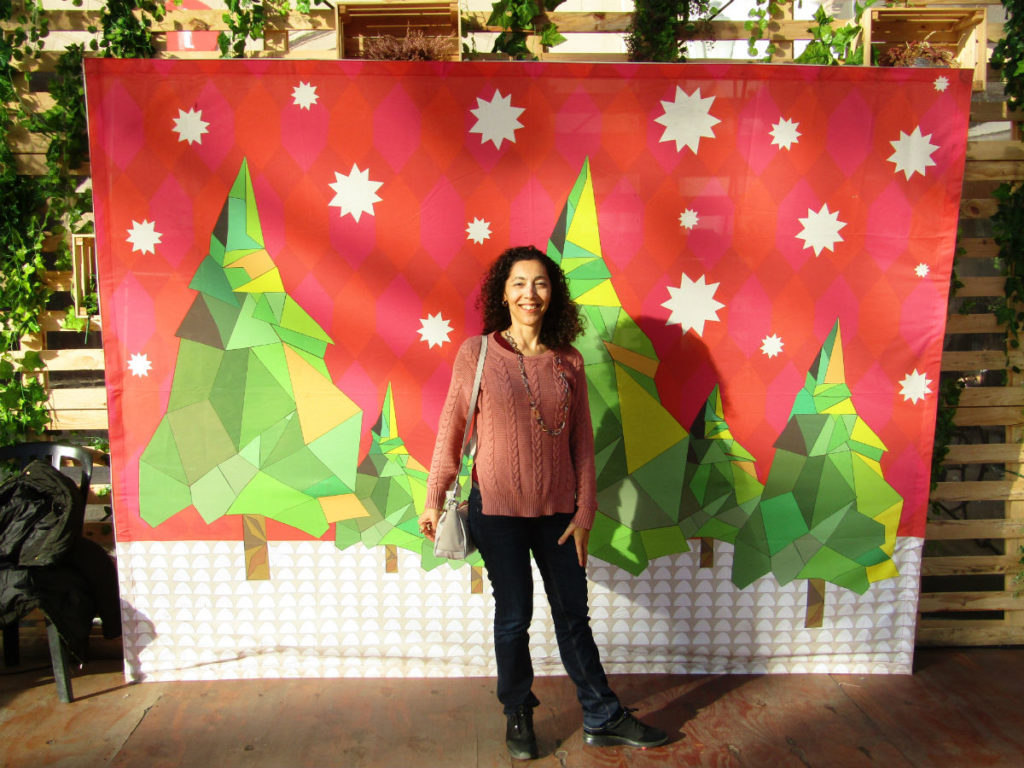 So we can't blame people wanting to celebrate! Especially with the stressful life we have today! Even family members who live in the same city hardly see each other, due to our hectic agendas…
That's one reason why I love Christmas!
The beauty and happiness of Christmas in Barcelona and around the world
I am also a big fan of beauty! And one thing you can't deny is how beautiful every home, shop, and street in our towns and cities becomes with the lights and decorations. Especially when you feel depressed in winter because of the lack of sun and daylight, it helps get through this cold and grey time of the year!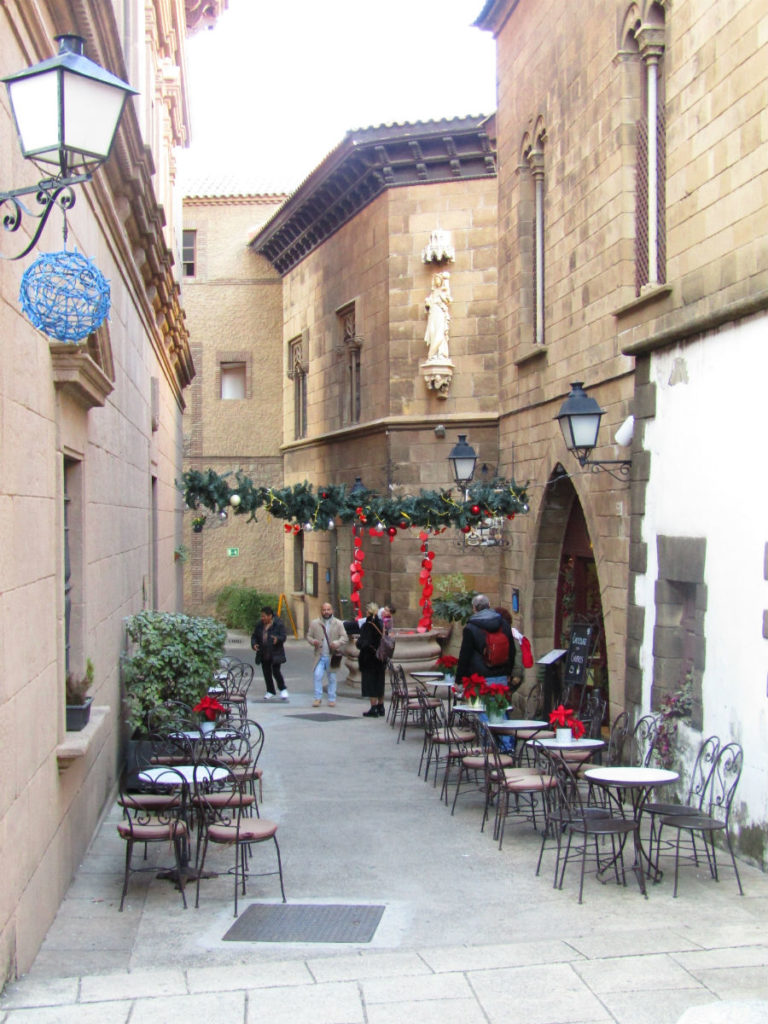 You might think: wait a minute, you live in Barcelona. I'm sure it's not that cold and not that grey there!
Well, believe me. We have our share of rainy, grey and chilly days. Plus it's dark at 17h30, regardless of whether you live in northern or southern Europe.
Now, I have some ground rules that I will share with you later in this article to make sure Christmas does not become a commercial trap and we can celebrate in the most sustainable way!
But let's focus on Barcelona first! If you happen to be in Barcelona this Christmas, you will see that there are plenty of markets to visit. Don't only stick to the most visited ones. And remember, going to a market doesn't mean you need to buy compulsively! Just enjoy the festive atmosphere and if you see something of real value that could make a useful present for one of your loved ones then you don't have to feel guilty for buying it!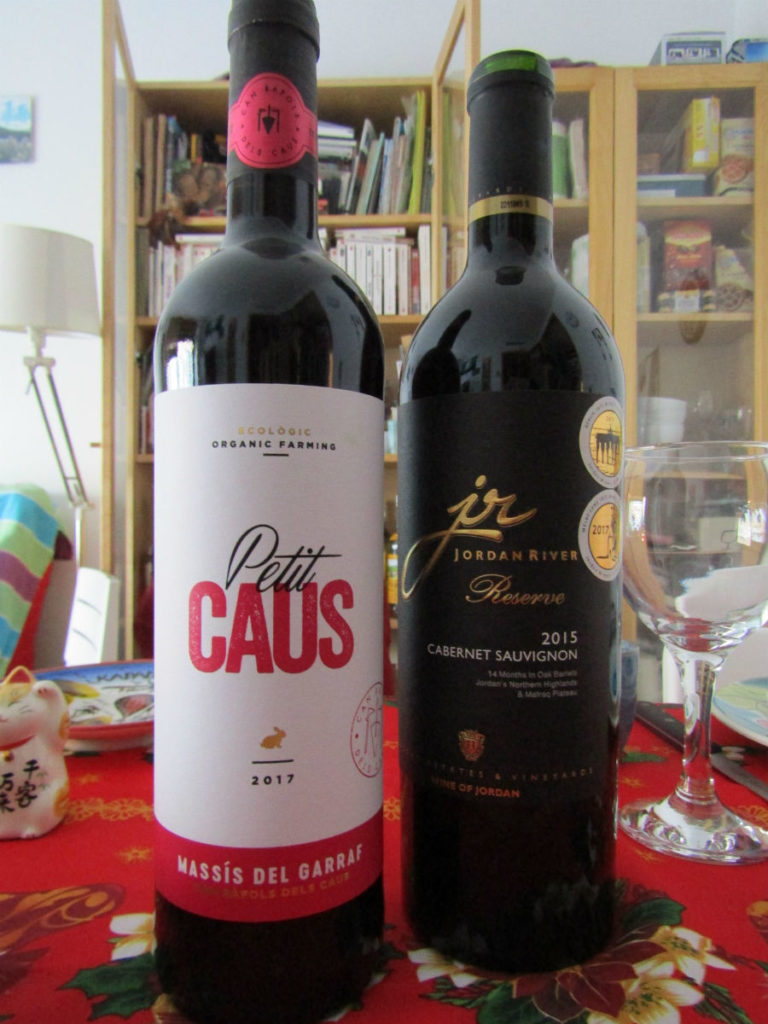 If you can't make it for Christmas, no worries! Check out this other blog post on the best things to do in Barcelona in the summer!
First of all, Barcelona as a destination has not done so well lately due to its many political problems. As a result, the city has decided to make more of an effort promoting itself as a destination at Christmas and creating new areas with a festive atmosphere.
So the city should look especially beautiful this year!
Since last week we can already appreciate new lights in the famous Passeig de Gràcia.
So let's see some of the best markets in the city, whether you come this year or the next!
1. Pre-Christmas "All Those Food Market"
I checked it out yesterday as it is very close to where I live in Gloriès, and I definitely recommend it!
This year the gastronomic pre-Christmas market took place at the Teatre Nacional of Barcelona. In the gardens you could order food from different local food and drink stalls to enjoy with friends and family outside, with a great DJ.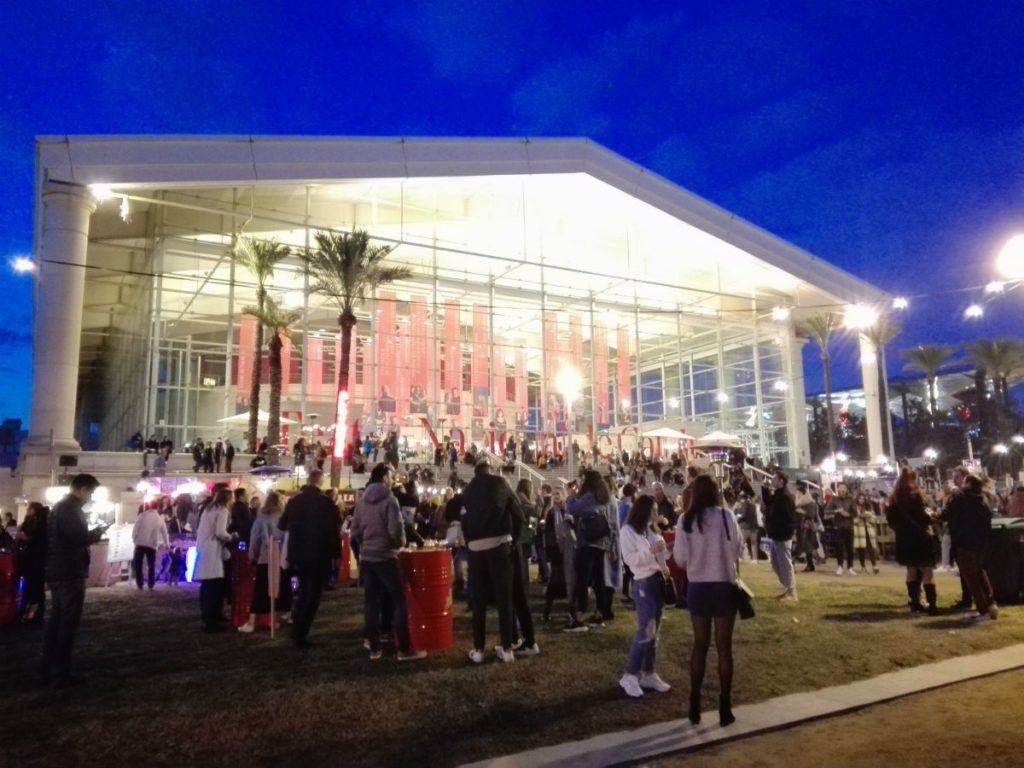 While inside, you could find all the products to buy, which were mostly but not exclusively related to local gastronomy.
It usually takes place on the first weekend of December. In 2019 it was on the 30th November and 1st December. I'm not sure what the dates are for 2020 but you should definitely have a look if you are planning a visit next year!
You will find fantastic and useful presents, and support small businesses who are providing local and organic food for all types of diets!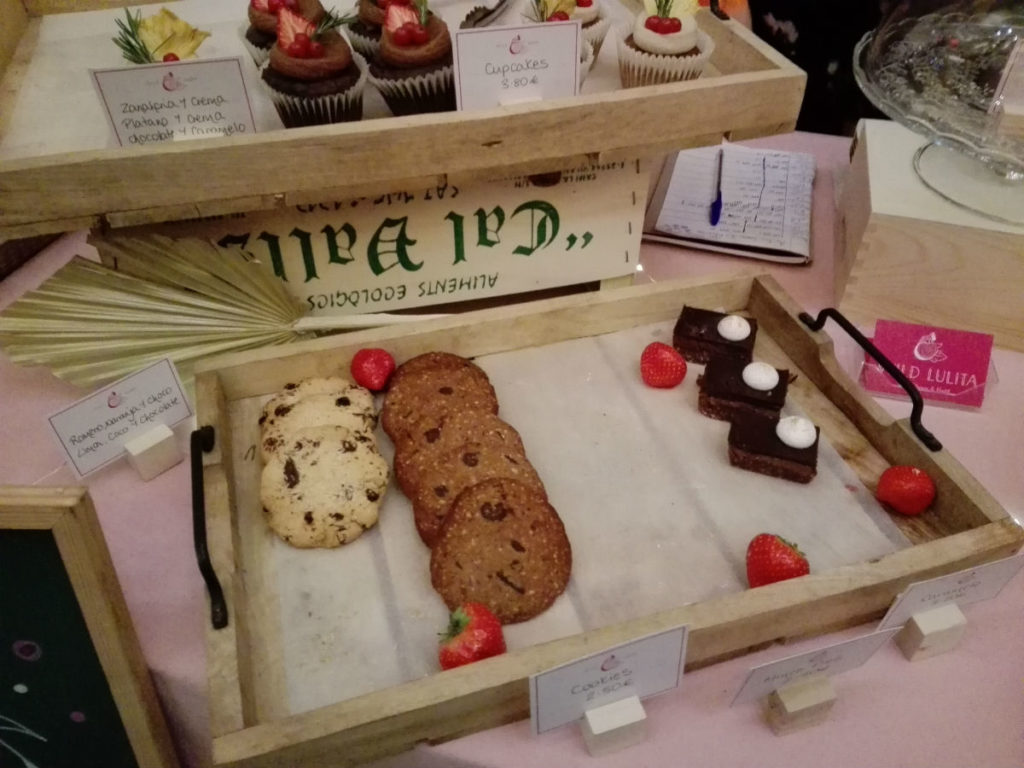 I found a few places providing gluten-free products (still not enough though), plenty of vegan products, and then others like lactose-free alternatives, grains to grow your own garden with more variety of crops that we don't find in ordinary shops, etc.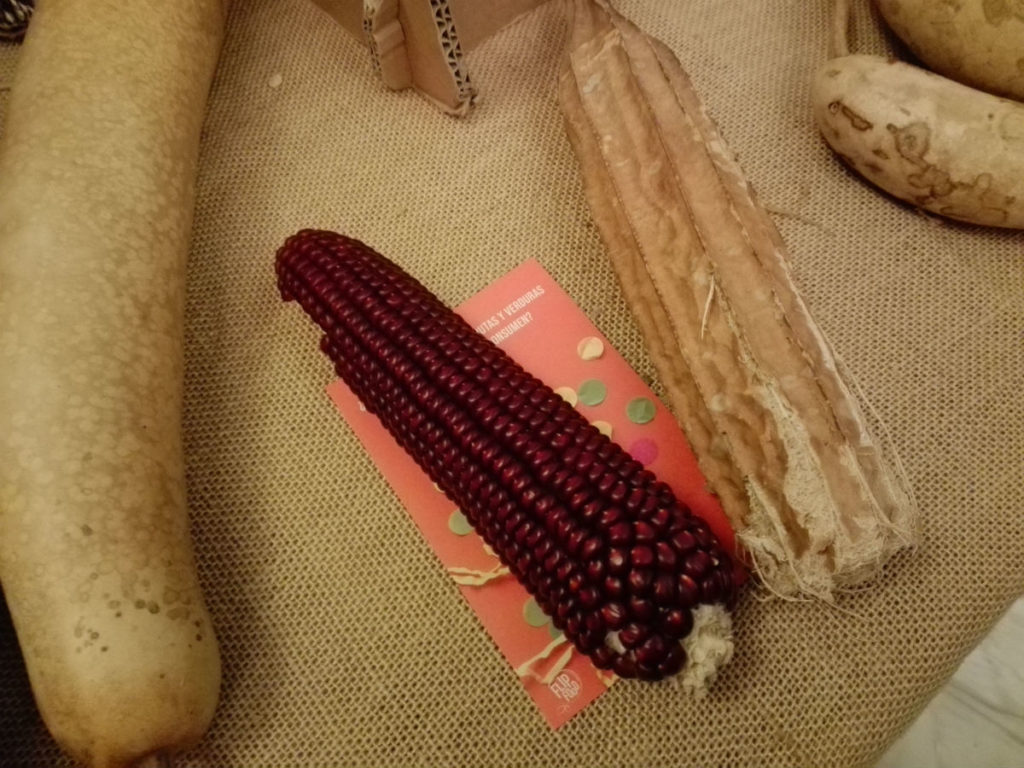 There were also lots of stalls selling products offering an alternative to the plastic craziness, from recycling ideas to plastic-free products like bamboo.
What else can I say? This market will make you regain trust in humanity! Oh sorry, I meant, in food. Which is a little bit of the same thing, isn't it? As the famous saying goes: "we are what we eat" – Aren't we!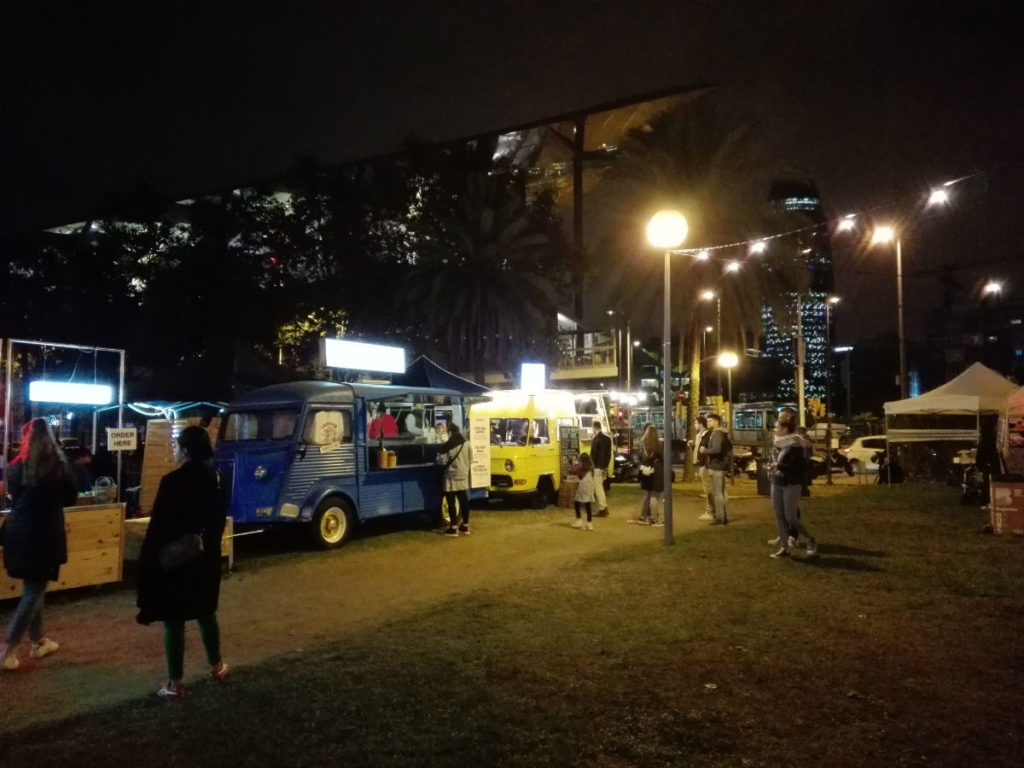 Ok, so you missed that delicious pre-Christmas market and you are in Barcelona for the rest of the month? No worries, there are many other Christmas markets and events you can enjoy!
2. Christmas Market at the famous Avenida de Gaudi / Sagrada Familia Christmas Fair
The Sagrada Familia is a masterpiece! So when I saw there was a Christmas market being held in one of Barcelona 's landmarks and symbols of Barcelona, I jumped on the bus and got there! Who wouldn't want to spend time at a Christmas market in such a wonderful setting?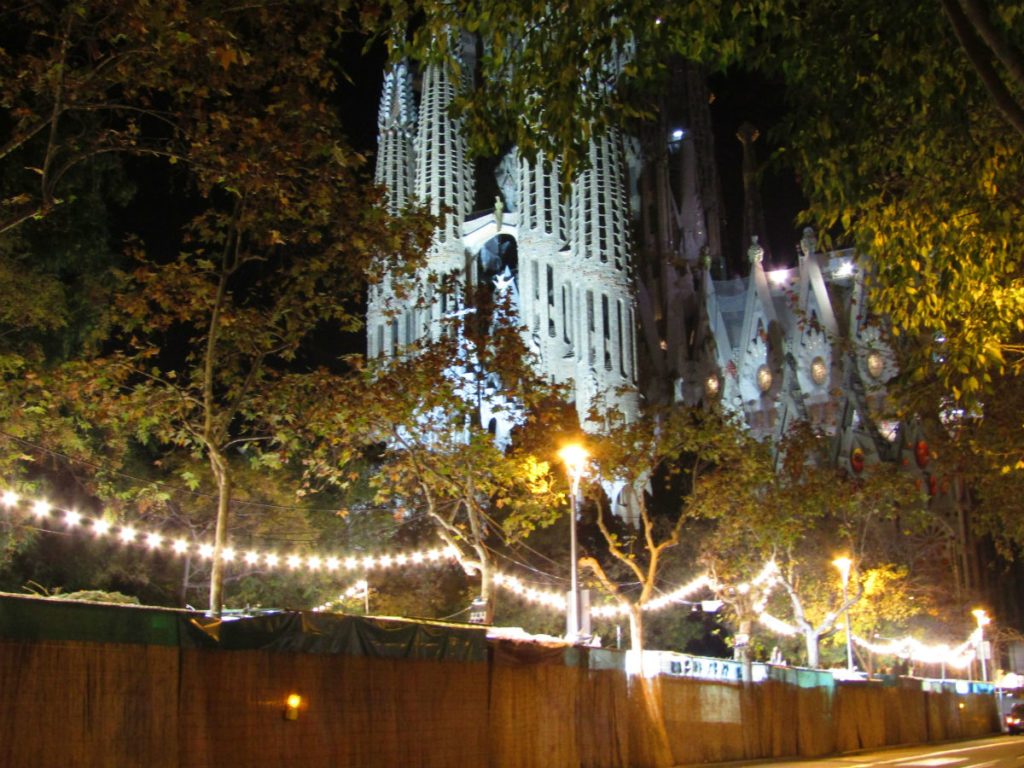 It takes place all around the garden just in front of the Sagrada Familia, and you can find hundreds of stalls of craftsmen and artists. Most of what you will find is related to Christmas decorations, including trees.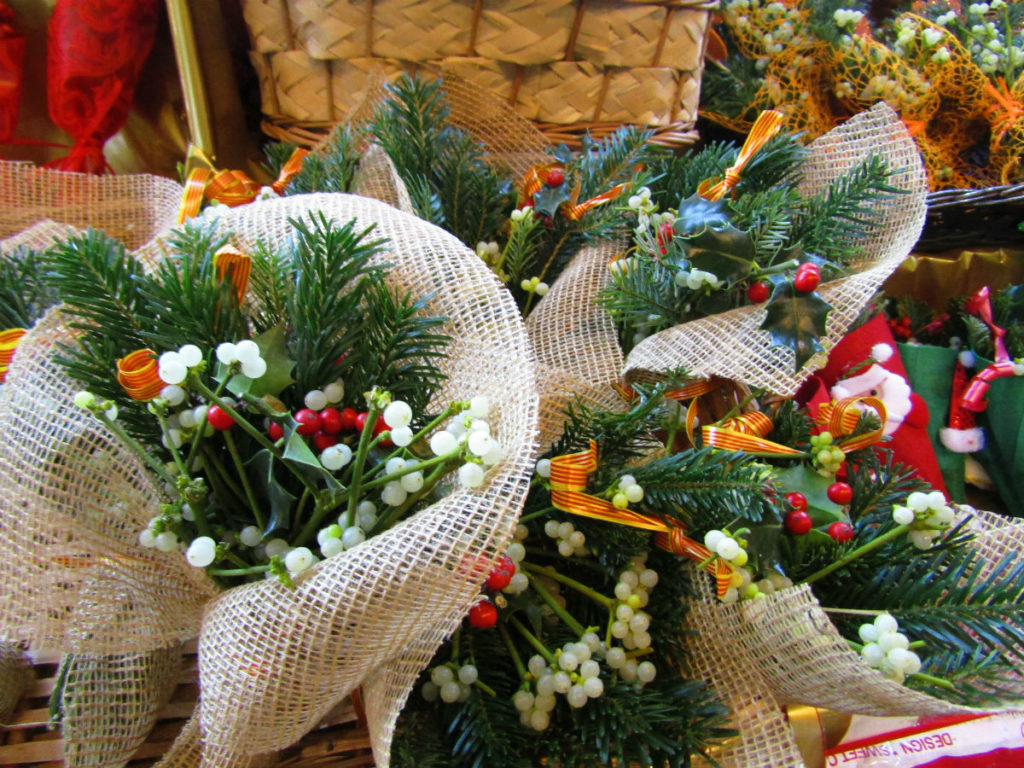 So, very different from the other market as here you won't find much in the way of food and drinks, but you may well find some great hand-made presents.
Personally, I bought all my decoration there: two Christmas plants, including a mini Christmas tree that will last years if I take good care of it. I also got a plant and dry fruit-based decoration that not only looks nice, but gives a lovely cinnamon /orange scent to my home! I love how original it is! The craftswoman making it and selling it is simply a genius!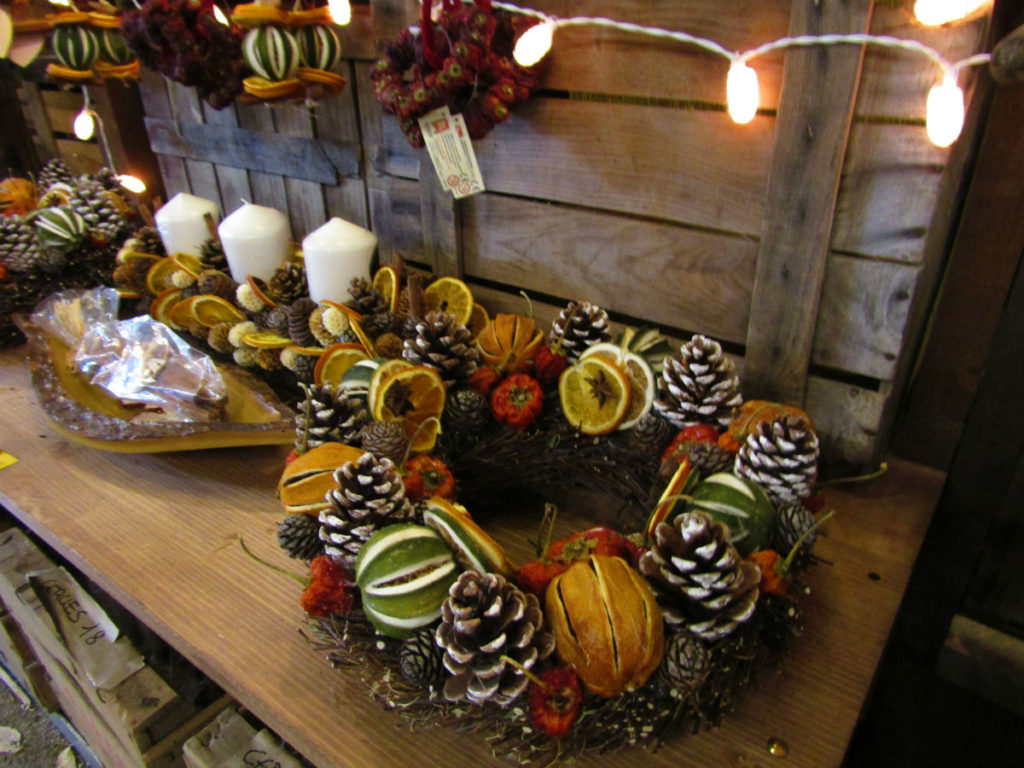 This is one of the most traditional Christmas markets in Barcelona, and near one of my favourites "avenidas" of Barcelona, avenida de Gaudi! It goes from the end of November to just before Christmas eve.
3. Fira de Santa Llucía Christmas Market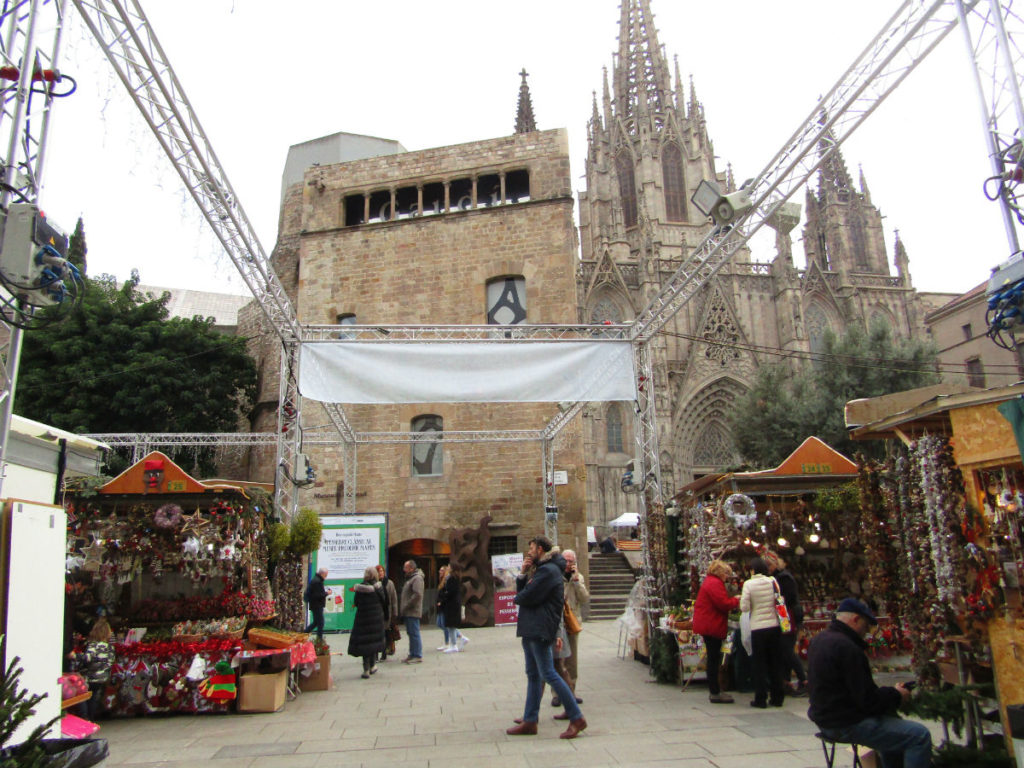 This is probably the most famous Christmas market in Barcelona. It takes place in the heart of the old city (Gothic quarter) in Plaza Nova (Plaza de la Catedral). If you are not familiar yet with Barcelona, it's just opposite the beautiful Cathedral of the Holy Cross and Saint Eulalia.
This market has been there for a couple of centuries, since 1786 to be precise! So that's definitely a Christmas market that can't be missed in Barcelona!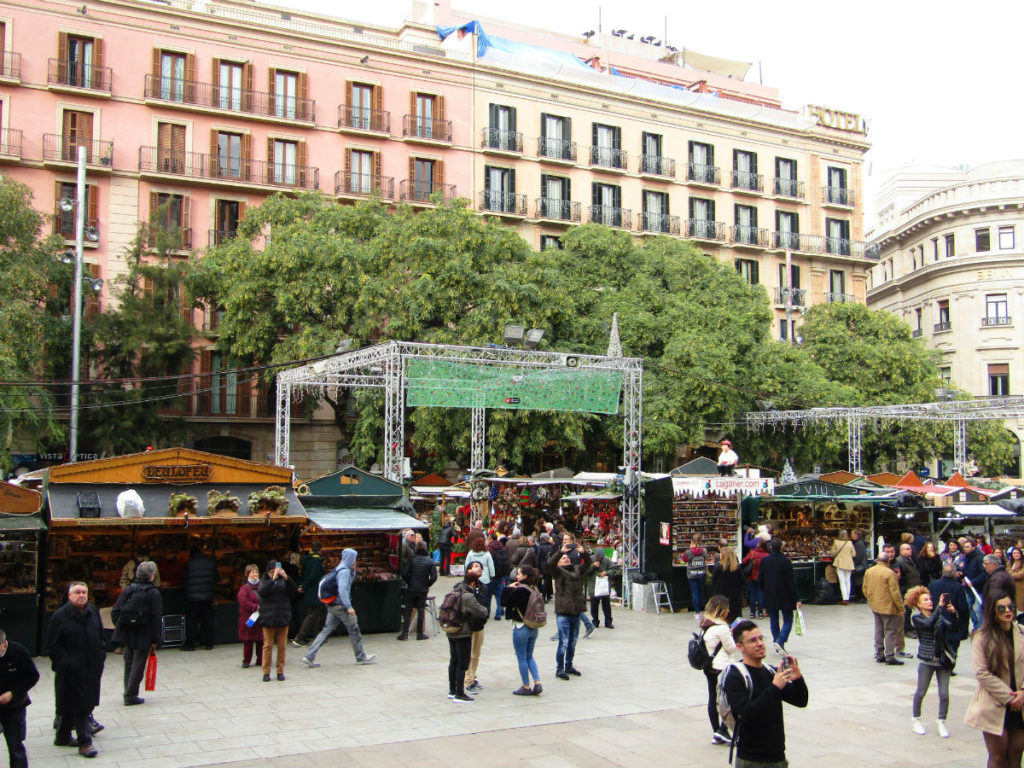 You will find mainly everything related to Christmas decorations. There are also different kinds of craft stalls from clothing to art.
Also, on the side of the Cathedral, you will find a huge "Caga Tió" or "Tió de Nadal" that Catalan kids love so much!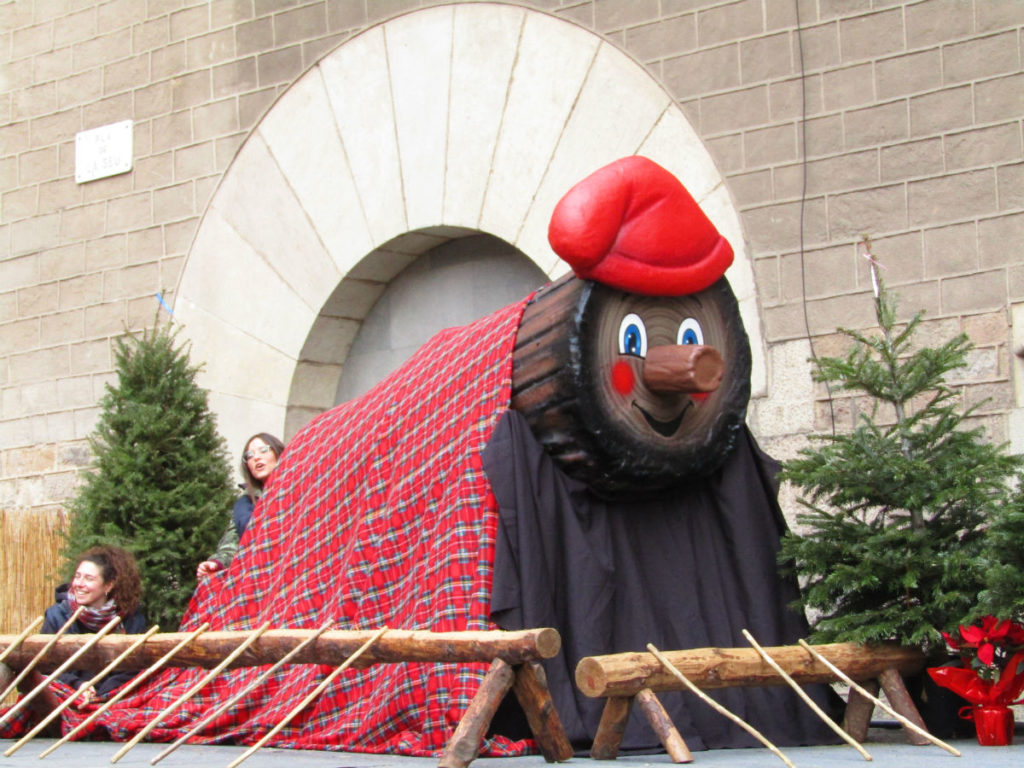 It means, literally, "the pooping uncle" or "the Christmas uncle"! That already says a lot about this fun tradition. Basically it is a wooden log which children feed and keep warm (by covering it with a blanket), and then sing a song to, ordering it to "poop" some presents and sweets! Read this article out if you want to know more about the Caga Tió tradition.
4. Gran Via Christmas Market
Gran Via is one of the longest streets of Barcelona, with plenty of space for pedestrians, so it's only logical that it too holds a Christmas Market. We don't have the dates for 2019 yet but while most Christmas markets end right before Christmas, this is one of the few that are still open in Barcelona between Christmas and New Year.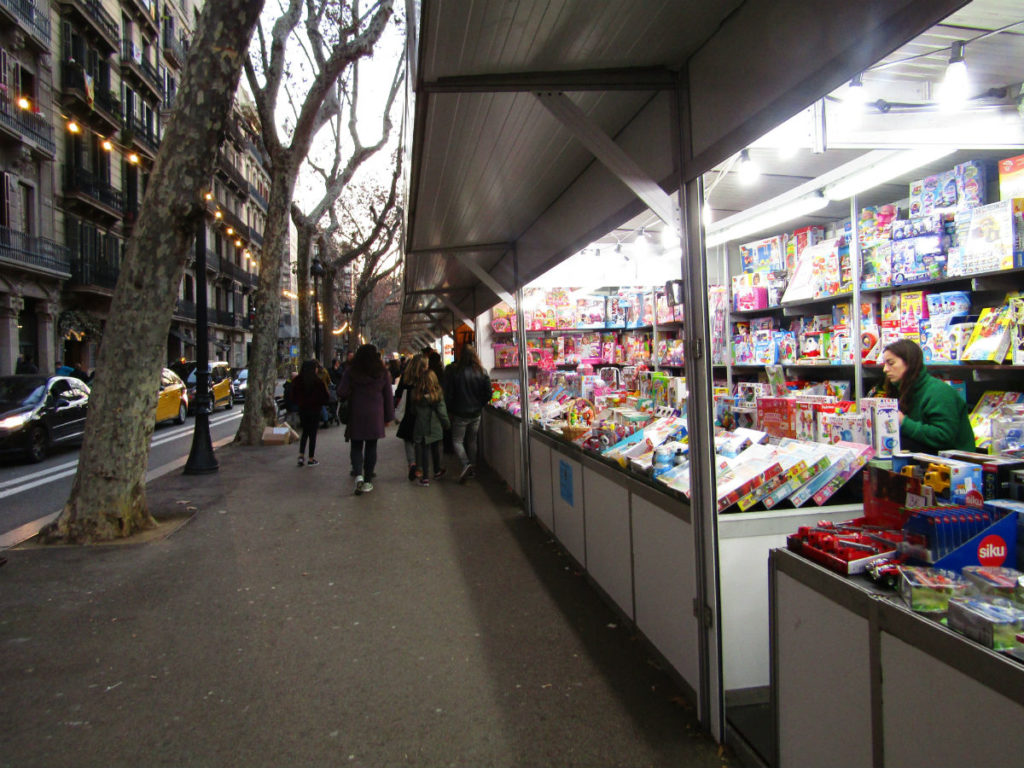 It starts around Universidad and stops a couple of streets before Plaza España.
Even though it is spacious, Gran Via is still a major thoroughfare so there is traffic, exhaust fumes, and noise but this is made up for by the variety of stalls you can find, offering more ideas for gifts than other fairs. There is less Christmas decoration, which makes sense since it starts much later in the month of December.
5. Nau Bostik Christmas Market
Nau Bostik is a cultural venue near Sagrera.
Their "Happy Market" – as they call it – lasts 2 days, normally during the last week-end before Christmas. But it may vary so check out their website to be sure of the dates!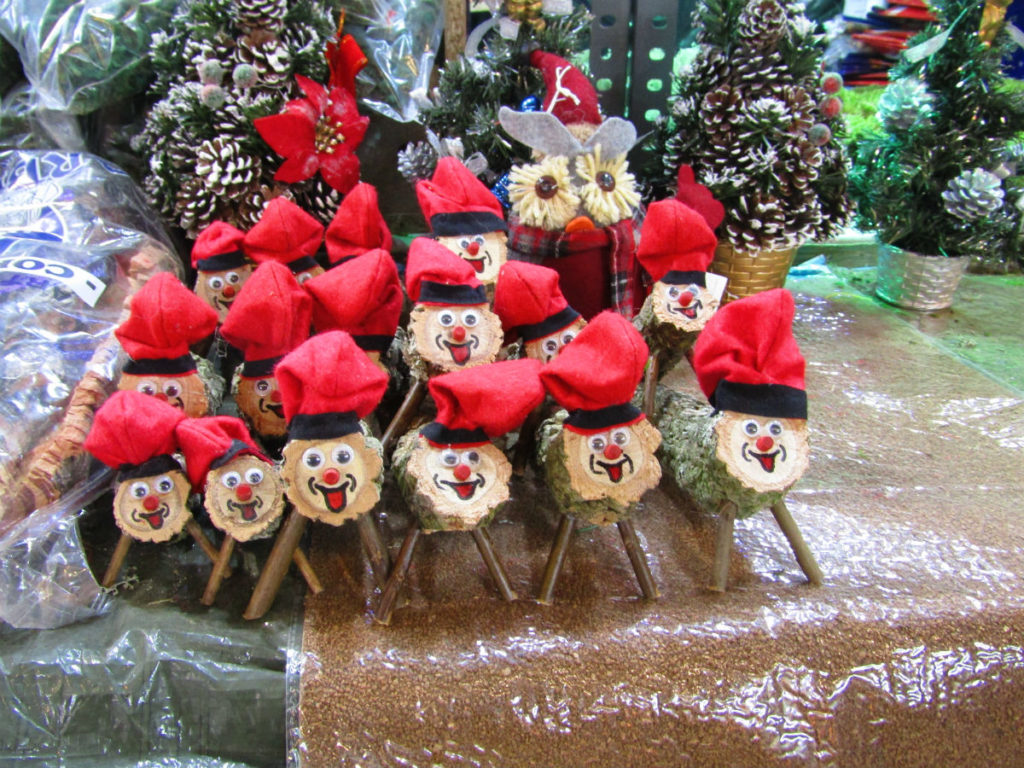 Be ready for a fun event with live music, food trucks, and activities for kids. You will also find decoration, vintage, and hand-made stuff. Sustainability is also at the core of their soul. If you want something with a more original, avant-garde style, then this is the place to go to!
Warm family atmosphere guaranteed!
It's also pet-friendly so don't hesitate to bring yours along!
6. Port Vell Christmas Market
This is a brand new Christmas market in Barcelona! And it coincides with the 150th anniversary of the Port of Barcelona.
It will start near the Columbus statue (plaça del Portal de la Pau) at the bottom of the Rambla, a place where there are more tourists than locals. And the city is trying to revitalise so that locals go back there.
As I write this article, it hasn't started yet. But it will do shortly, with some 5000 m2 of surface area containing a stage for entertainment, and wooden stalls selling craftwork, decoration, food, and drinks!
From an energy perspective, I am happy to see they will use LED lights to power the biggest Christmas tree of Catalunya with about 100, 000 lights! So it will be like having a light show put on every night!
7. Design Christmas markets in Barcelona
There are several markets focused on design if you are looking for something a little out of the ordinary. They usually take place on weekends at different spots around the city.
Here are a few examples:
Festivalet (15-16th of December 2019) at Museo Maritimo de Barcelona
With hundreds of exhibitors, be ready for a weekend filled up with creative workshops! Some locals consider this Christmas market to be the nicest of Barcelona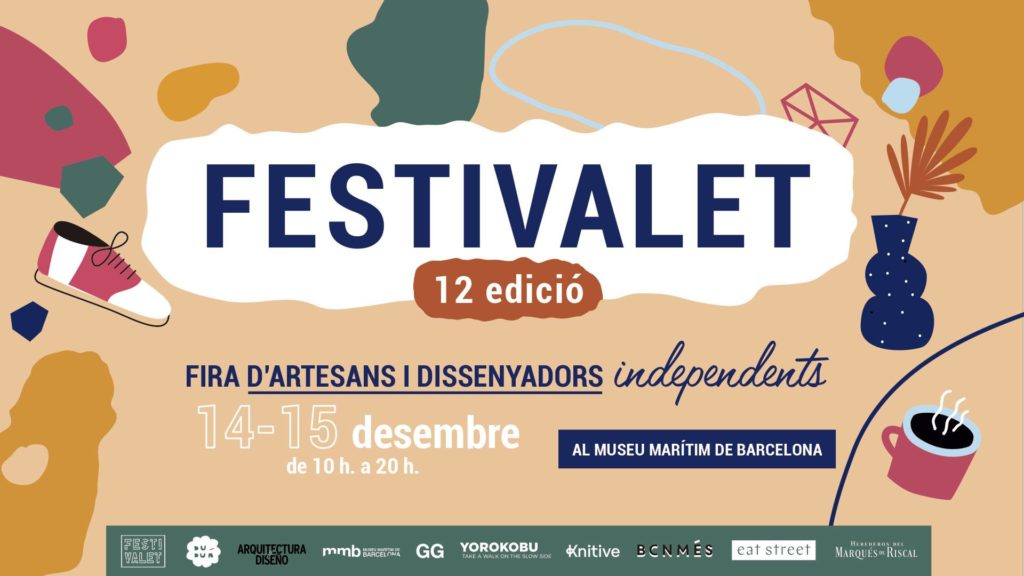 Barcelona Makers Pop Up (8-9th of December 2019) in Gracia WallnWood
Gracia is a favourite neighbourhood among locals.
Enjoy this fair of about 30 creators in the Wallnwood space. Some of the things you will find there: design furniture, trendy decoration, unique handmade clothes, lamps… to name a few. In a nice atmosphere with food, drinks, and a DJ.
Design market (14-16th of December 2019) at the Disseny Hub
You can expect hundreds of exhibitors offering a variety of art pieces. From jewelry, crafts, and furniture to limited editions of artwork! There is also a gastronomic area and workshops so you can spend a wonderful day with friends and family!
Urban art & Music Christmas market (14th of December) at L'atelier De Pilar Guell.
A friend of mine who developed her own sustainable women's sportswear brand, RM, told me about this market as she is going to have a stall there, and it looks like a really great place to spend an evening!
There will be lots of things going on, like live music, live painting, healthy food, a fashion show and more!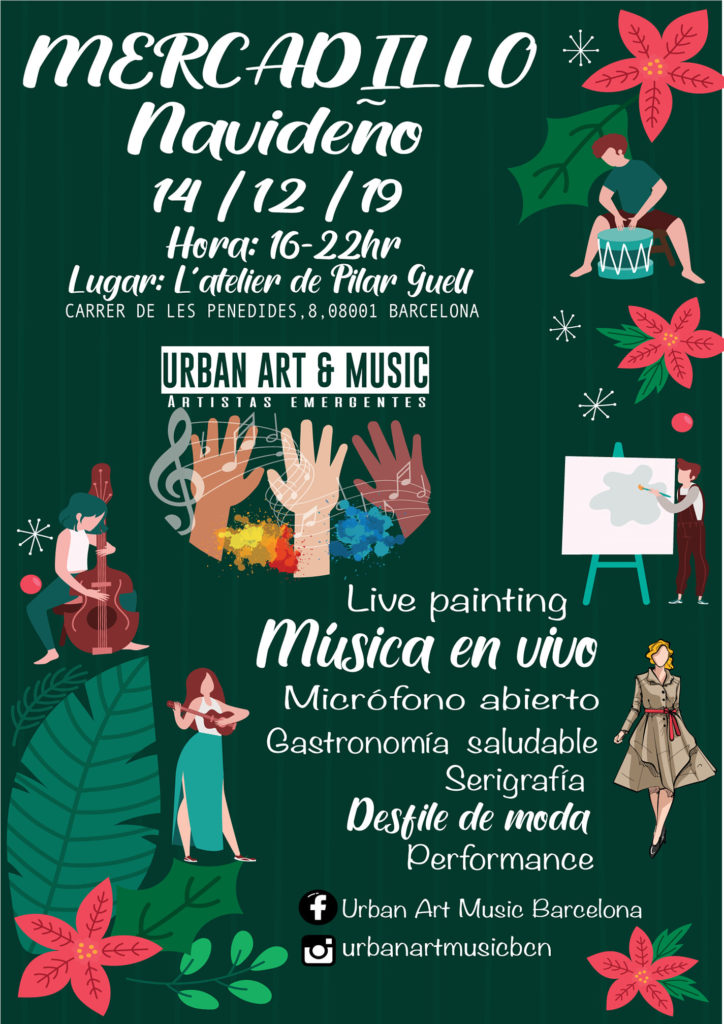 Why are Christmas markets like Festivalet so important?
When you go to Festivalet for example, you are supporting the local economy and designers who are creating their own art. You cut out the middlemen. So it's a win-win situation. For you, because you will find original pieces, for the artists because they have the opportunity to show their work, and for the environment because you are encouraging zero kilometre products, meaning less transport, i.e. less pollution.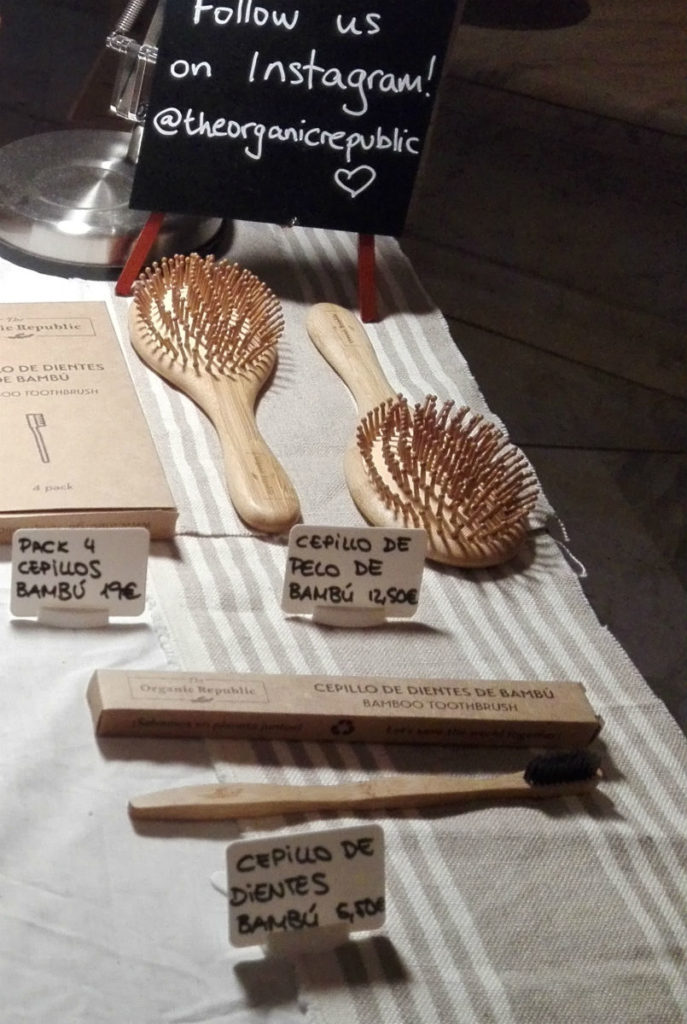 8. Give'me 5! Christmas Market
This second-hand market sells everything for 5€ or less. Probably one of the cheapest Christmas markets in Barcelona! There is only a 1€ fee to get in.
If you are not the kind to give in to temptation and buy too much because it's so cheap, it can be a good idea.
I especially like the idea of reusing stuff. Giving a second chance and a second life to things that would have otherwise ended up in a landfill.
It is taking place this year on Sunday the 15th December from 10 am to 7 pm at the beautiful Convent de Sant Agusti, Comerç street.
This happens to be one of my favourite areas of Barcelona and where I started my project related to World Travel Able, so I had to get it out there!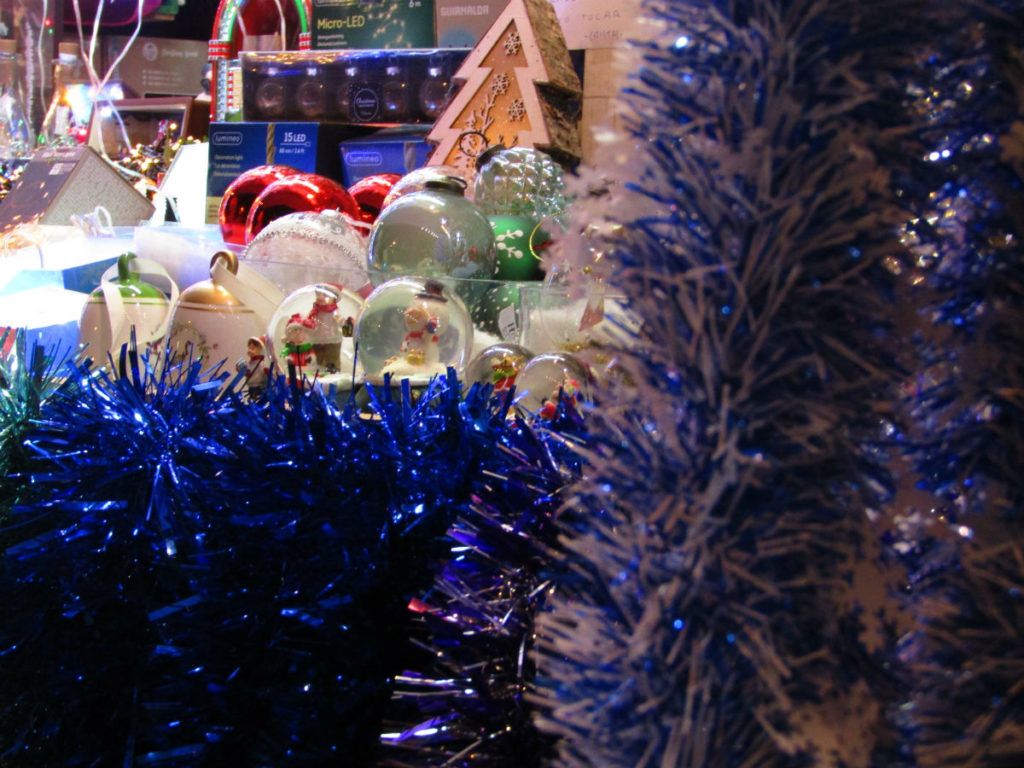 World Travel Able ground rules for a sustainable Christmas.
As I said earlier, we don't want to buy things we don't need.
Some places can be enjoyed by just spending the day or evening with friends and family.
By buying from the faires listed above, you can make a positive impact in several ways:
Local products
Craft made from recycled material or natural products
Reusable and/or useful products
Help small businesses
Spend time with friends and family.
Encourage culture and art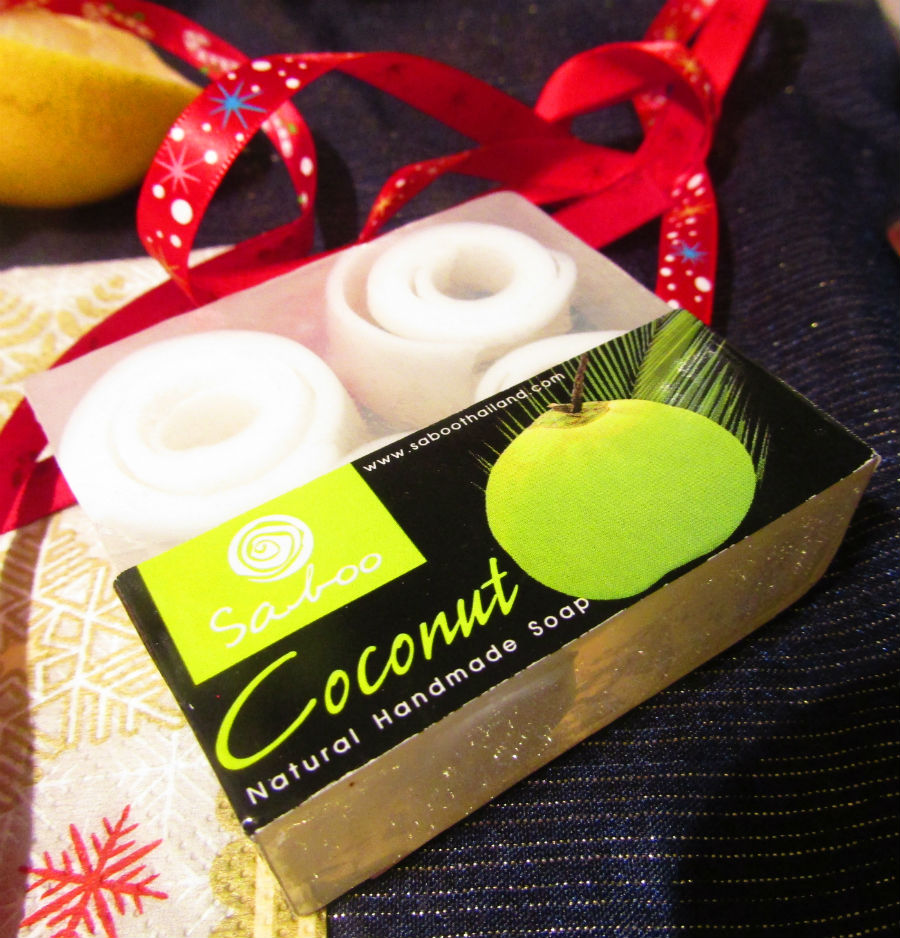 Again, it's all about balance.
Of course, there are negative impacts.
Say the beautiful lights in the streets. We all know how much electricity they spend… Not ideal if we want to be eco-friendly…
But there are some solutions:
First of all, we don't need to start in November, second, lights don't need to be on too early, or too late, but rather only when the streets are crowded. And there are even other ways of decorating that are less consuming. With the right LED lights, for instance. We have to raise this issue with our mayors so that they do a better job in that sense, that's for sure!

Then choose carefully what you buy, the material used, where it comes from and what your dollar or euro is encouraging. It's a bit like when you are going food shopping at the end of the day! Look at quality over quantity and avoid food waste!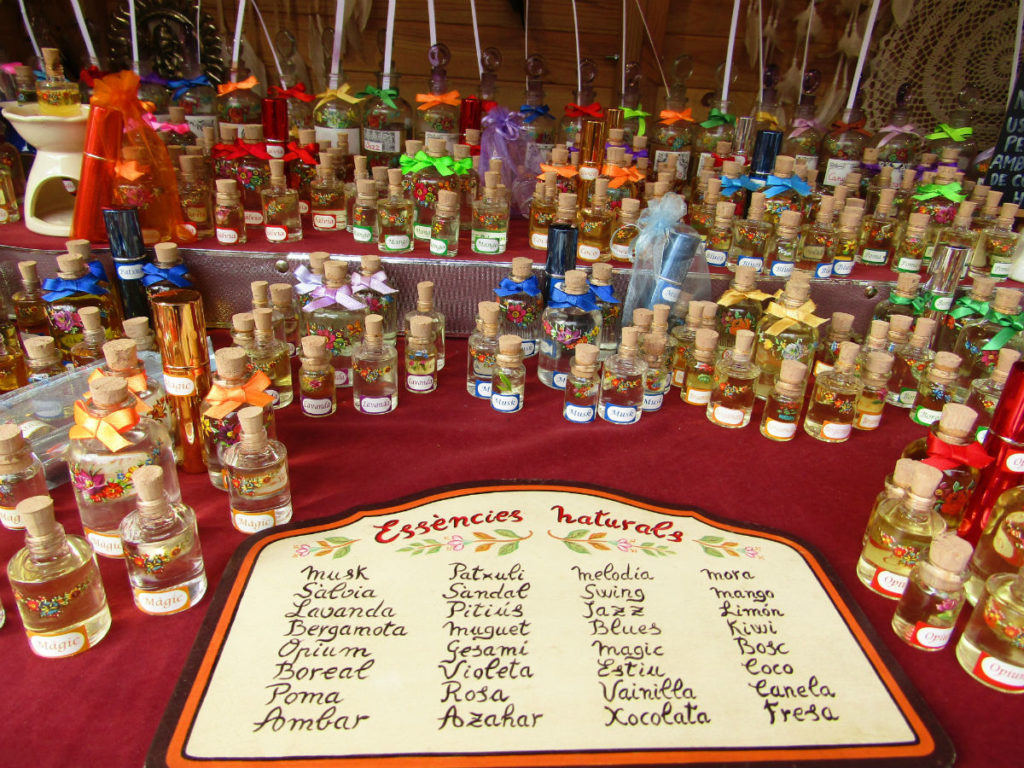 If it were up to me, I would not buy any "thing" at all. Only experiences like food experiences, wellness experiences, travel experiences. Or things I think a person really needs and doesn't have! Or a local product I can share over dinner with friends or family.
I hope you enjoyed this article and share it with your friends and family to inspire them to rethink consumption at Christmas while enjoying the beauty of the fairs, either in Barcelona or elsewhere! And if you want to find out about other events in Barcelona you can also click on this other article! Lots of love from the World Travel Able team!
Don't hesitate to comment below, if you know of other good Christmas markets in Barcelona, want to share tips for a more environmentally friendly Christmas, or simply want to share what you think about Christmas and what it means to you.
You May Also Like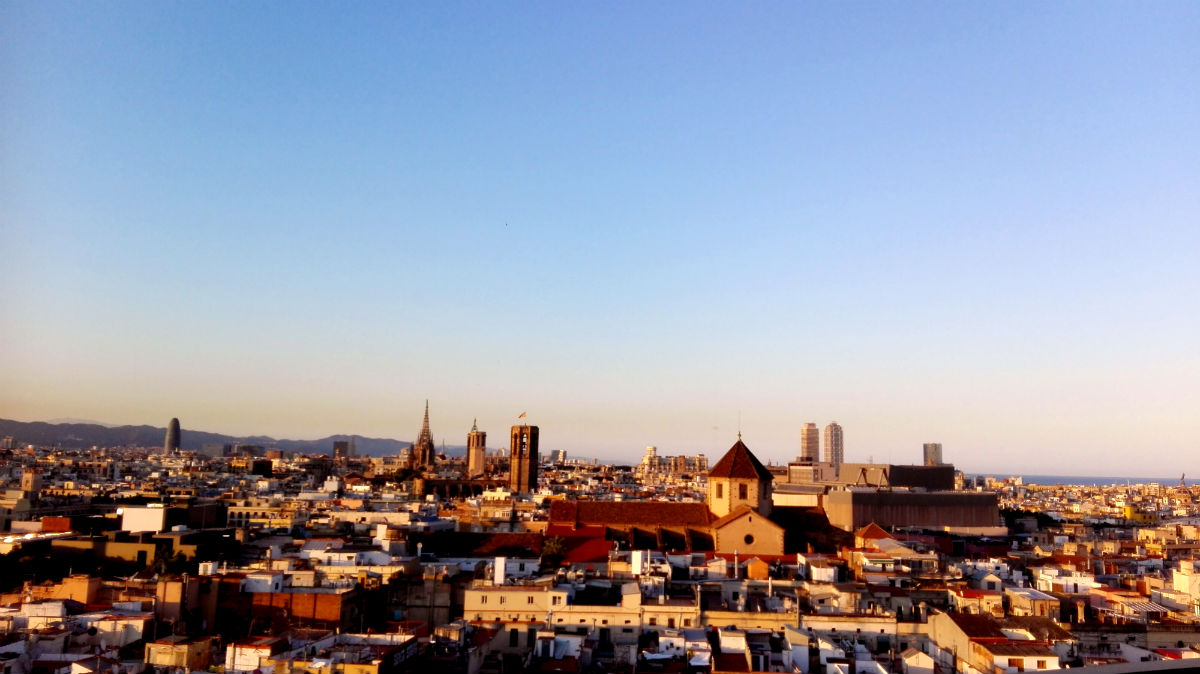 August 9, 2018