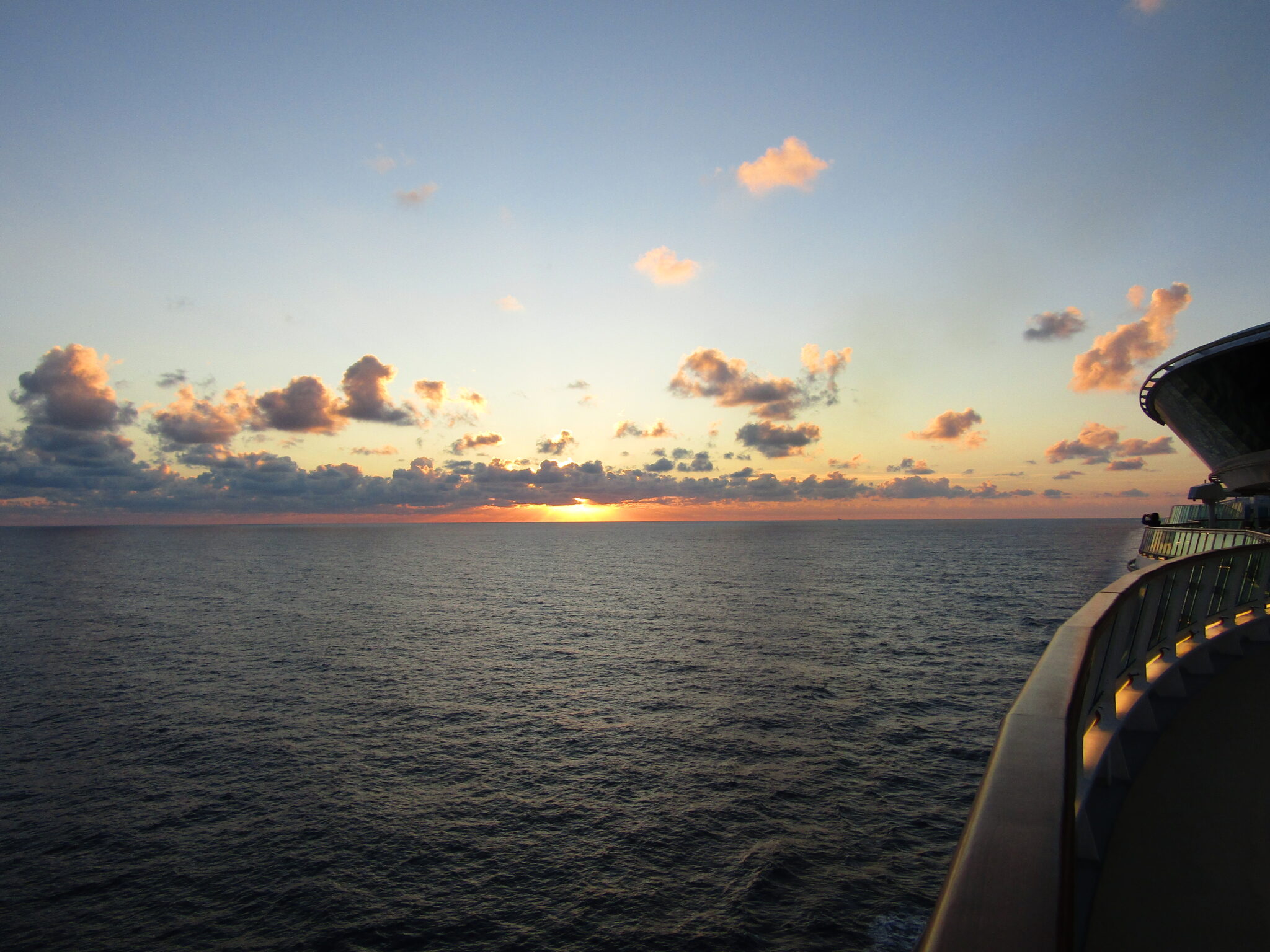 Interview to a cruise lover: Discover if this could be your kind of holidays
Yves is a very busy young business man, working full time at HP and at the same developing his own business in network marketing with LR. He has a passion for cruising and a lot of experience, now being a Platinum Crown & Anchor Member.
World Travel Able has interviewed him to know a little more of his experience, especially his last cruise from Barcelona.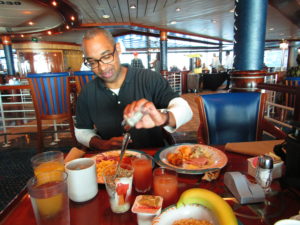 WTA: Yves, we know you are the kind of person who always gives a lot of importance on what we call "mindset" in order to succeed in life. Can you tell us how you were on that aspect before going on the cruise?
YO: After a very hard week for both me and my wife at work, we really needed this holiday to forget all worries, concerns and anxiety we have towards the whole independence of Catalonia and how this is even affecting our relationship with our friends who are not Catalans and on the other side of the coin our friends who are really pro independence and real Catalans.
I am always happy to arrive in Barcelona after all our travels around the world. But it was the first time I ever experienced that I was so happy to leave our beautiful house and rooftop where I usually like to get inspired.
WTA: Basically you were really exhausted from your work and the current situation in Spain and you needed a break, right? How did you notice you really needed this trip?
YO: On the day itself, when we embarked actually! I was so relieved to leave for a while that I even forgot to put my seatbelt on in the car on the way to the port! Arriving at the port there is a control to get in and I think the security guard was even surprised that I had no seatbelt on while telling him we needed to go to the cruise ship of Royal Caribbean. He was only fixating on the fact that I did not have my seatbelt on. He asked me twice about it, and I had no choice but thank him for reminding me to put it on. Which I did and then he opened the gate for us and I thanked him again…
At that moment I realized I REALLY needed a break! To the point of forgetting to take care of my own security!
WTA: You said you went by car, is that easy for you to reach the port of Barcelona?
YO: Our friends came and picked us up as we are almost neighbors, and brought us to the port. We live in Barcelona city but not in the city center, and actually, we could have taken public transport, but we had a lot of luggage and my wife could not walk so it was much easier. We only took a few minutes as it is close by the ring "Ronda Litoral" and then it's only a few meters and our adventure began!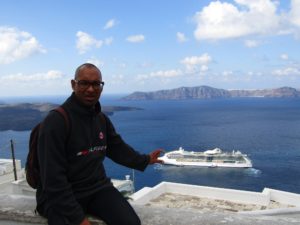 WTA: Was there a particular occasion for you to go on a cruise?
YO: It was our second time on the Brilliance of the Seas and it was to celebrate our 5 year wedding anniversary! The first time on this ship was a couple of years ago on our journey to Egypt that we actually never reached due to a sandstorm in Egypt. It was so bad on land that around 50 people died in the desert near Alexandria where we were heading to. But on that cruise, we made really good friends, a young couple from San Diego.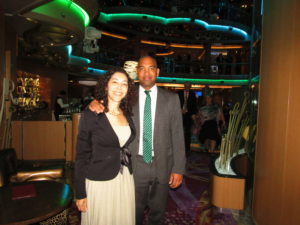 WTA: It looks like an adventure! And on top of it you made some friends?  Have you ever met them again? If so, was it on a cruise again?
YO: Actually we did! But not on a cruise this time. They invited us to stay with them in San Diego. We had also an incredible experience driving on Rodeo Drive, Beverly Hills, where we just went to visit for a couple of hours.
I was sitting on the backseat of their Mini, and while we were waiting at the red traffic lights,  a car suddenly stopped right next to us and I realised it was a friend of Curaçao who just got married in the Netherlands and was on his honeymoon there! Later on, we met them again when we walked in Hollywood and we even talked and made some pics together! What were the odds!? All those crazy experiences always happen on our travels around the world.
WTA: We usually have prejudgements of what a cruise could be like and also about the people who cruise. What do you think about it?
YO: That's totally true unfortunately! People always tell me that they don't understand why I often go on cruise trips because they think it's for retired people only and it's boring.
I always tell them, try before judging!
We met a lot of people who we later became friends with, from all ages and from all around the world! Spanish, British, American, Canadian, Mexican, Chilian, and I probably forgot a few!
That's the problem of our society, always judge a book by its cover. I also love cruising and I like to break the preconceived ideas of people!
WTA: Give us an idea of what a typical day on board is like. For example, tell us about the first day. What did you do?
YO: I was very tired the first day of the cruise after a rough week at work so not sure it's the best example. I was not even enjoying as I usually do when I cruise because of the tiredness!
The first stop was Cannes in France. We did a stroll and after a little train ride around the town, which was a nice way to see around as I was so sleepy! When we came back to the ship we decided to take it easy and go to the spa!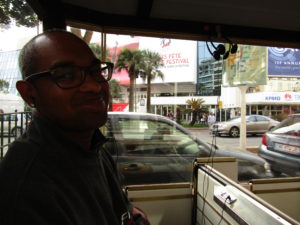 This was the best decision we took as it is a really nice place to relax with long chairs inside where it's heated with a nice view on the sea, where we can drink herbal tea, fresh handmade lemonade for example, and from where you have free access to the steam room and sauna.
After that, we needed to eat although it cost a little bit of extra energy to take a shower and get nicely dressed. Again at dinner, I was really struggling to stay awake. But even if I could order room service, I wanted to enjoy the beautiful dining room and delicious 4-course dinner with my wife.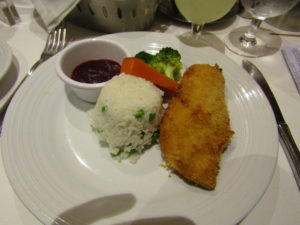 After dinner, we passed a few shops and bought a few presents for me and for our friends.
Then although there was entertainment after dinner, it was really time for me to go back to the room! As soon as I hit the bed I was gone until the next morning. Obviously, there was a lot of catching up to do in terms of sleep!
WTA: What is your favorite activity on board?
YO: Definitely the spa and the swimming pool area. We travelled the last week of October and it was the last journey in Europe. Later on, the ship was going to Tampa, Florida. So Royal Caribbean actually always choose the kind of ship that has an indoor swimming pool as it starts to be chilly at this time of the year.
I went every single day to the sauna to warm up, and to the jacuzzi to make some contacts.
That's where I usually meet people, together with the dining room.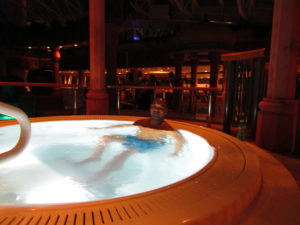 WTA: Where did the ship stop?
YO: We went to Italy where we stopped in La Spezia, Civitavecchia where we rented a car to go in the countryside. Then we went to Athens and walked in the parks and the old town. Further, we went to Mykonos and Santorini. And last stop was Malta where I already went several times to escape the cold Dutch winters for my birthday in January.
WTA: From all those places, what was your favourite port of call and why?
YO: I don't know which one I liked the most… I liked all of them… All I can say is that I had a really good impression on Santorini island because it was the end of the season and it was really quiet compared to the high season. So it was nice to relax on top of the hills and enjoy a coffee overlooking the wonderful views of the island!
WTA: You mentioned you were very tired when you embarked the ship and on the first day. How did you feel towards the end of your voyage?
YO: Super good! I felt relaxed, pumped up to go back to work and super motivated to continue building my business!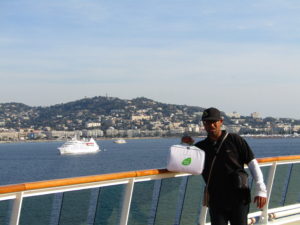 WTA: Why do you think cruising is so good for you?
YO: For me, it's the best option because it's like a hotel where you can unpack your luggage for 10 days and you can still visit different places and countries. No need to take a plane and pack your bags every time. Barcelona port is just a few minutes away from my house, no need to stress at the airport for me and struggle with luggage limitations and all the airport controls and long lines. There are also controls at the port obviously but everything is very well organized and fast.  And as I am a Crown and Anchor Platinum member I can even skip the queue if there was one and go to the fast track lane!
The main thing also for me is that the Royal Caribbean staff is offering real service, which we lack of in Spain and can be very irritating.
The food in the restaurant is excellent and the service of the waiters again is exceptional!
I am treated like a VIP every time I go there.
Obviously like I said earlier I can really recharge my batteries thanks to all their amenities to relax and resource. I can even work out at the gym on the 12th floor overlooking the sea.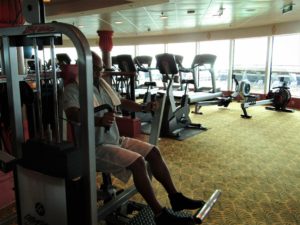 I also get really inspired on building my business and meeting a lot of new people just by sitting by the pool looking towards the sea and reading a book.
The Internet is available but quite costly, which is actually a good thing as we are totally disconnected and undistracted from the outside world. You can have real conversations, not being distracted by your phone! It really feels like a break!
WTA: So what's next, are you already planning another cruise?
YO: Yes, always. Actually we booked one on board as there are discounts but in the end, it didn't work out. So now I already went to my travel agency to get the next catalogue.
My options are still opened, but maybe something in Alaska or again from Barcelona.
I would not even mind going anywhere in the world, so depending on the special offers I may end up in Asia or the Caribbean!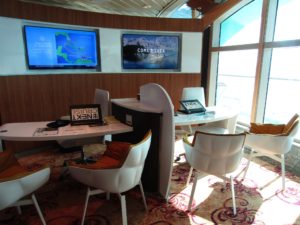 WTA: Finally, what tips would you give to people who are not sure if cruising is right for them.
YO: Try it first before judging. Maybe a short one first during a calm season if you are afraid of rough seas. And have a look at the boat features to see if you can enjoy the activities when you spend the day at sea.
There is usually all sorts of entertainment, cinema, Broadway theaters, concerts, games, billiard (my wife's favourite activity!), gym, spa (my favourite activity as you already noticed!), tennis table, mini golf and so much more, including for kids, so you can enjoy at every moment!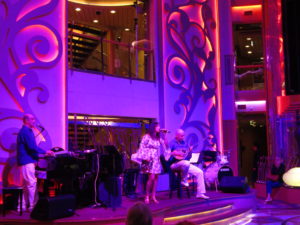 Thank you Yves for sharing your inspiring experience and at World Travel Able, we hope you enjoyed this testimony and help you decide whether or not cruising is something for you!
On my side, I have been worrying a lot because those cruise ships have a bad reputation in terms of pollution.
But actually, it is difficult to say.
Travelling will always involve a certain footprint.
And when you travel from Barcelona like Yves, you actually avoid taking a plane which in itself represents a huge footprint.
Also, when you stay at a hotel, not all properties are so careful like Royal Caribbean.
Actually when onboard Yves was asking them about that and they explained that they have a whole program called Save the Waves.
The way they recycle is amazing, they do a lot of efforts in terms of energy and waste to make a lesser impact. And now we noticed as well that they take the smaller boats for more fragile destinations, and their monster boats for the harbours that have the capacity to handle them only. That's why the choices of destinations are always more interesting on smaller ships than the huge ones.
You can check their program to find out more and the video about Save the Waves too.
Please do not hesitate to share your comments below!
You May Also Like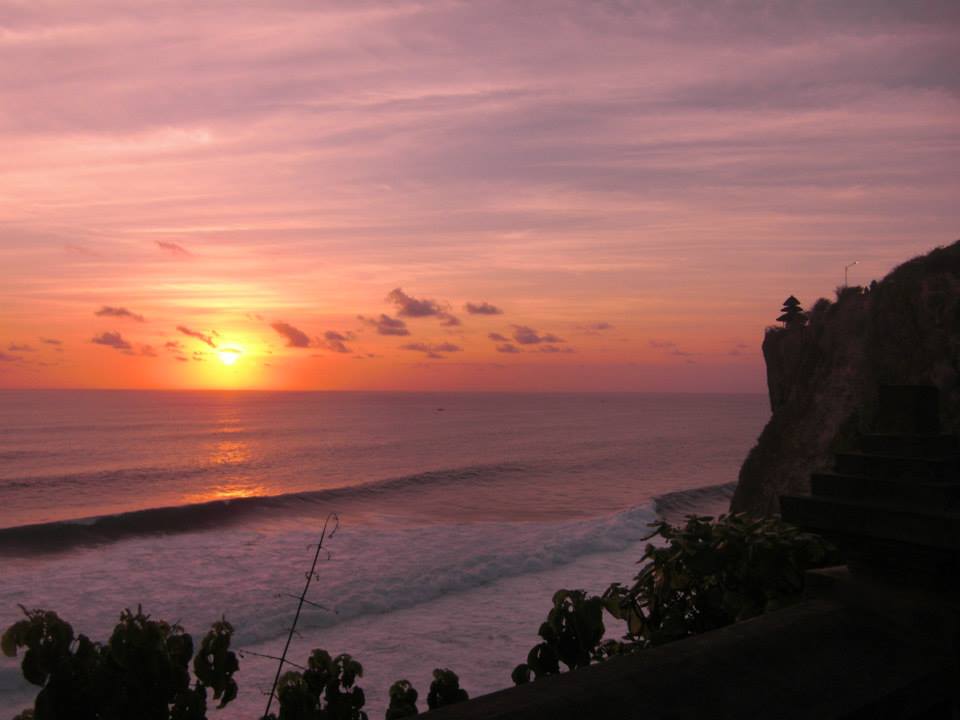 April 26, 2017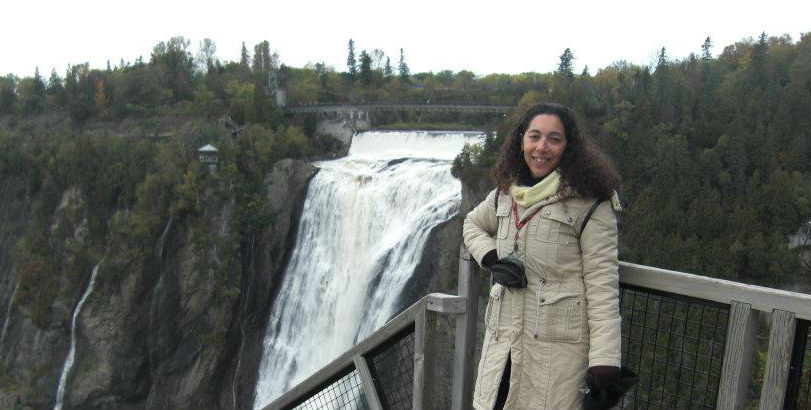 November 17, 2018