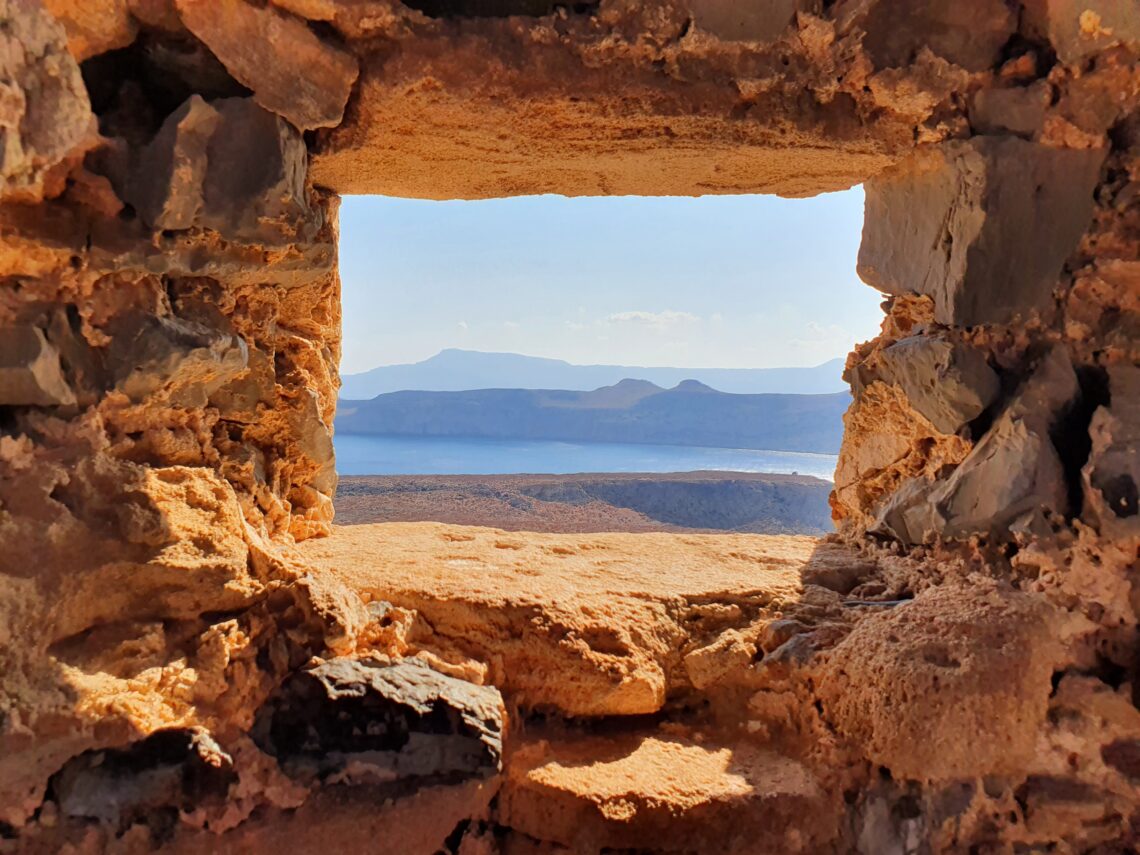 Western Crete: Visit the best natural and cultural places
Western Crete is the wildest part of the island and one that will take you off the beaten track.
If you like authenticity and enjoy taking your time while travelling, I highly recommend this side of Crete.
Western Crete might not have been my first choice given the low level of accessibility. But in a country like Greece where tourism makes it almost a victim of its own success, this region remains the wildest and most unspoiled on the island.
Whether you are passionate about nature, architecture or culture, you won't be disappointed.
Chania
Chania is the gateway to the western region of Crete.
You can land directly by plane at Chania international airport. And boat connections to other Cycladic islands in season, as well as to Athens, are available.
If you get there by bus, the town is also well connected, with buses going up to the east coast at Agios Nikolaos.
But much more than an accessible town, it is a premier cultural and artistic town. For me, it is also the most romantic city in Crete.
Its small alleys and taverns make it a mandatory stop before continuing on to the rest of the region.
How to discover Chania
You have to be ready to walk!
If you want to explore the city by bike, you can register for € 1 and then have access to bikes for free for 3 hours.
There were only 3 stations along the sea when I went there, so I finally preferred to walk and take the taxi which did not cost me more than 5 euros to my hotel located towards Koum Kapi.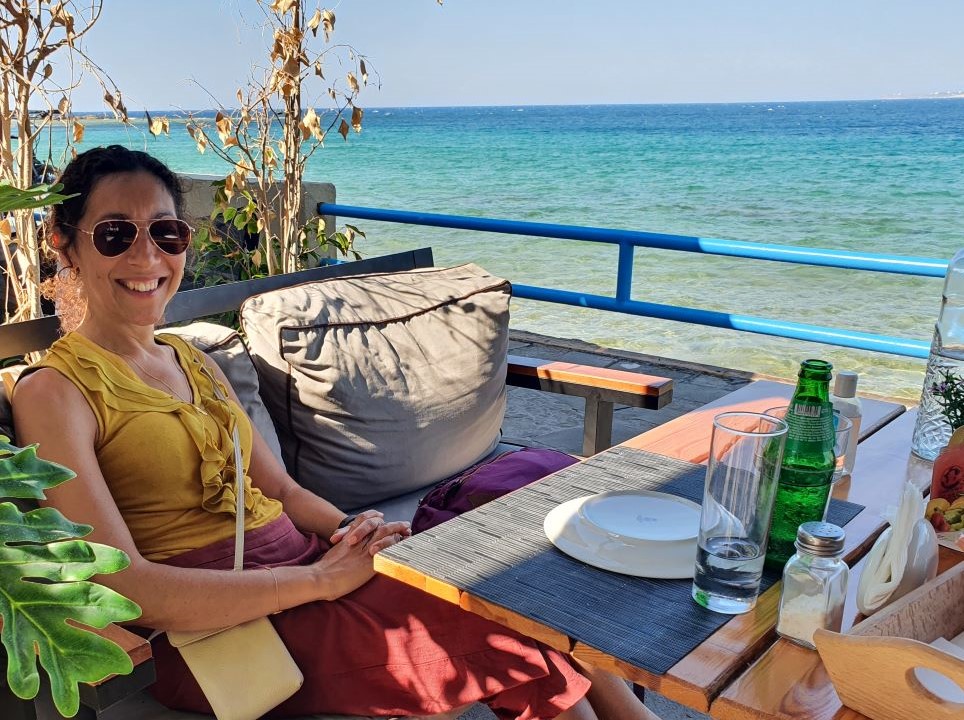 It is also an extremely busy city in July and August, so if you are looking for peace and quiet you may want to stay in an out-of-town hotel. Between Koum Kapi and Halepa for example, which remains accessible on foot via a beautiful promenade along the sea which allows you to stroll while taking a break on a bench, or in one of the many bars, cafes and restaurants.
Freshen up at the beach of Chania town
For a city beach, the sea is very clean. However, the beach is tiny. So much so, that some places have stairs down leading directly into the sea, with no beach at all. But they have it all covered! There are coat racks to hang up your bag and take a dip to cool off.
Temperatures here reached 45ºC in this year 2021 with heat waves due to climate change… But even in normal times, it easily reaches 35ºC in the shade in the summer.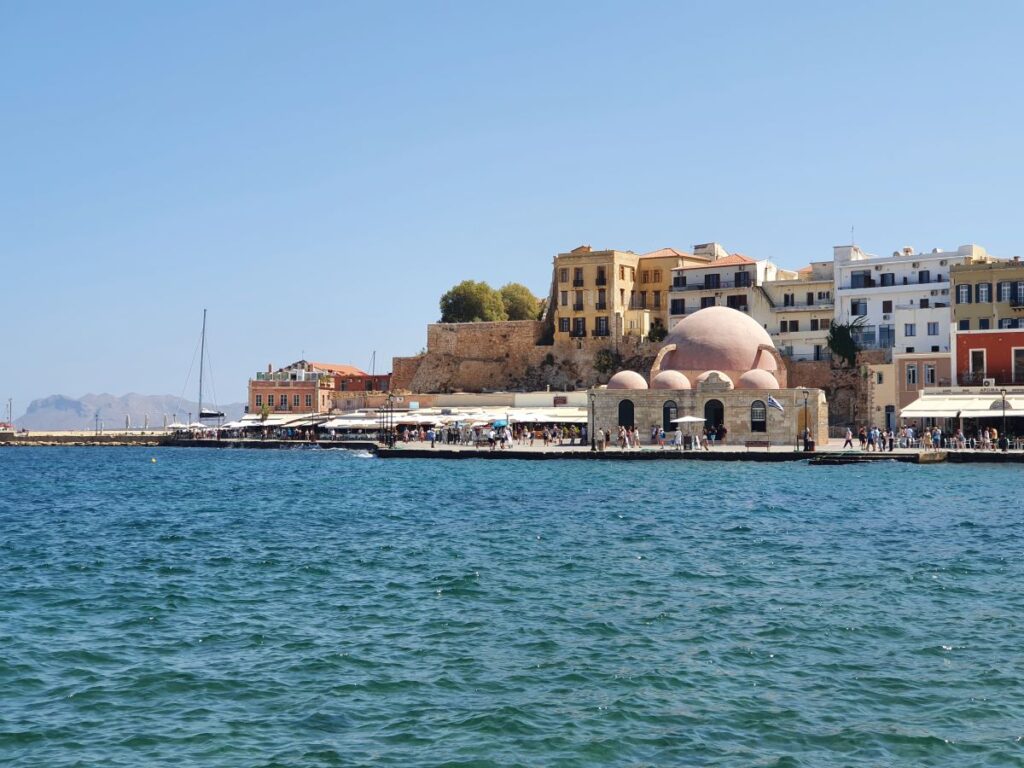 Chania, a city full of history
Chania is a cosmopolitan city with diverse architecture. Chania is in fact the result of two dominions: Venetian and Ottoman. Chania also has many districts in its old town: the Jewish (Evraki, with the Etz Hayyim synagogue), the Turkish (Splantzia), and you will also visit the Venetian port and the Topanas district.
Iconic sites like the Kioutsouk Hassan Mosque, the Venetian Lighthouse, the Firkas Fortress and the Orthodox Church of Agios Nikolaos in 1821 Square with its thousand-year-old plane tree can't be missed.
Chania also has several museums that relate its rich history, dating back over 4000 years, influenced by people from all walks of life, the first of which were the Minoans, followed by the Romans. From the 13th century the Venetians settled for almost four centuries, then the Ottomans for more than two centuries. You will see Minoan remains at the Archaeological Museum of Chania, a Byzantine collection housed in the Church of San Salvatore, as well as the Venetian walls at Citadel Schiavo.
The gastronomic options in Chania and western Crete.
As for the taverns, there is plenty to do. The ones I like the most are those in the small alleys, in interior courtyards, away from the hubbub of the city. Some places are so quiet it makes you forget that you are in Chania.
Greek dishes are exquisite, between different types of cheese such as mizithra (sheep's milk) or staka, salads with their delicious olives and feta, and other Greek specialties such as Cretan soup (kreatosoupa & pastas) and loukanika (sausages)… Food lovers will enjoy Cretan cuisine! The fresh fish is definitely worth trying too. My favourite starter: Rolls of vine leaves (dolmas) filled with rice and which can even be vegetarian. Lamb is also a specialty of Crete.
You can find all these flavours at the old market of Chania, including all types of olives, spices, fruits, vegetables, fish.
Kissamos
This port – even more to the west – is very quiet in comparison with Chania, and is the starting point of several excursions along the wild coast of western Crete, like Balos.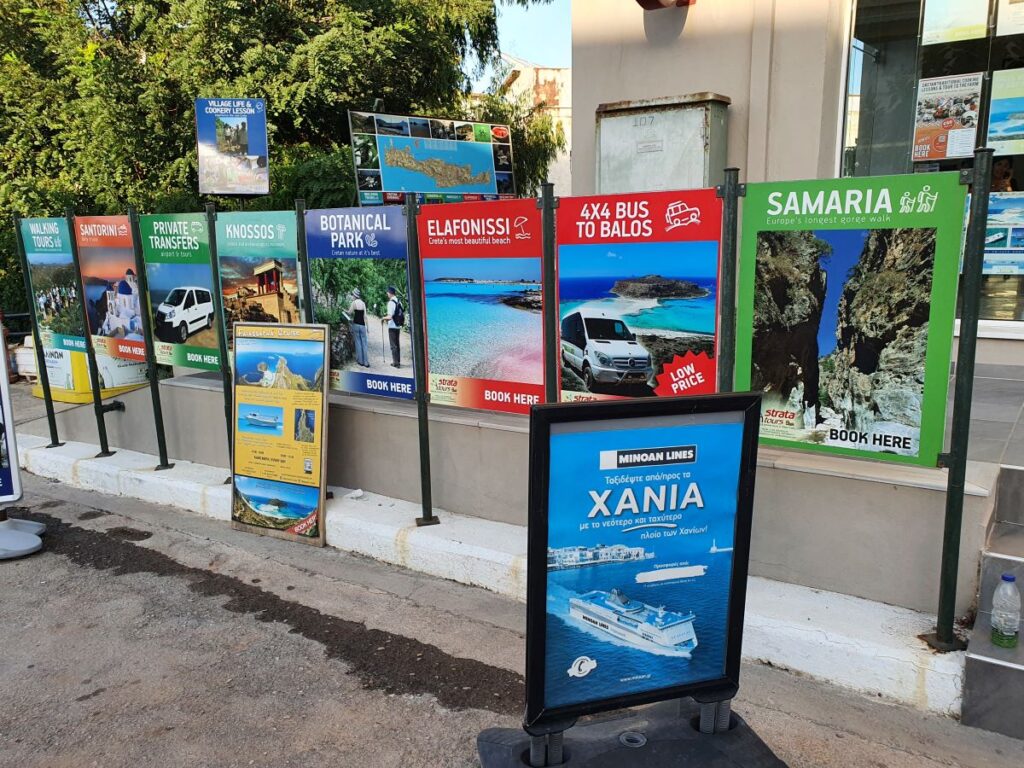 Kissamos is connected by bus to Chania, and even by ferry, which I would have tried if I hadn't had my big suitcase!
Instead, we took a taxi. When shared, it's still reasonable (around €80 in 2021) for around 40 minutes by car.
Kissamos is enclosed in a bay between the Rodopou and Gramvoussa peninsulas. The beach is rocky.
What can you do in Kissamos?
It is a nice little town to shop for souvenirs, as there are small shops with very reasonable prices. I was able to find many regional and even local products.
For example, I bought a very good hat made in Crete! Because if you are familiar with this blog, you will know that I wrote an article on responsible Christmas present-giving which, for me, is underpinned by the same principle as souvenir gifting: they must be either useful or pleasing to the taste buds (food should never go to waste!) in order to reduce the environmental impact!
Apart from the small center, the seaside is full of bars and restaurants where it is pleasant to rest before sunset.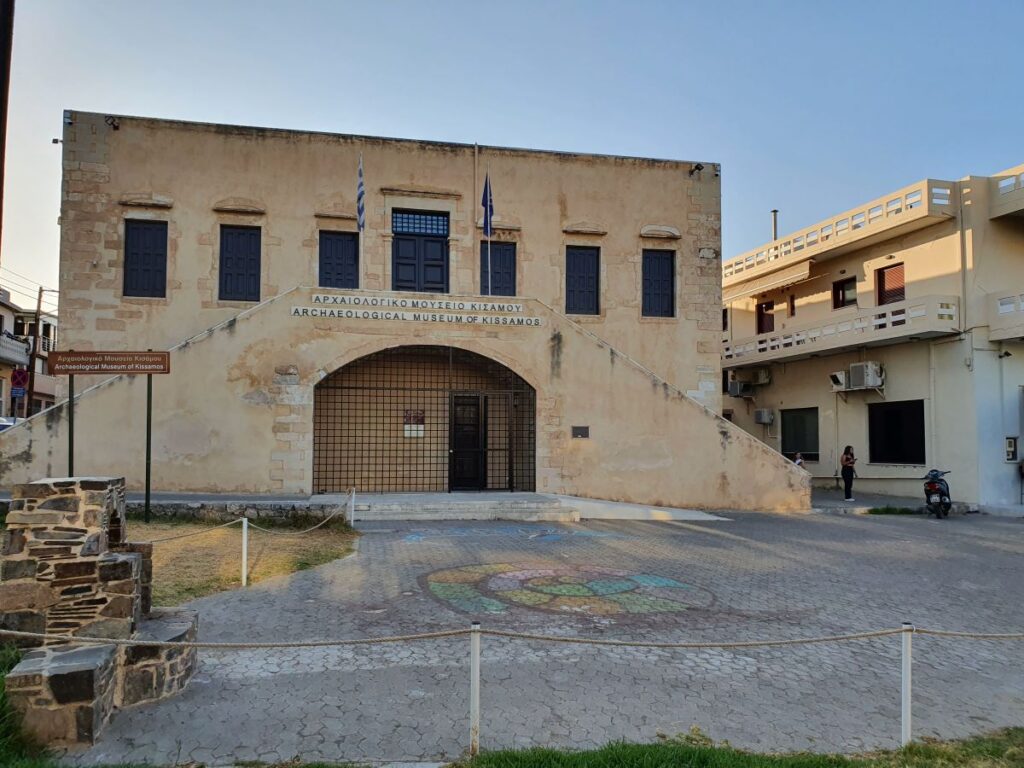 If you like museums, I recommend the archaeological museum of Kissamos Place Tzanaki, open Tuesday to Sunday mornings until 3 p.m. It is housed in a Turkish Venetian building and exhibits mainly Hellenistic and Roman artefacts, as well as some extremely well-preserved gems, statues, and mosaics dating from the 2nd and 3rd centuries.
Gramvousa
This is where our sea trip began.
We stopped in Gramvousa around 9 am at the end of August. And it was already very hot.
This Venetian fortress dominates the islet.
The captain of our little boat made a good joke: he told us it would only take 10 minutes to get to the top of the fortress.
I think I must have put in an hour with my physical capacities… A normal person maybe half as much, but definitely not 10 minutes! Because it goes up, and the climb is not always easy. Besides, I feared the descent more than the climb because it can be slippery.
Therefore, I advise you not to do like me and to equip yourself well: cap, water flask, and good walking shoes. Also, don't forget to apply sunscreen, even at 9 am! The sun is strong and there is absolutely no shade on the path, it is gravel.
On the other hand, your efforts will be greatly rewarded! Not only is the view of the bay, including Balos, extraordinary, but there is also a nice little tour to do once you get to the top with many historical remains.
Balos
A heavenly place… One of the jewels of Crete. Meaning, very busy. That's why we ended up going back to the small Gramvousa beach to enjoy the water because after a while it started to get too crowded.
You can get there by 4 × 4, and finish on foot, or by boat (and swim to the beach). We chose the latter option, and it was a great idea.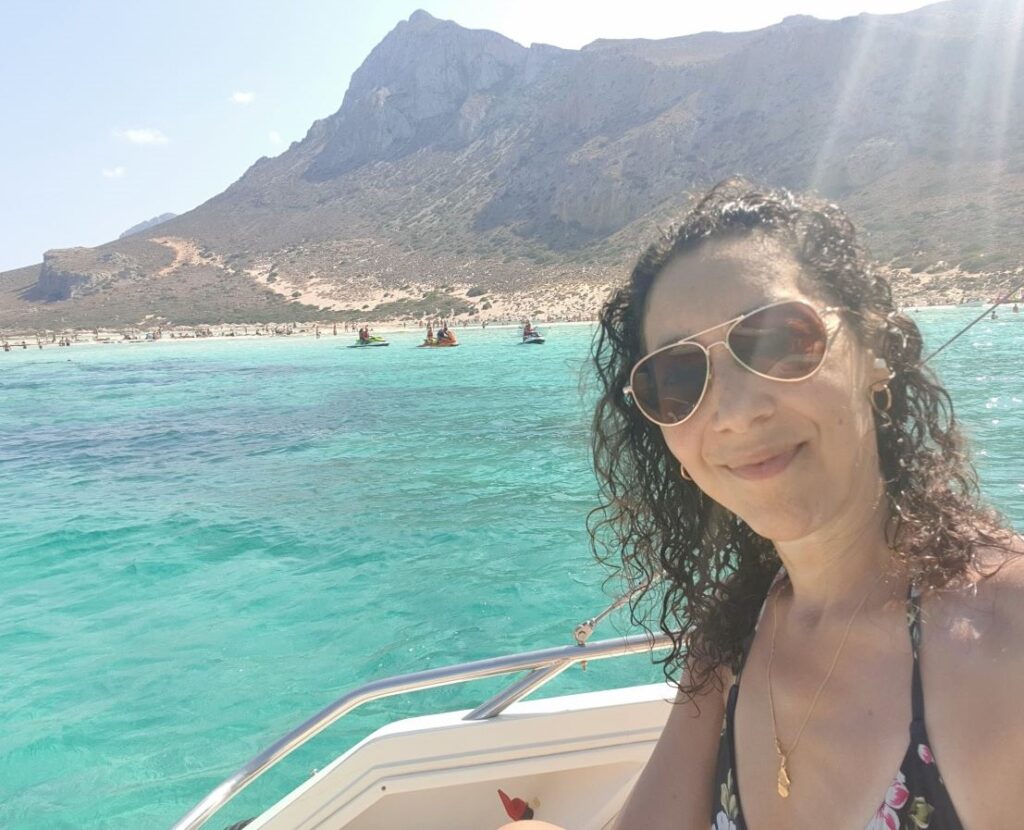 My friends reached the beautiful pinkish sandy beach overlooking a lagoon and turquoise blue waters swimming.
We left from the port near Falassarna and had the option of a half-day at sea in the morning or in the afternoon. I highly recommend it in the morning, because it is less crowded and not so hot.
There are also excursions available from Kissamos.
Sfinari
This is where we were staying. A dream villa overlooking the sea with stunning views of the sunset.
But even if you are not staying there, you absolutely must check it out.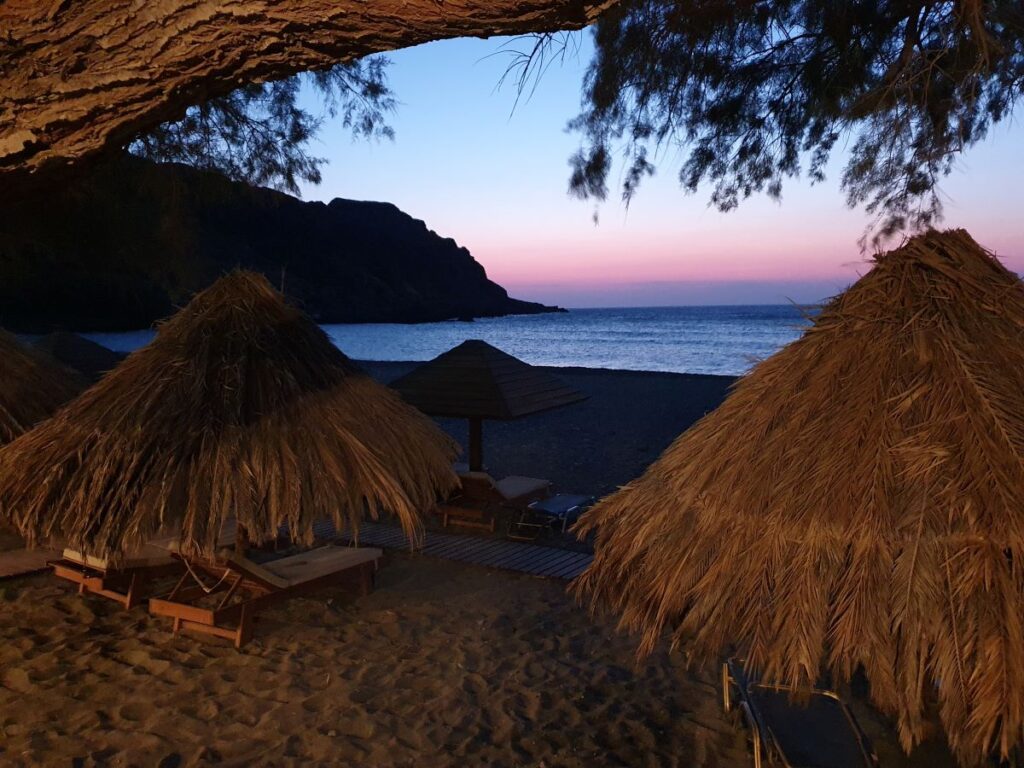 The beach itself is not extraordinary, it is rocky and you need shoes to go for a swim.
However, there are some of the best fish taverns on the island.
You can choose your fish or shellfish and pay by weight.
These taverns are family-owned and take a lot of pride in showing you their work.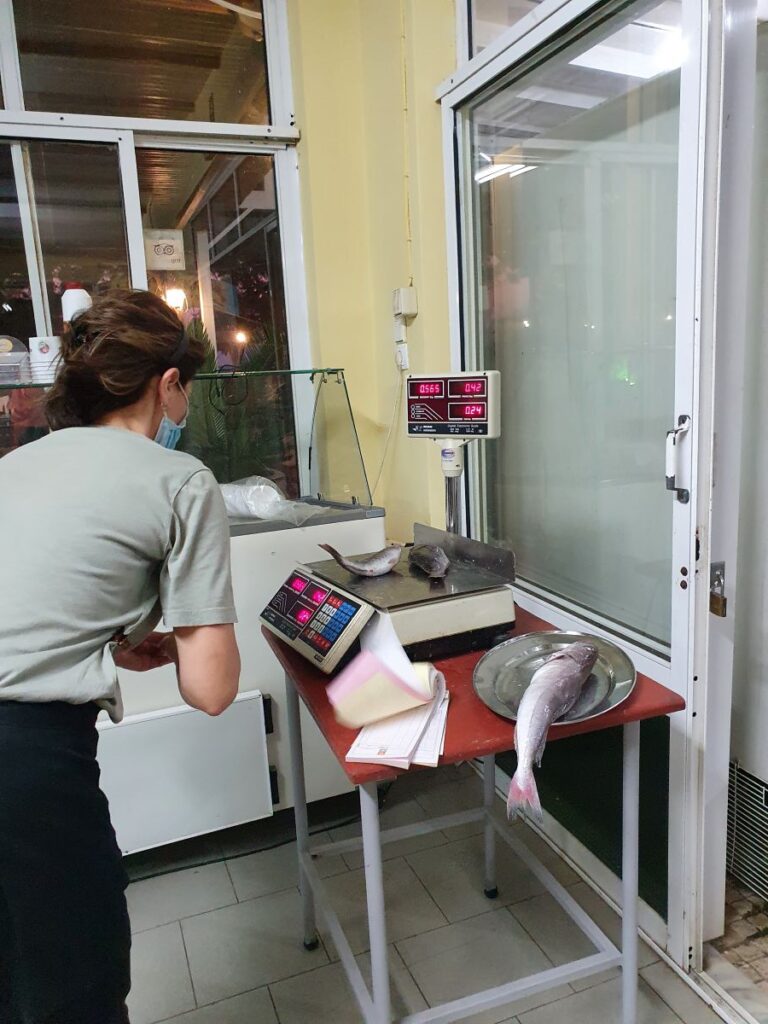 They'll cook your dinner mostly grilled on the barbecue, and meanwhile, you can enjoy one of the most spectacular sunsets on the island!
A car is probably the best option to get there. Another requirement is patience! The road is quite bad, and there's a big chance that you'll come across some goats or sheep. So be careful!
Elafonissi
This place greatly impressed me when I first discovered it in 2007. It was early June and there were few tourists. But when I went back in 2021 it was at the end of August and I did not like it so much because unfortunately there are no quotas to regulate access to this site. The parking lots are huge and can accommodate loads of cars and coaches. So you can imagine how crowded it is in midsummer… So the pink beach has rather lost its shine. It remains a very nice excursion to do though. But make sure you go very early in the morning, and if you can, avoid the peak season, which is in July and August.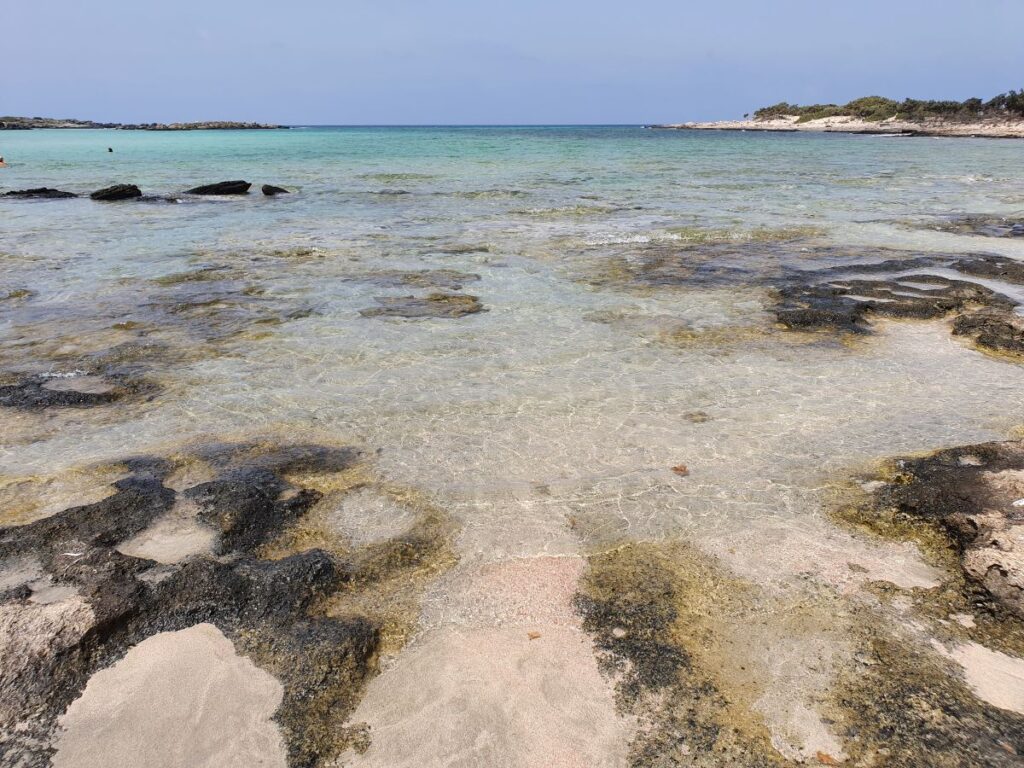 You can also go to the rockier part of the beach and then swim (or walk, the water is not deep) to the other side which is less crowded. I recommend good shoes not to slip on the rocks.
All the people of Crete that I spoke to end up hating what Elafonissi has become, a victim of its success… As Nuria explained in the interview I made with her about the loss of biodiversity in our Mediterranean regions, this kind of site is extremely fragile. Ideally, no construction or motorized activity should be happening within a kilometer. The reefs are fragile and require a great deal of conservation work, which local authorities do not yet seem to have understood, prioritizing tourist activity and short-term economic gain.
Kedrodasos
In fact, our host recommended that we go to another place near Elafonissi: Kedrodasos. It's not practical if you don't have good legs, but it is much less crowded, with plenty of trees to rest or have lunch under. It looks like paradise. Actually, it felt like we were in the Seychelles! (Well, I've never been to Seychelles and we may have got carried away by the emotion of the moment, but you get the point: it's magnificent!).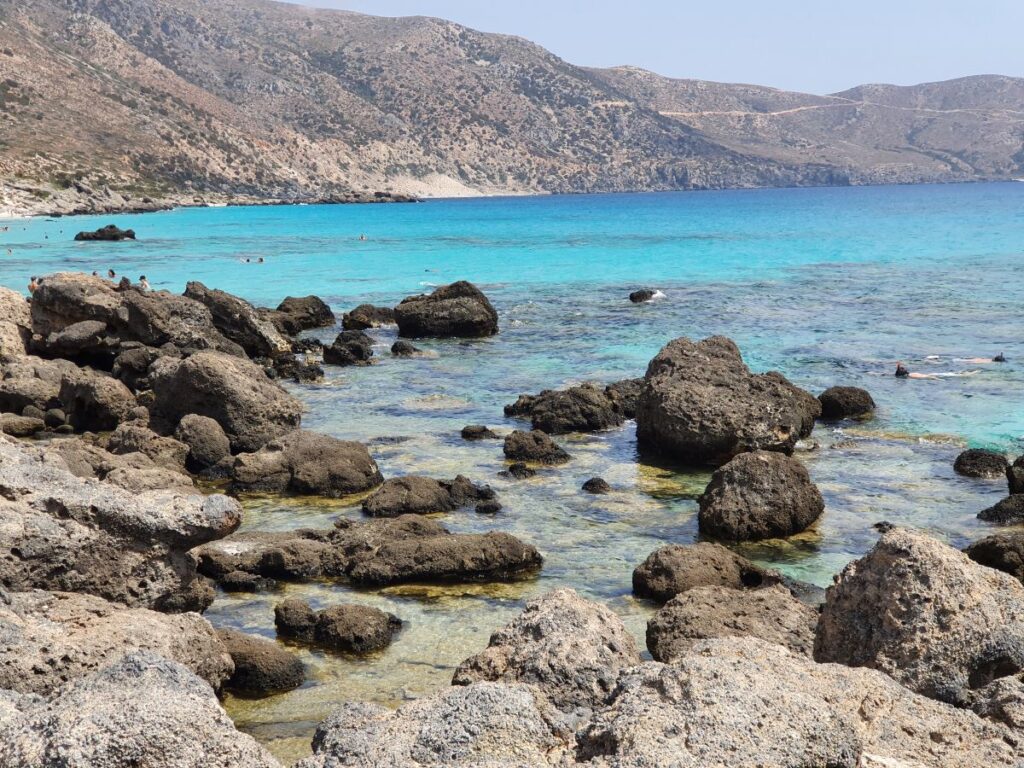 Elos
This small village perched at an altitude of 600 meters allows you to find a little freshness in the middle of the Cretan summer thanks to its many trees, especially chestnut trees.
You will also find a pretty Byzantine chapel from the 14th century, as well as the ruins of a small Ottoman aqueduct.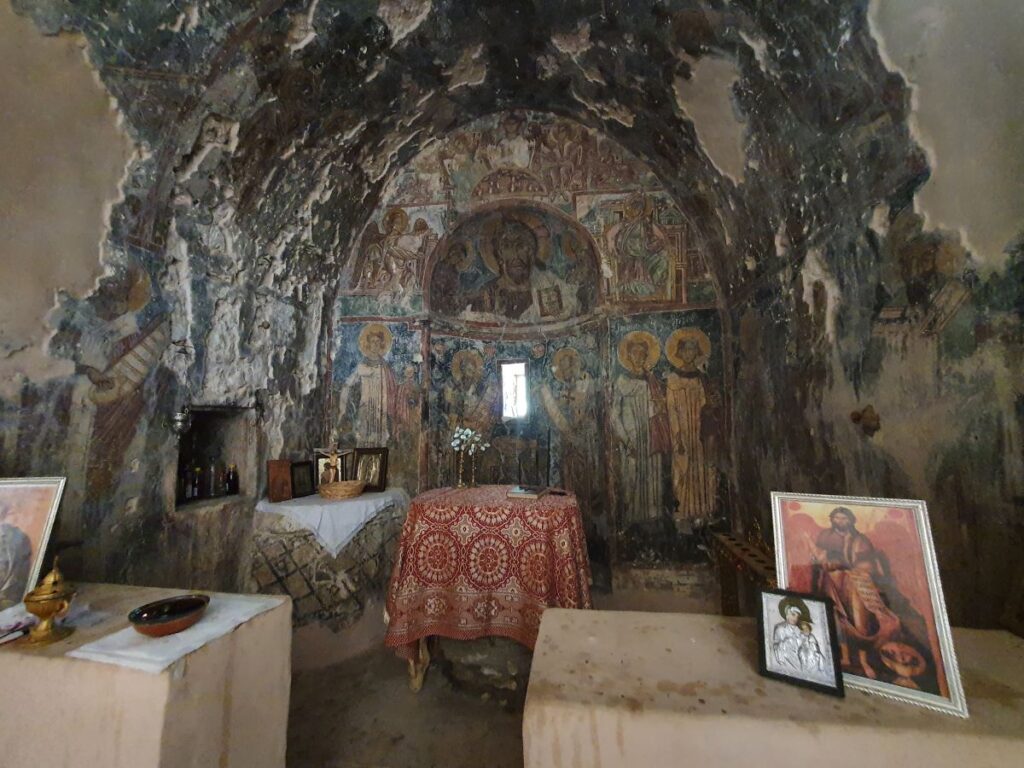 We took the opportunity to have lunch there and to refresh ourselves at the fountain, which gives surprisingly cold water, even in summer.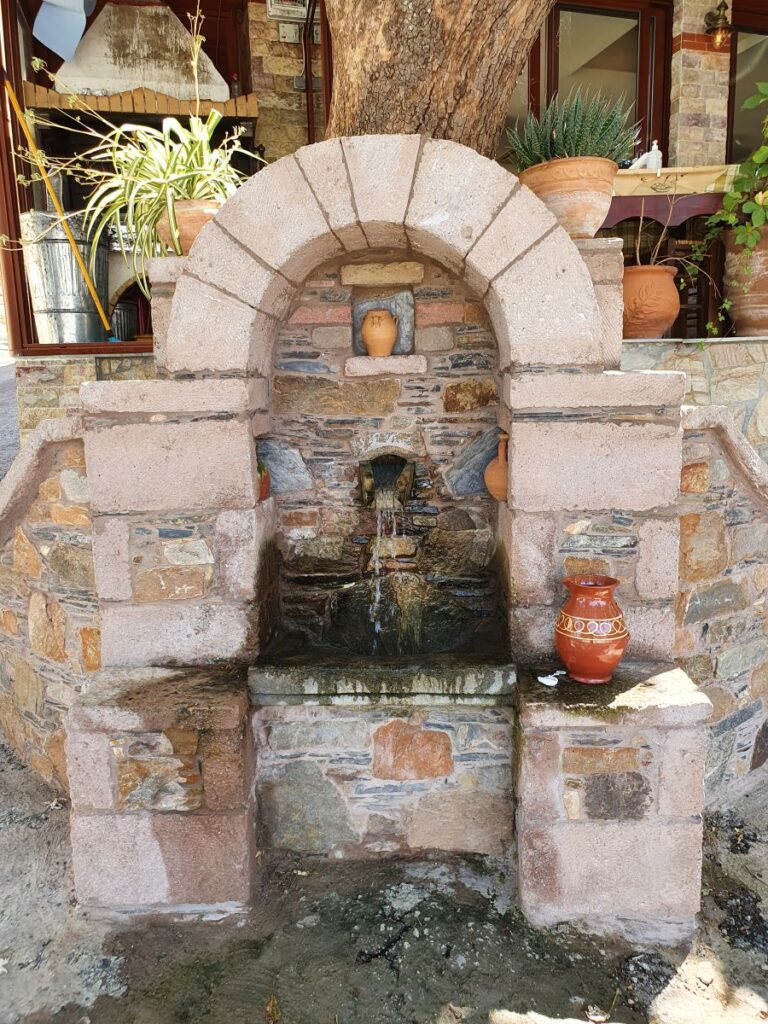 Having lunch in a small family tavern protected by trees seemed like a real breath of fresh air. The meal was also very typical, and I tasted okra for the first time, a green vegetable typical in Africa and found in Crete too, thanks to its climate.
Anecdote: I ordered an eggplant-based dish, but I was served okra instead. When I told the young waiter that this was not what I ordered, he assured me he had served me eggplant! Not at all – I think we were just in a chapter of the movie "Lost in translation".

But in the end, it was a good thing, because I have to admit I would probably have never tasted okra otherwise, and never known if it is part of my FODMAP diet or not!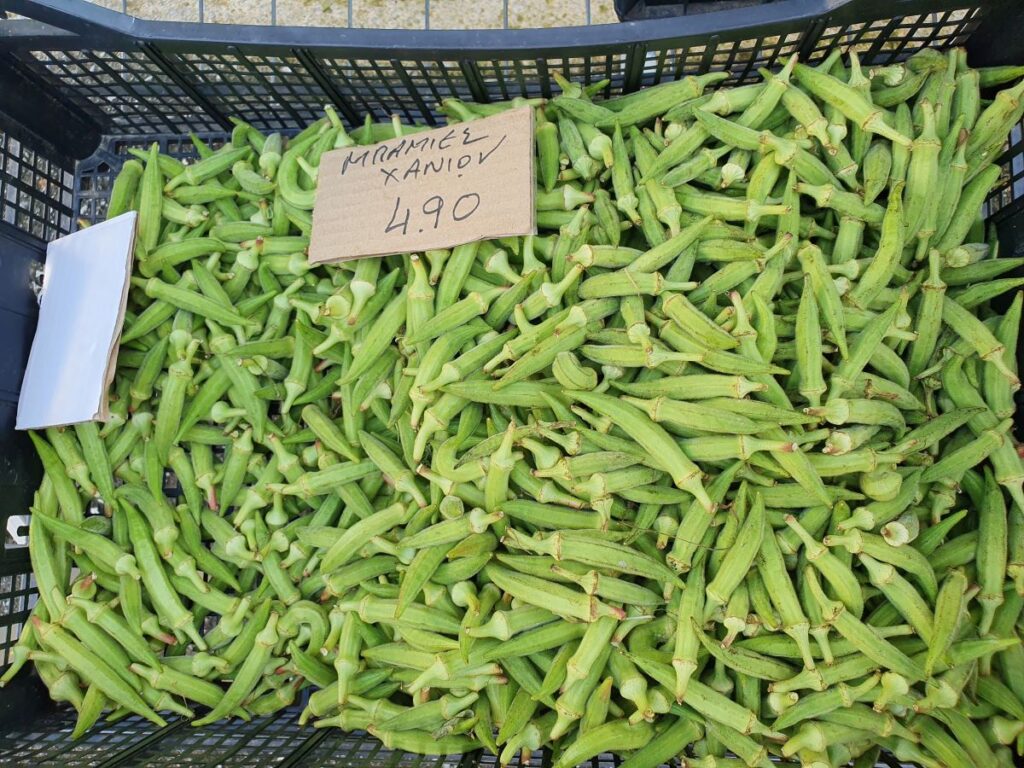 Topolia
Another village, rather artistic, where it is very difficult to get around on foot. Its church – Agia Paraskevi – dates from the high Byzantine period.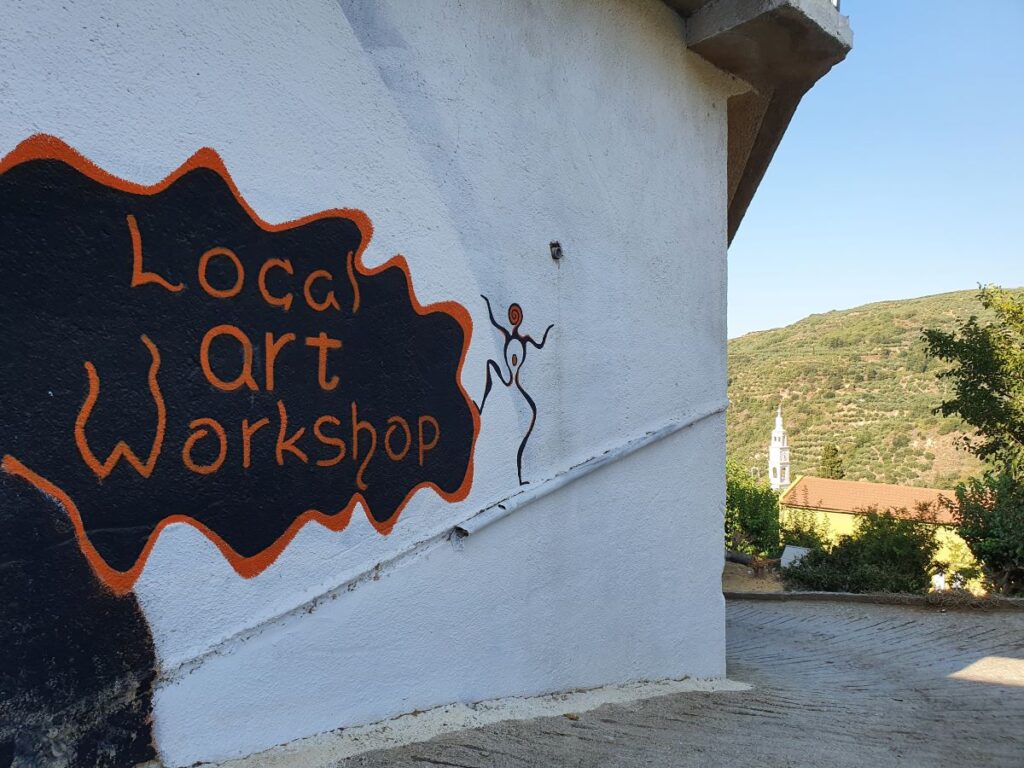 Not far from Topolia, you can go to the caves of Agia Sophia, also called "Wisdom of God". A few more steps to climb before you get there. But this time around, we were in the shade and didn't suffer too much from the climb, which was much easier than in Gramvousa.
As you can imagine by its name "Wisdom of God", this place is very religious and contains many relics. The cave is quite large but easy to visit. Definitely worth it if you are staying in western Crete. The view at an altitude of 400 meters will allow you to observe the surrounding nature.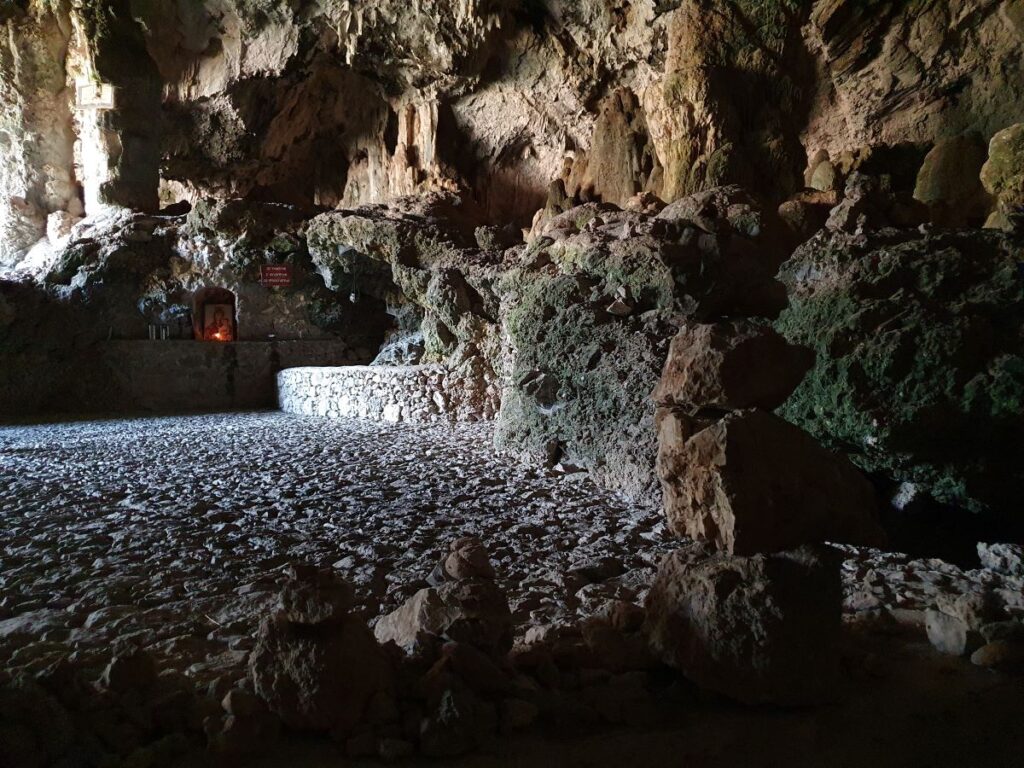 Falassarna
This beach is a favourite with the locals, apparently. Every time we talked to them they would tell us to go to this beach. It is wide, spacious, and sandy. There is a large car park making it easy to access, and has all the amenities of a tourist beach.
Maybe that was not what we were looking for… Although this beach was nice, my favorite is still in Balos.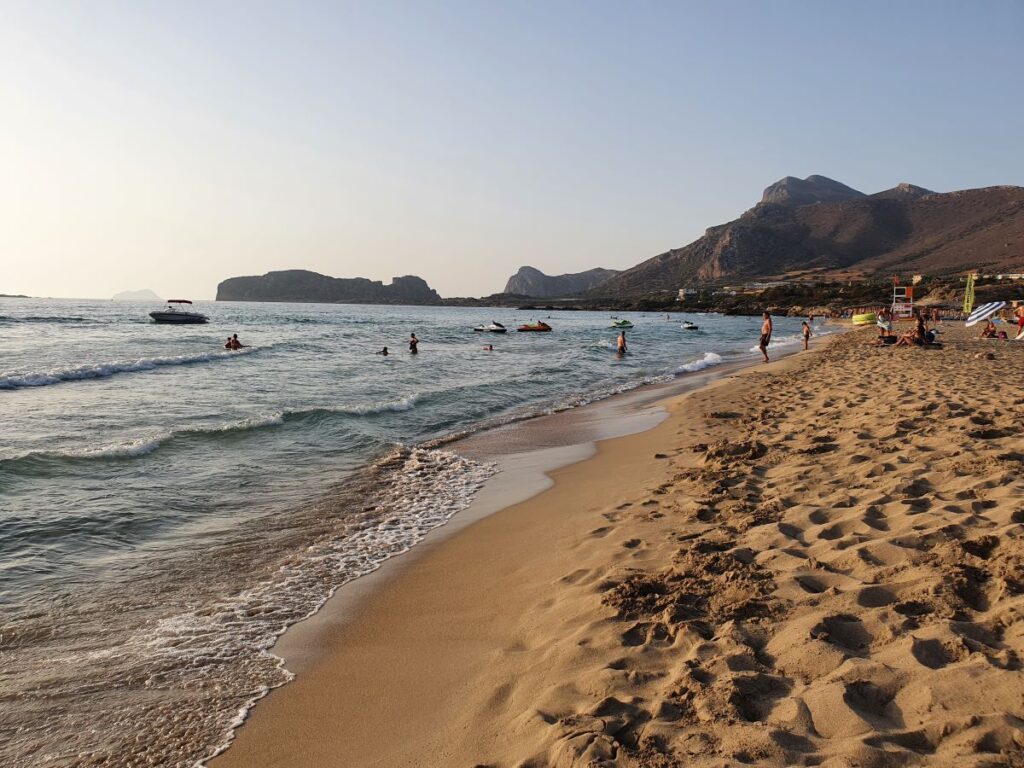 Botanical garden near Chania
This garden is not in Chania, but it is accessible by bus from the city center. Get well informed, because there is only one bus in the morning and one to come back in the early afternoon.
We went by taxi. Again, we shared the price and so it was reasonable.
This was my last excursion and I was not disappointed. You have to wear good shoes, because it goes up and down, with some slippery patches, and it takes two good hours to visit. But it is high up and well shaded and therefore very pleasant in the summer.
This little paradise is rich in biodiversity. Moreover, there are so many plants, vegetables, fruits and flowers that their restaurant makes special dishes based on the products from the park and the garden. And it is out of the ordinary! And the views from the restaurant terrace are very pleasant, especially after a good walk around the park.
In summary
If, like me, you enjoy discovering the flora and fauna of the places you visit, you will love it. You will also be able to see many peacocks during your visit. There are also benches on the way to take breaks and admire the scenery. At the bottom, you will find a small lake and small animals like donkeys and goats nearby.
There is still a lot to tell you about Western Crete, but in 10 days that's pretty much what we managed to do and frankly, given my physical limitations, I'm still impressed with myself! So if you want to do more, you can do it. But these places are in my opinion the most pleasant to visit.
If you read my blog, you will have probably noticed that I put a lot of emphasis on slow travel, meaning, a type of travel where you take the time to appreciate the place you are visiting.
This is important for the destination, as it shows a certain respect for its culture. According to the principles of responsible travel, you have to take the time to understand the culture of a place, at least a little. It's important for the locals. And that's also important for us travelers. Indeed, taking the time is good for both body and mind!
If you want to know more about my new project on environmental health and physical and mental well-being, go to my site Planeta Sana.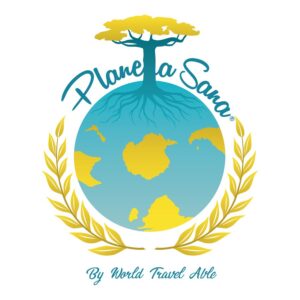 I also briefly mention my previous stay in Crete, when we were based in Rethymnon and which I also enjoyed very much, as well as my trip to the east and Agios Nikolaos in my article Dream holidays: Visit an island.
But this part of the island was probably the most pleasant during the high season in terms of avoiding crowds from the rest of Crete. Even if the roads are winding, it is still practicable and it is really worth it.
And you, do you know Crete or other islands in Greece? What did you like the most? I await your comments below and feel free to share this article through your social networks.
And as we say in Greek: Ευχαριστώ! (Efcharistó!)
You May Also Like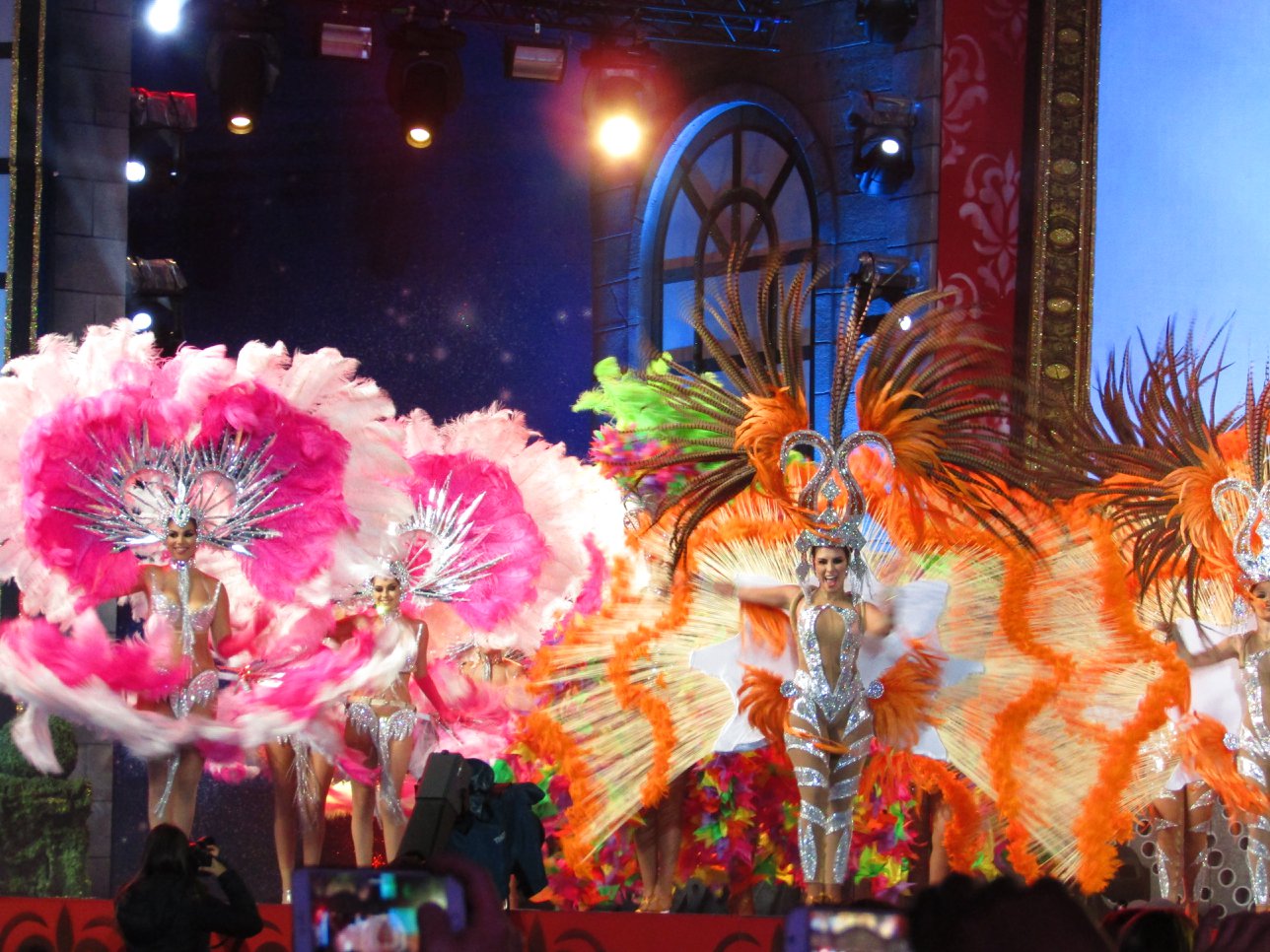 February 15, 2018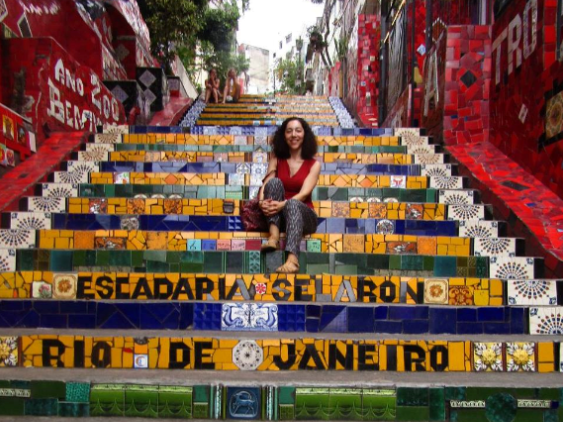 December 27, 2016