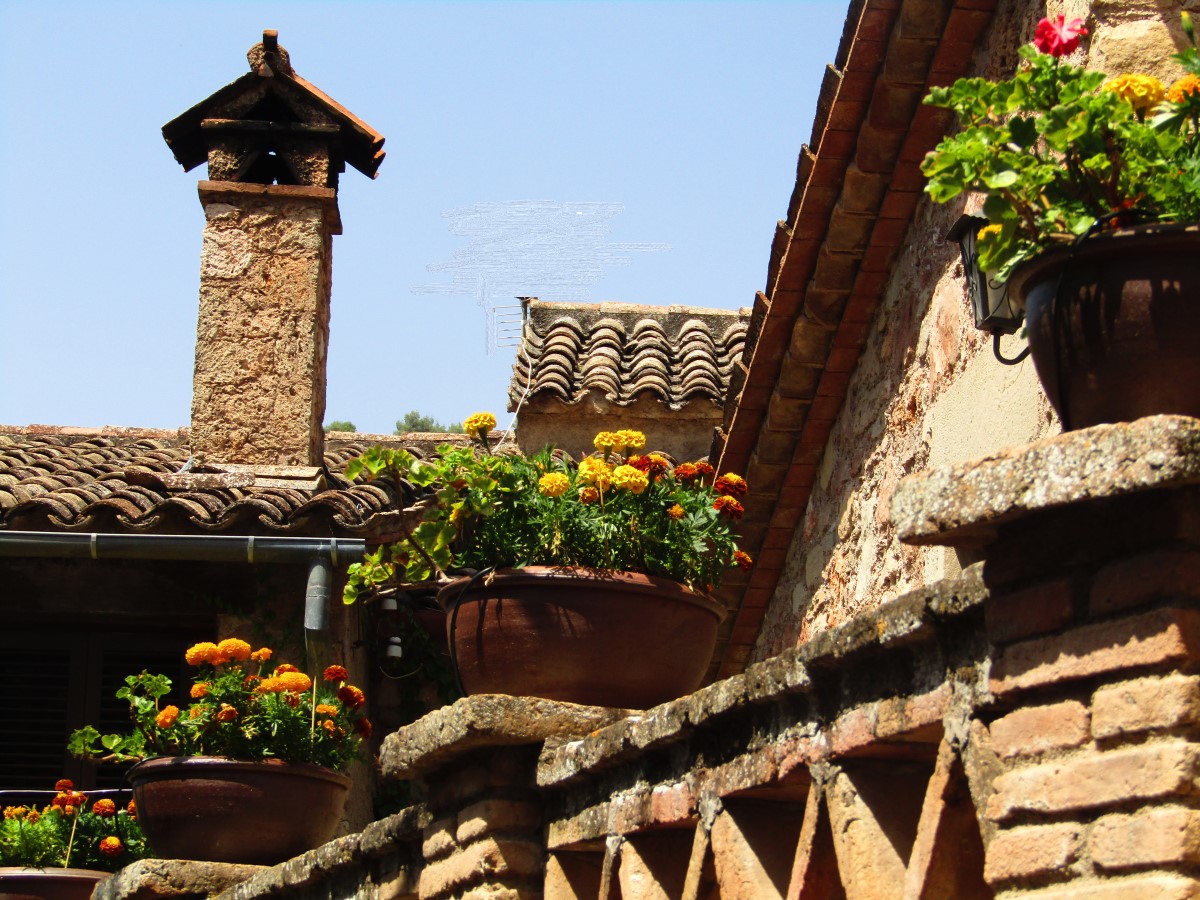 Mura and its natural park: one of the best escapes near Barcelona
Since the lockdown, the only thing I've been thinking about was escaping from Barcelona, and enjoying the forests, nature, and quietness of typical villages like Mura!

So, I have been looking at a map where I could go that was not too far from my home city, Barcelona. And I came across Parc Natural de Sant Llorenç de Munt i l'Obac!

Transport to Mura and surrounding Parc Natural de Sant Llorenc de Munt i l'Obac
I don't have a car, but this month with COVID19, I wasn't able to travel so we decided to rent a car for the whole month to be able to visit places close by.

If you know my blog, you know we advocate for protecting the planet and use public transport as much as possible.
But there are places like Mura where it's just more convenient to have a car… Especially if you have physical difficulties to move around.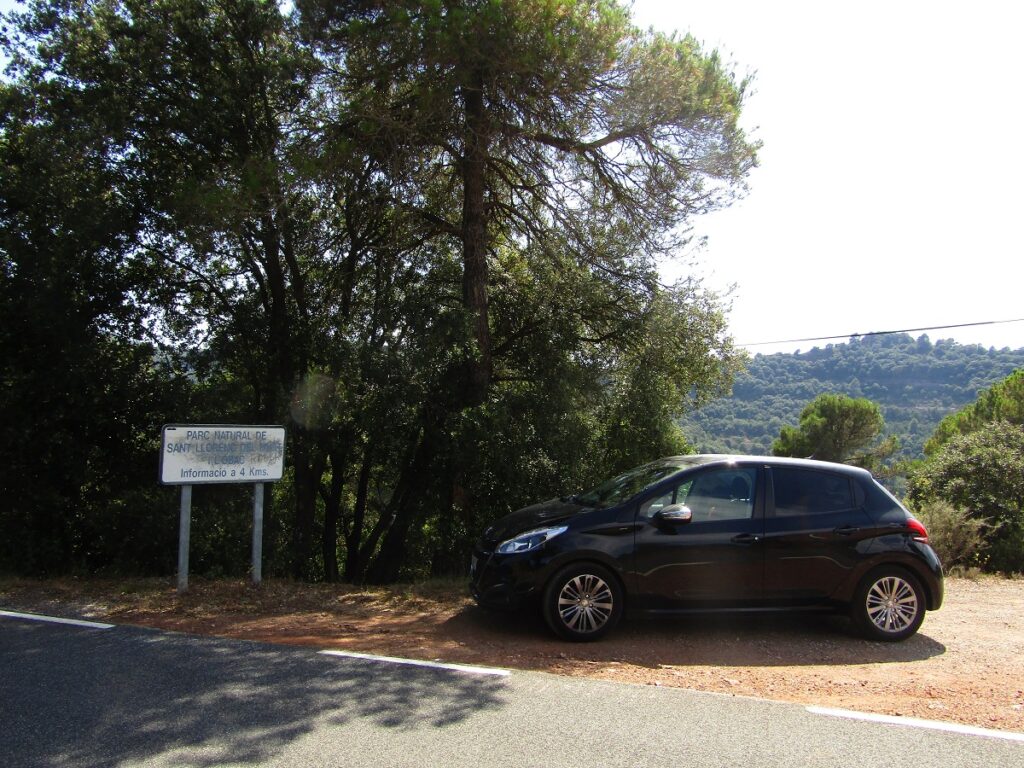 I think it's a great thing to want to be eco-friendly, but it should not be an obsession that makes you feel bad. Especially if you have physical limitations. We do what we can, and renting a car is a better idea than owning one. Car sharing / renting is a more sustainable way to move around.

With the Coronavirus SARS-COV2 outbreak, it also feels safer than travelling in cramped trains… I tried to go to the nearby beach of Caldes d'Estrac a few weeks ago, and it was a nightmare to come back. The train was packed and many young people had their masks over their head… not where it was supposed to be.

I was lucky to find a great monthly deal with a car rental company, and even with the cost of the parking, petrol, and toll, it is still a more eco-friendly choice than owning one when you live in a city so well interconnected like Barcelona!

And most importantly, it made me feel safe to be in our own car! Plus I could lay down when I had back pain, or we could stop anytime I wanted to stretch, so it was a great almost pain-free experience too!
Where is Mura and the Parc Natural de Sant Llorenc de Munt i l'Obac
Mura is located roughly one hour away from Barcelona, in the Bages area, and the parc is located between Manresa and Terrassa.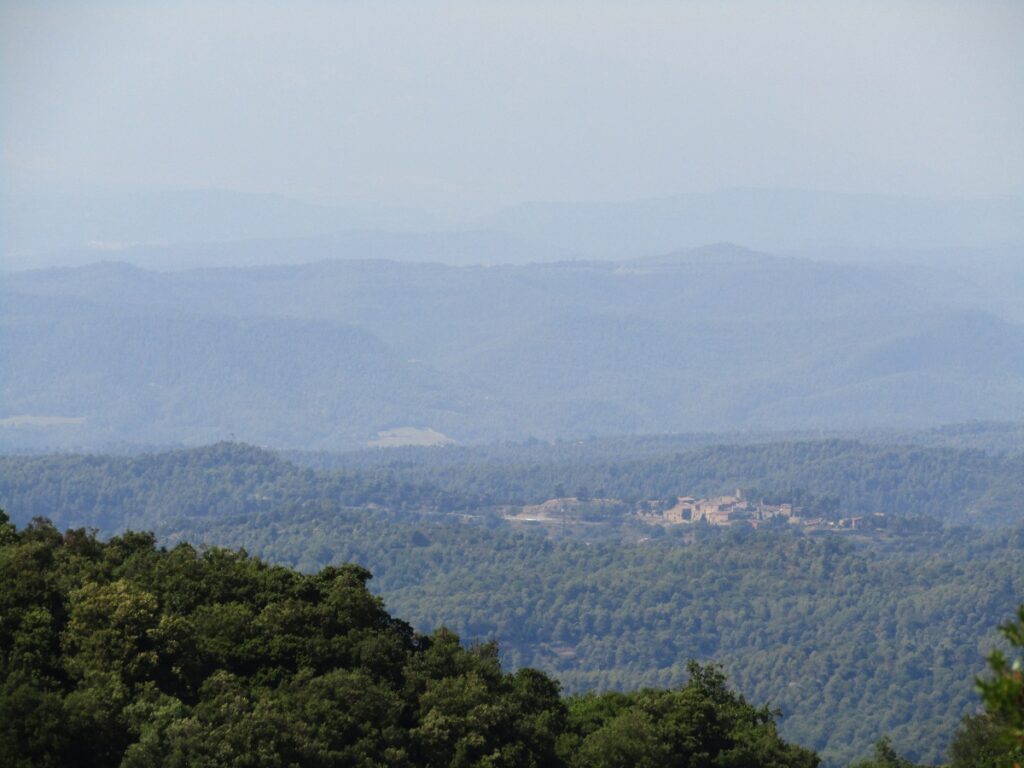 Parc Natural de Sant Llorenc de Munt i l'Obac
Did you know that this natural parc was the first declared natural parc in Spain? And it's spectacular!
You will be impressed by its landscapes made up of mountains and forests. Some of my favourite trees are part of the flora, like black pines and oak trees.
The rocks have various types of shapes and remind you of the force of nature!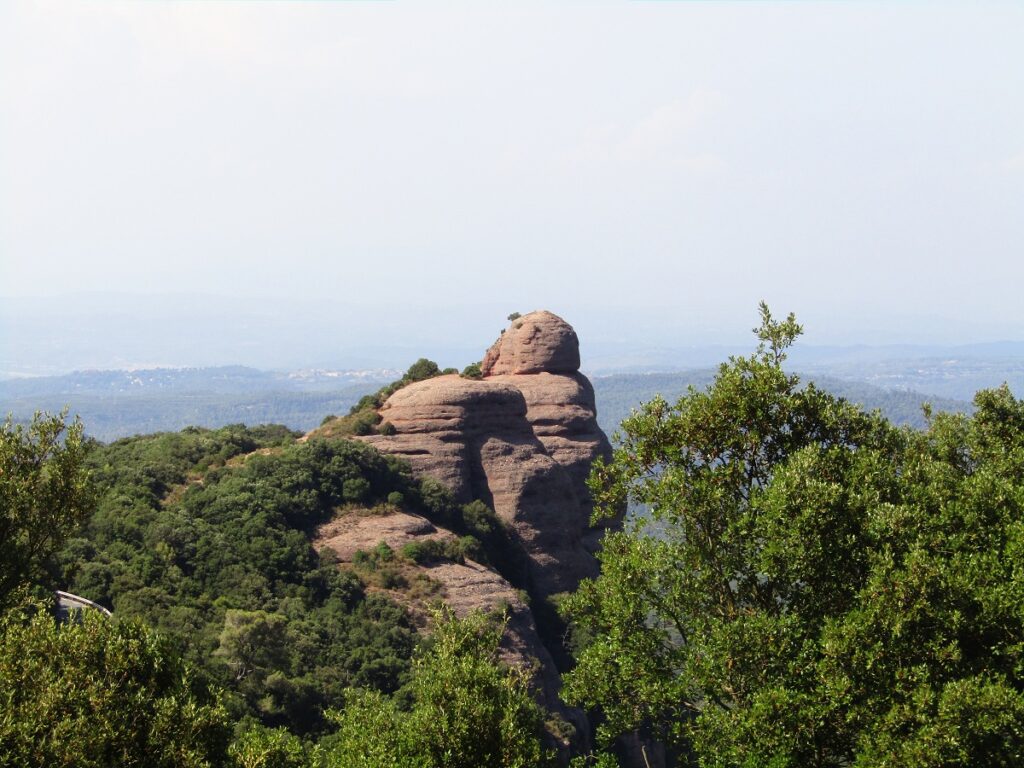 Actually, it's so beautiful that it is now part of the UNESCO's Global Geoparks of Central Catalonia!
There are many things to do there, and if you love hiking, you will have a lot of options!
But even if – like me – you can't walk much, you will still be able to enjoy this scenic drive, with its amazing nature, or stop in some designated areas to observe the wildlife!
Obviously, you shouldn't be scared of curves! But I'm a girl from the Pyrenees and for me, it was a piece of cake!
And that's why it's gorgeous.
It's not always possible to stop, so don't even try to take the perfect picture! It's too dangerous!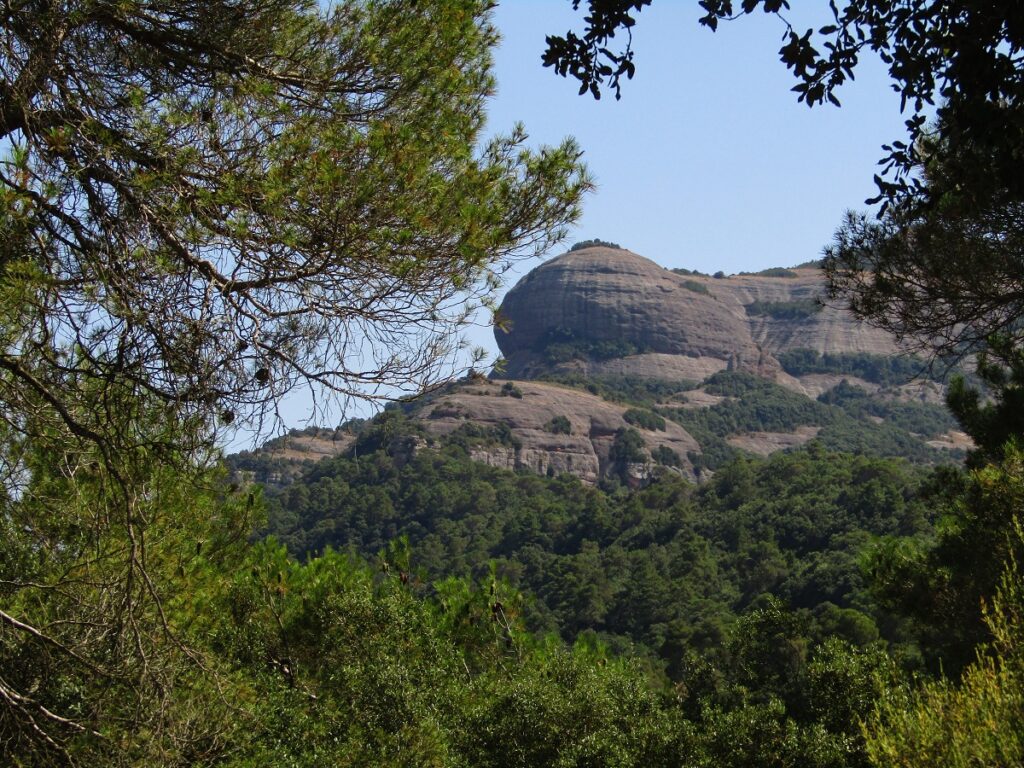 You will find a few parking spots where the view is not bad at all!
If you can walk a little, you can check one of those areas, there is even one of them completely accessible by wheelchair for part of it (700m, 20minutes walk)!

Go back in time in Mura
Mura is a cute medieval village, that is often mentioned in blogs and websites as one of the most beautiful villages in Spain.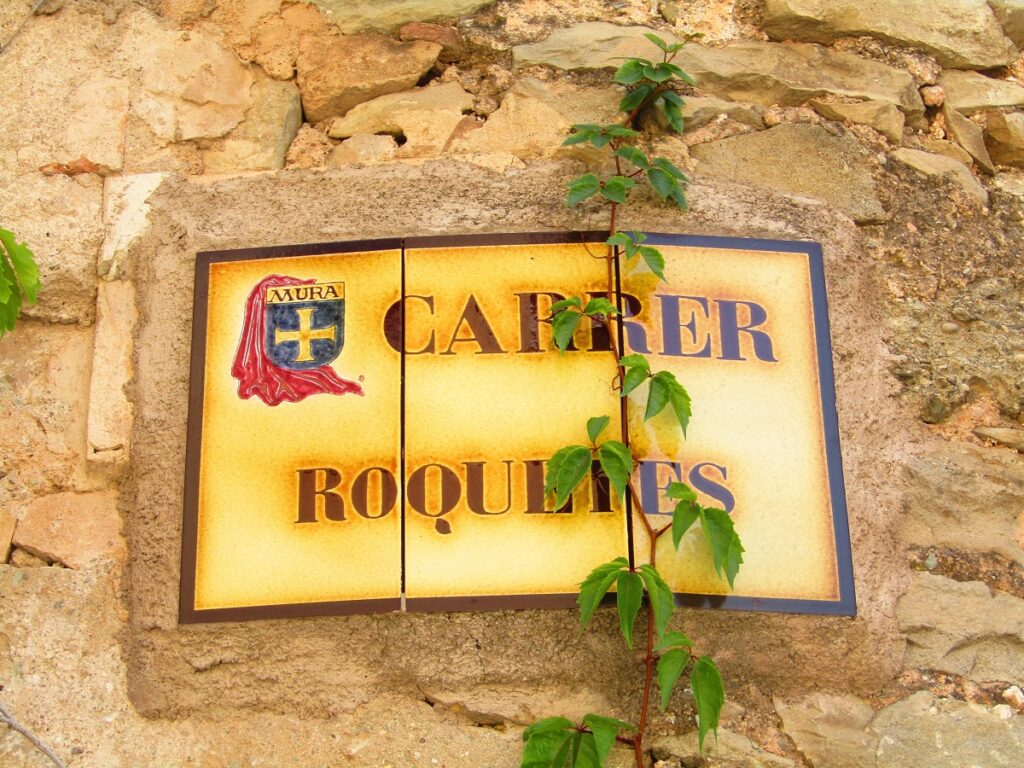 It's paved with cobblestones and has lots of charm.
Also make sure to be fit, because you'll need to go up and down!
There are several parking lots close to the centre of the village and is easily accessible. If you use a wheelchair, there is also an option to access more centric parking space. Just advise them in advance.
You'll see from its Roman church of the XI century and some of the signs, that it kept some authenticity.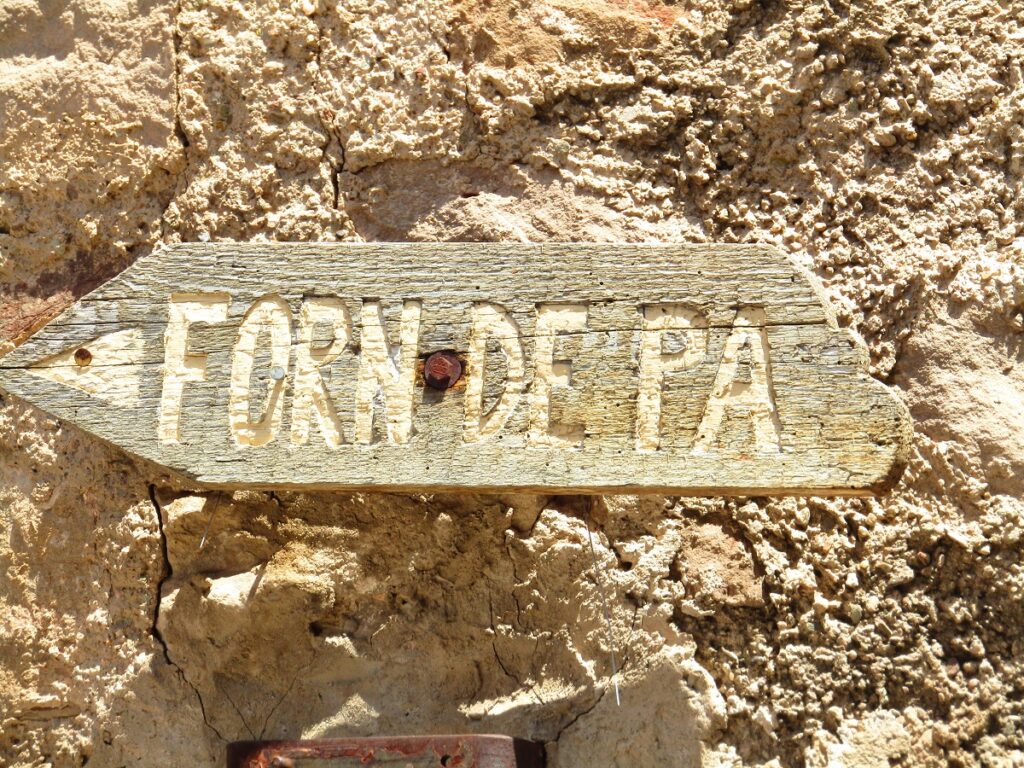 Gastronomy and Wine in the Bages area
You will be able to find a few restaurants in Mura, and enjoy the local gastronomy. Here they love heavy stuff! Meat or beans, but it's excellent quality. We came in the summer so we didn't feel like having this type of heavy food. We only ordered patatas bravas, but hell, they were delicious!
Wine in Bages is also a big thing! We only shared a glass as we were driving but if you stay overnight, you should definitely consider asking for the best DO Penedés or Pla de Bages wines of the region!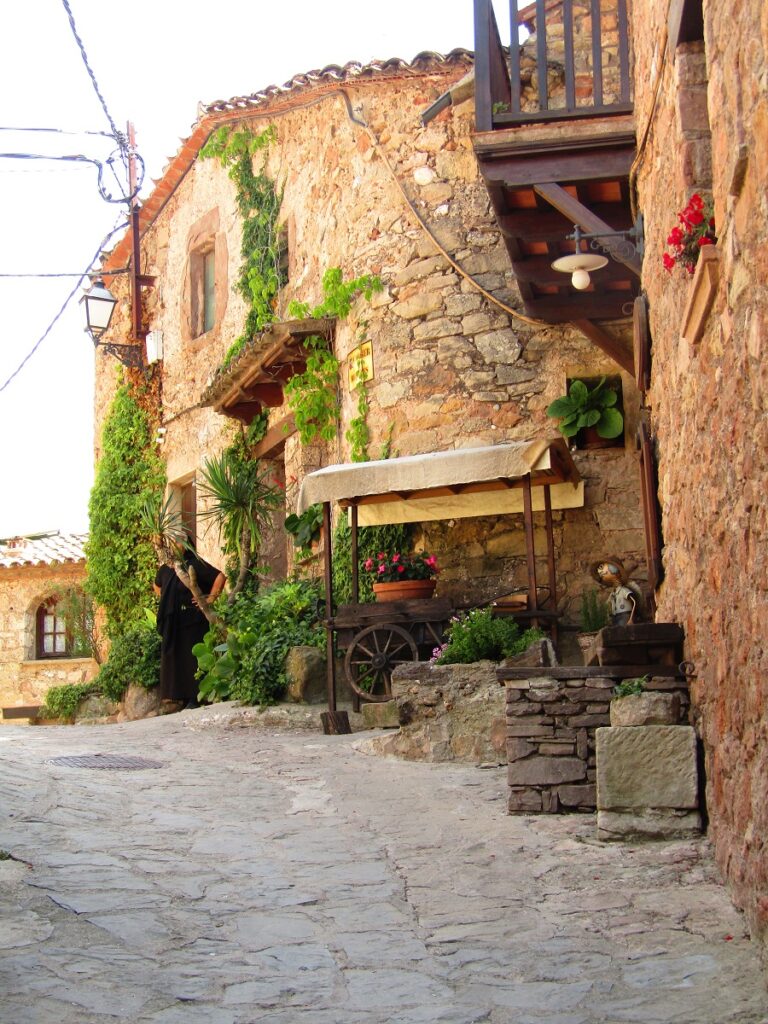 Weather in Mura
Mura is in the hinterland of Catalonia, which means that it's dry and has more extreme weather than its neighbour humid Barcelona!
Here it's cold in the winter and extremely hot in the summer! On the day we spent there, it was around 36-37ºC in the shade…
So make sure to take a big bottle of water with you, even if the village is tiny!
Again, if you like and can walk, there are ways to discover the caves but you really need good shoes!

What can you see in Mura village?
Here are a few highlights not to be missed in Mura: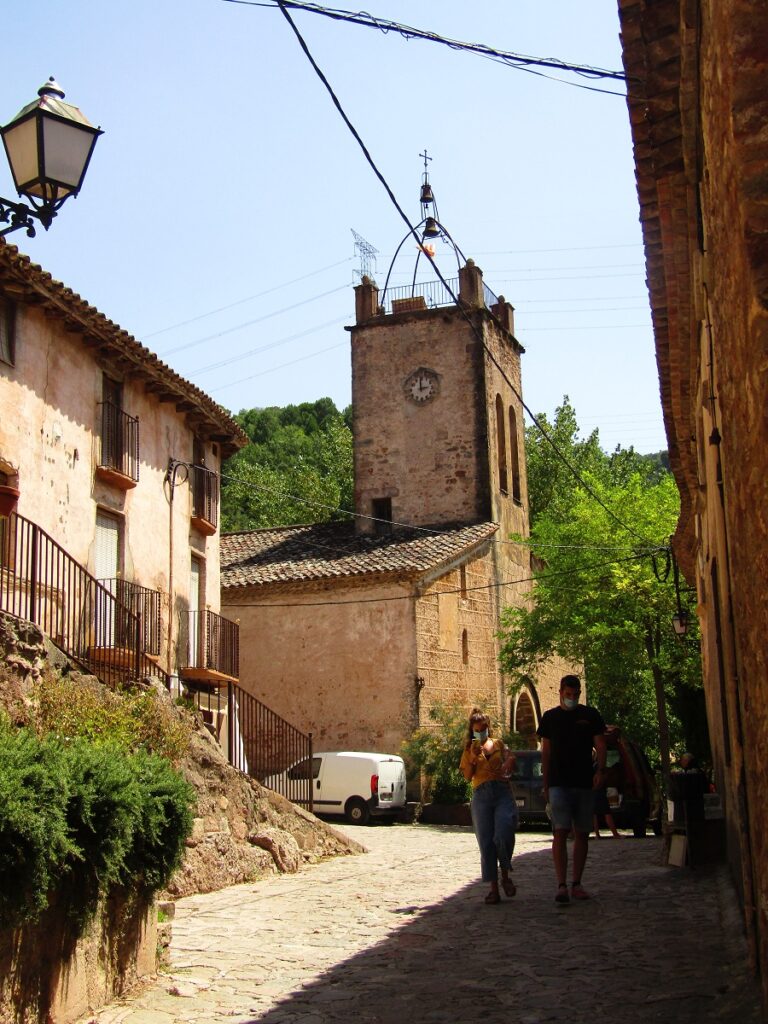 The townhall and civic centre
Sant Marti's Roman Church (XI)
San Antoni Hermite
Plaça de la Diputació
Mirador (Viewpoint)
Aviary "La Gangreta"
Leisure area of "Riera de Nespres"
I have also heard of the Gorg del Padre where you are able to take a dip apparently. But I haven't had the strength to walk there, although I tried… It's very difficult to find. And there is no parking close-by. I wish I could go because it was such a hot day and I was looking forward to freshening-up in the water! Next time!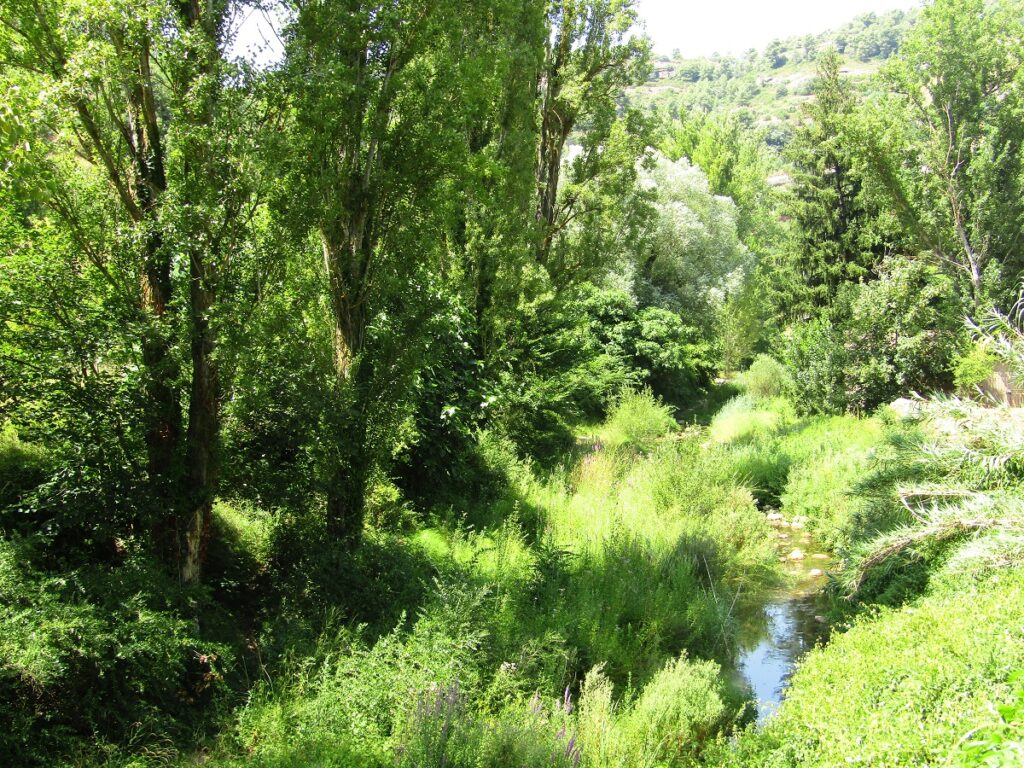 Other sites in the park
Mura is becoming very popular, so if you want more authenticity, you can try to go to surrounding villages like Talamanca. I have been told by locals it has a similar style, but has less tourism.

If you feel like going to the countryside without having to go too far from Barcelona, this is definitely the right spot! It's very close to the famous Montserrat, but just way quieter!
It's great to discover places like that where not many people travel to. It just makes your trip feel more real and authentic!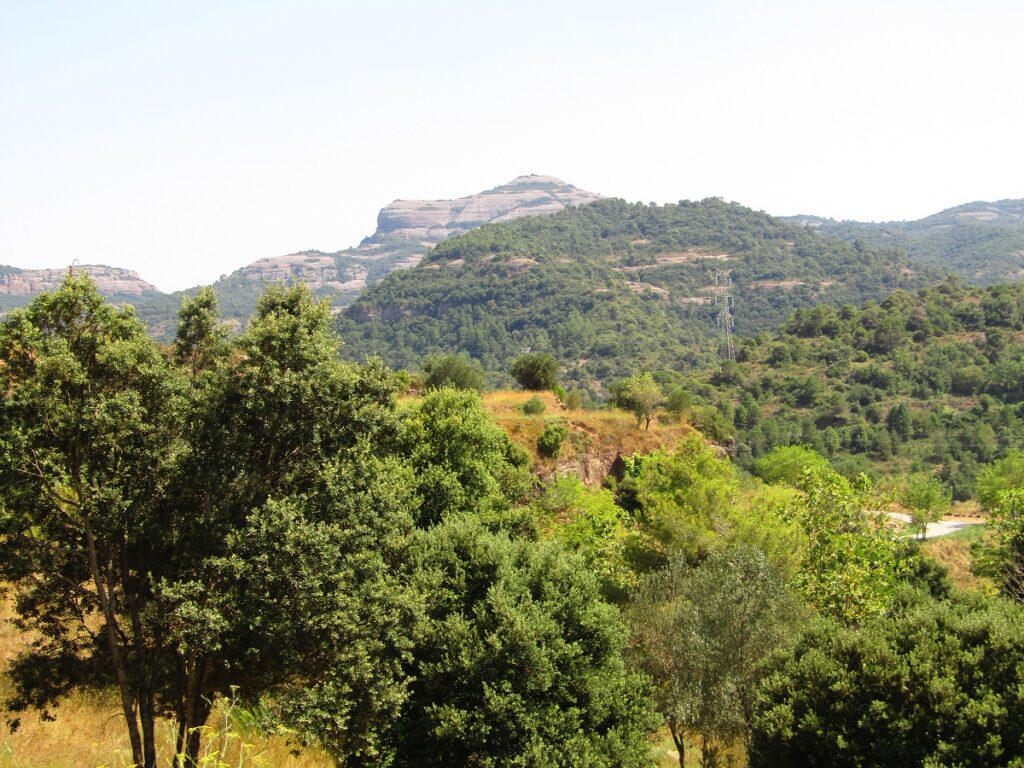 Have you ever been to the hinterlands of Catalonia? Were Mura and the Parc Natural de Sant Llorenc de Munt i l'Obac one of them? What did you like the most? Don't hesitate to share in the comments! The community would love to hear from your personal experience!

Moreover, if you have any great tips of eco-friendly and/or accessible places to go to while in the region, please share in our recommendation page! Your tips help us grow the number of healthy services we can use where we are, so that we and our planet stay healthy and we feel integrated!

World Travel Able is a blog of a future platform called "Planeta Sana", where we will help eco-conscious citizens of the world to connect with healthy services, and making sure everyone can feel integrated. If you want to help us make this movement stronger, share this post to your social media, like our Instagram and Facebook pages, and spread the word! Thank you!
You May Also Like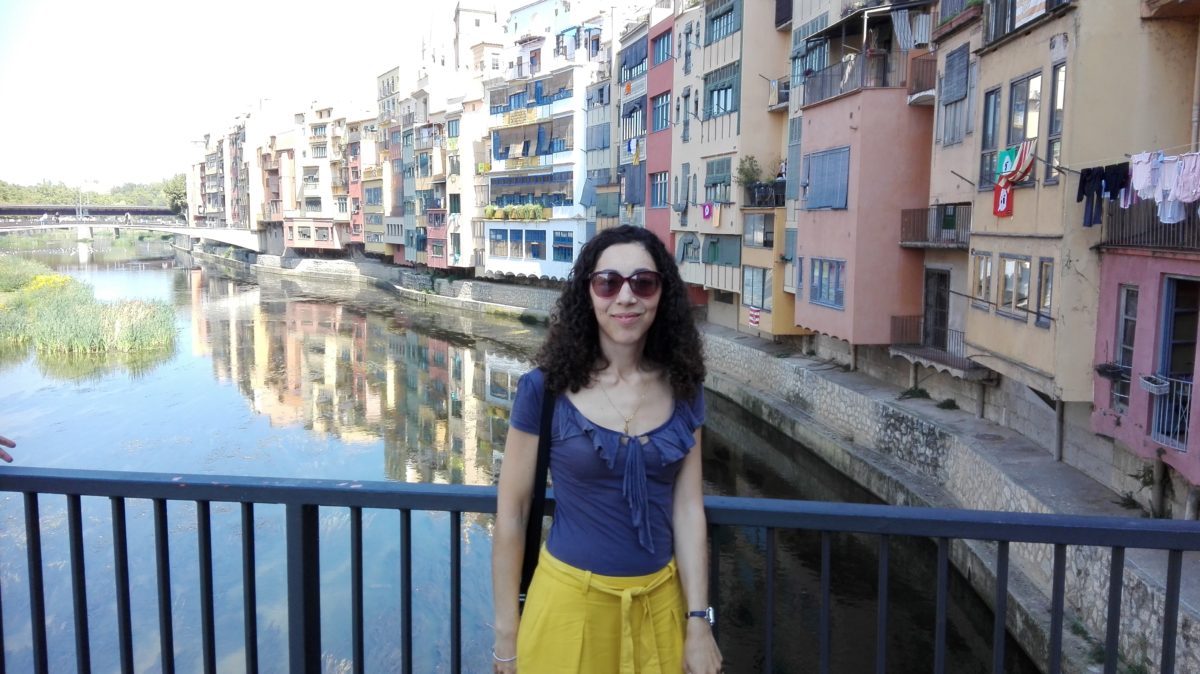 April 27, 2018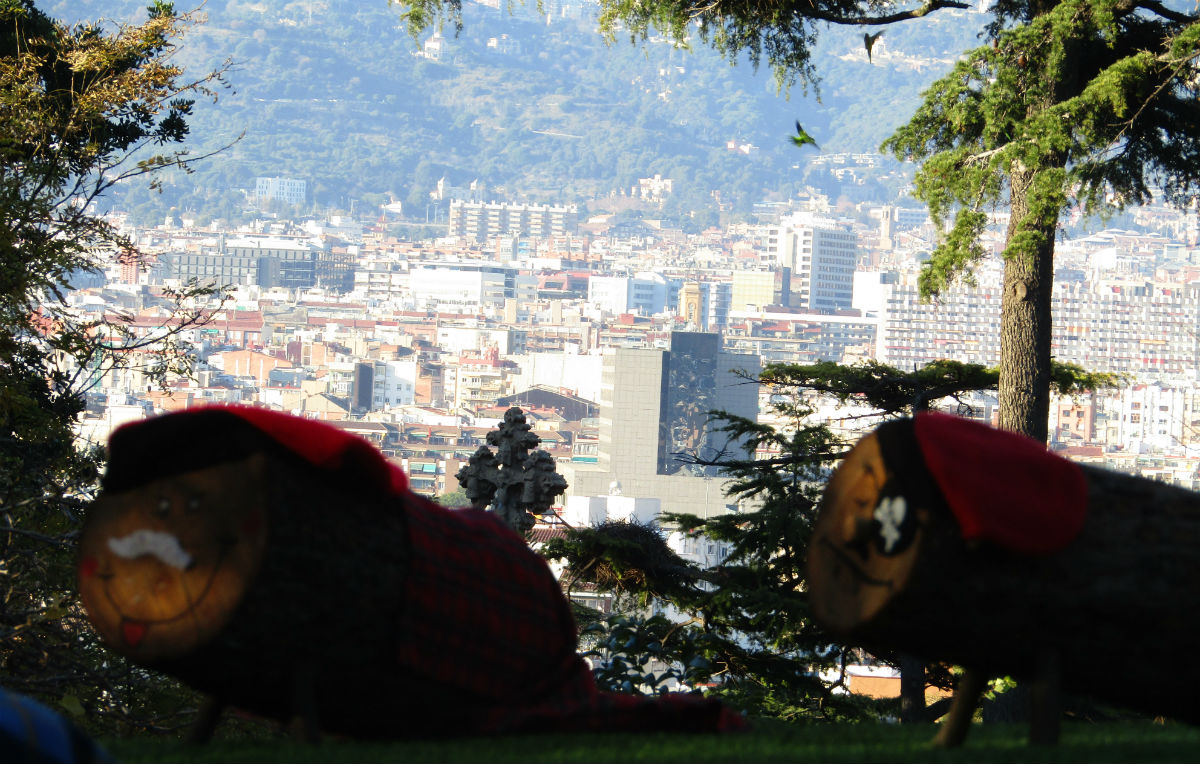 December 5, 2019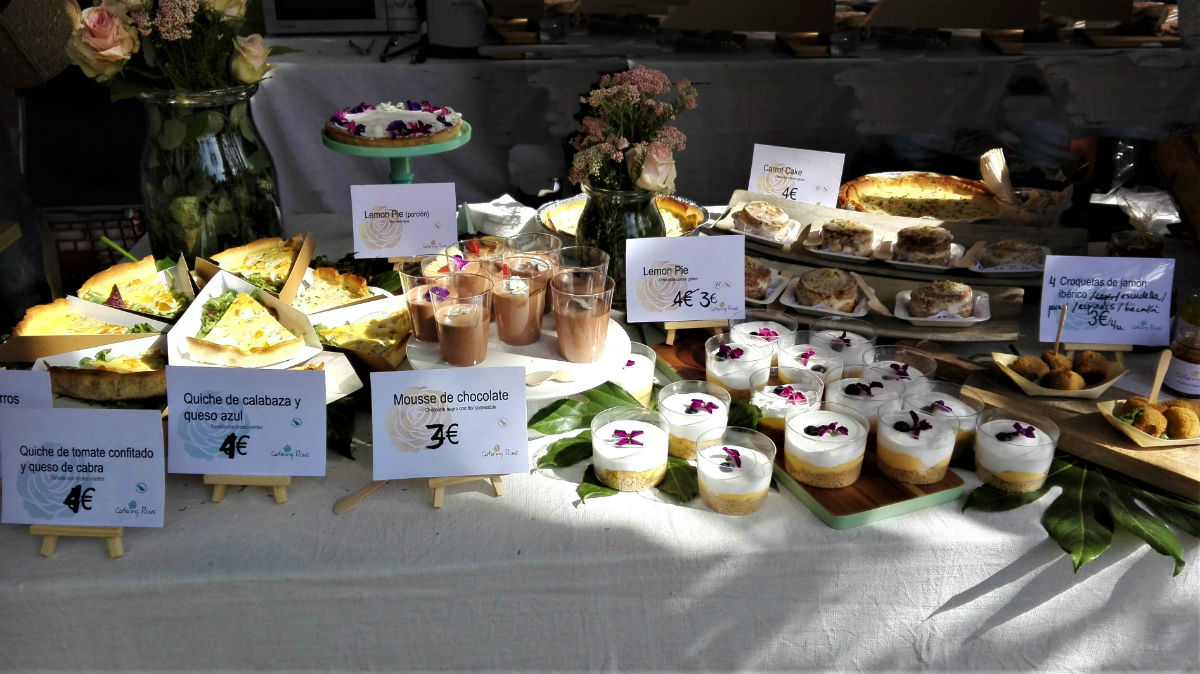 April 21, 2018