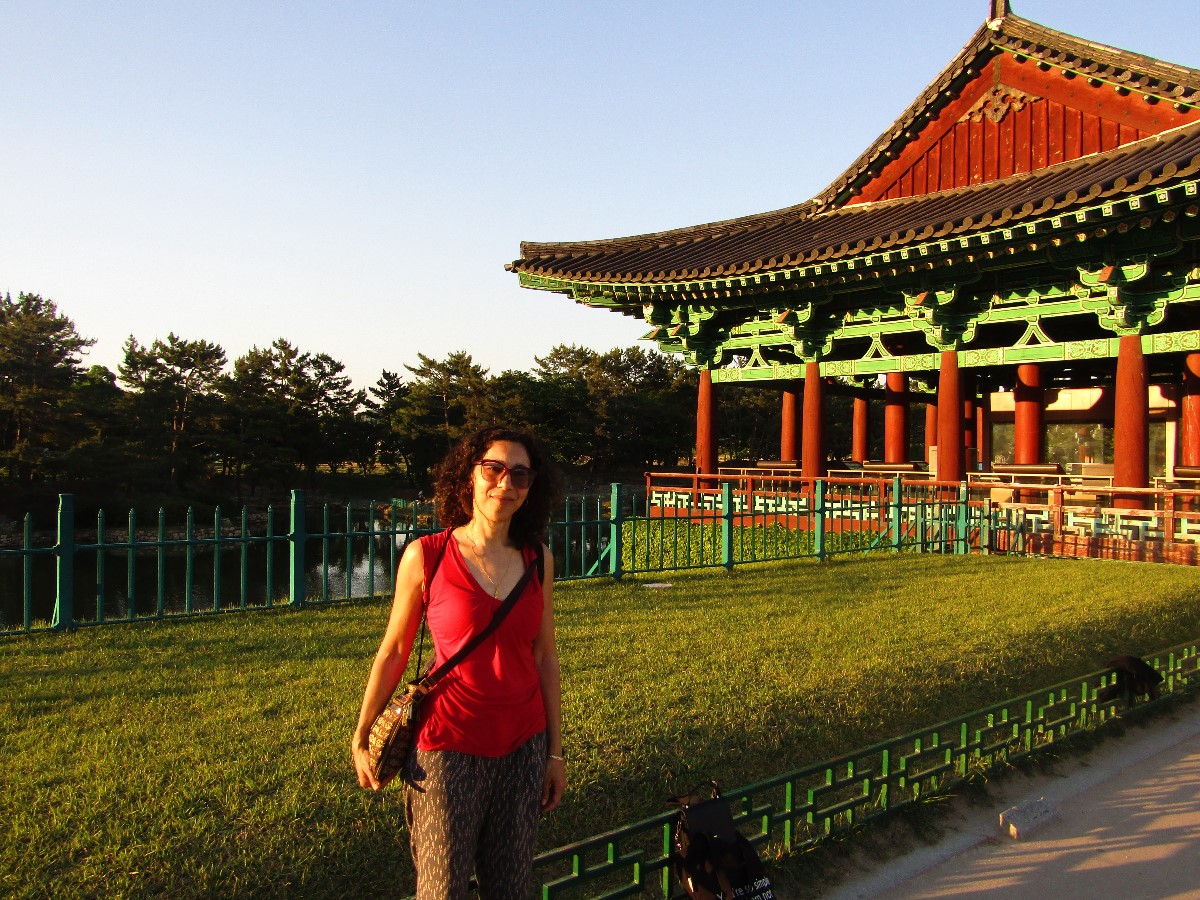 Everything you need to know to enjoy the best holiday in South Korea!
South Korea is a very surprising country!
To be honest I would never think of going there. First of all, because it's probably not very eco-friendly to travel so far since I live in Europe. Then because I had never heard of it before I met my Korean friend.
Since meeting her in 2001, she had asked me to pay her a visit, but I had never had the opportunity until now. I don't regret it: It's definitely the trip of a lifetime!
A great thing about working for one of the biggest travel companies is that I sometimes get discounts with airlines!
So here I go, nothing planned as everything was booked last minute! I'd only had time to get a rough guide and read a little about Korea's landmarks while on the plane!
Good season to go to South Korea
We went in May 2019 and it was a very nice time of the year because spring brings a lot of flowers and colours! The weather was hot at times. And we had lots of sunshine! I wish I had been able to come a little earlier though. The cherry blossom season occurs in April and when we arrived it was already over. Next time!
I also saw a lot of wonderful photos during the fall.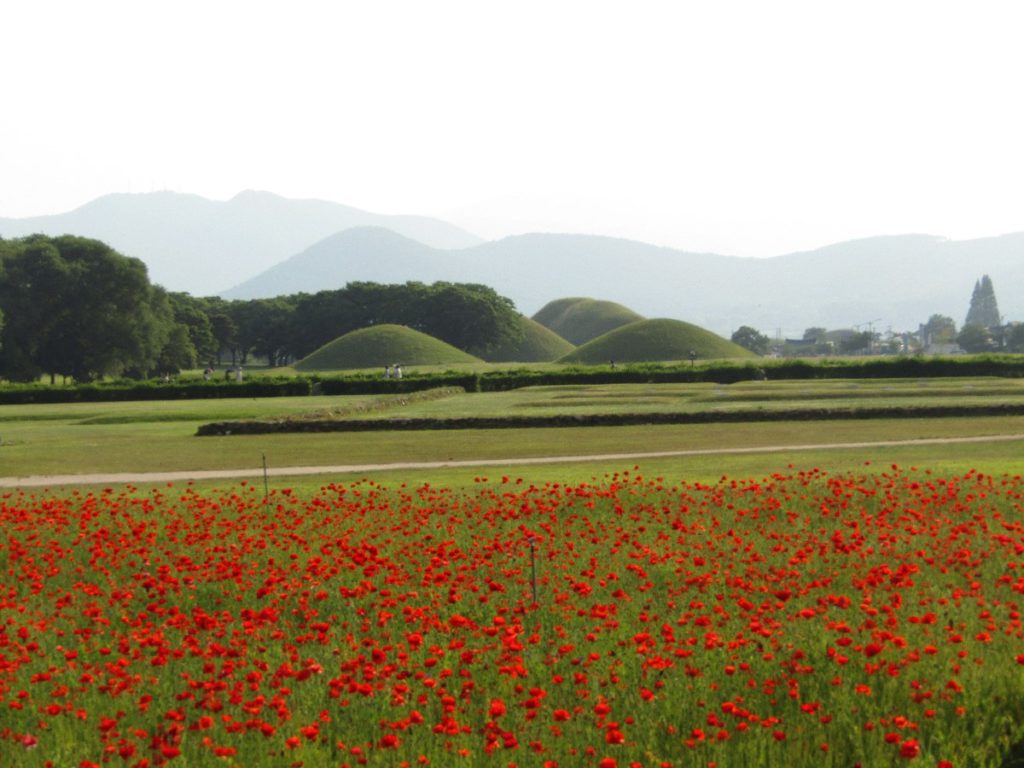 Korea has a lot of natural parks and it is pretty much like Canada at that time of the year.
So wait a minute, that means I need to go back at least twice there! Or even stay a whole year, because I heard the country is also beautiful in the winter with snow!
How long should you stay in South Korea
"As long as you can" is the quick answer! But let's be honest. Nobody has so many days free to travel nowadays.
If you do, plan at least 3 weeks!
We were there 2 full weeks and we had to make choices.
I guess it all depends on your preferences.
My idea was to look at authentic places, rich in history and culture.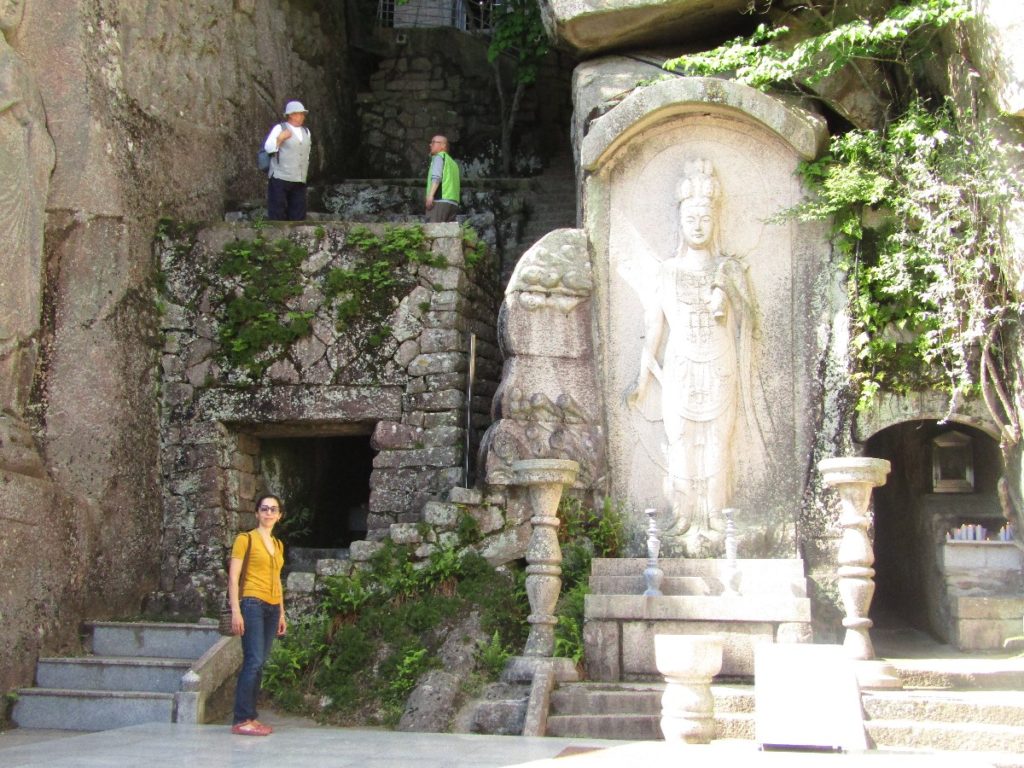 Best things to do in Korea
In 2 weeks, we were able to visit Seoul, Gyeongju and Jeonju.
We also spent a couple of days in Busan, but that was definitely not enough time! I really didn't expect that there would be so much to do in Korea! So I had to really focus on the best! So I decided to stick to this itinerary.
Seoul was a no brainer for me as my best friend lives there.
It was really interesting to stay with a Korean family and see how they live.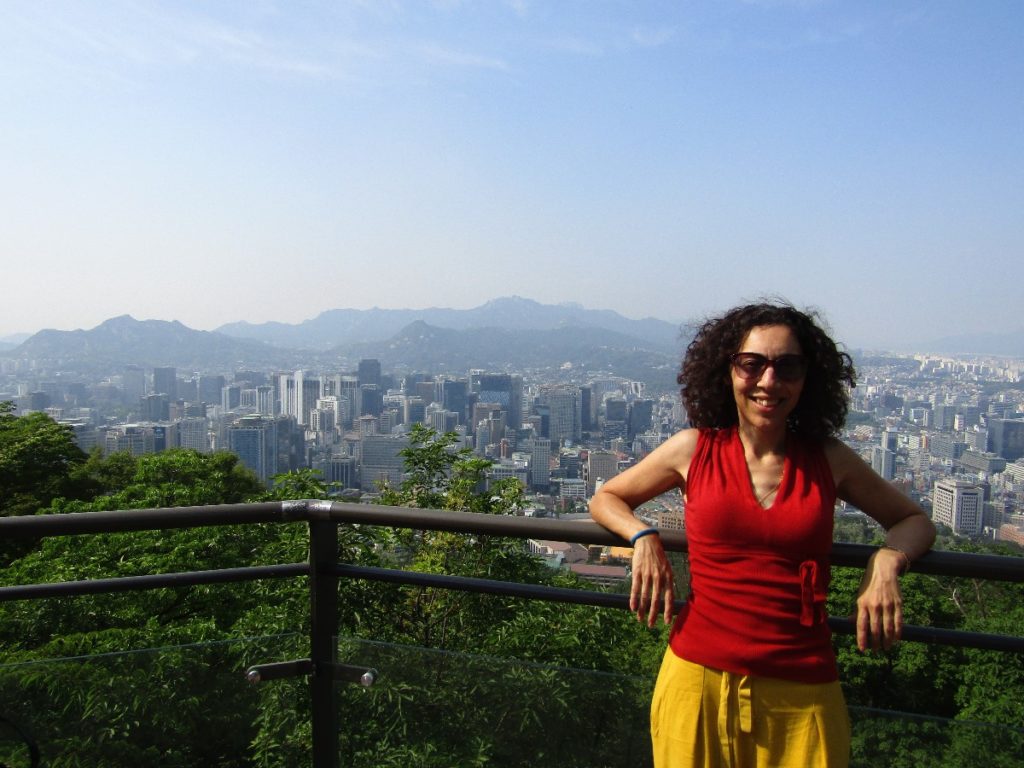 As my friend says, everything is automatic in Korea!
Technology is a great thing here! So be ready to experience the latest of the latest! But to be honest that's not really my thing. Although I really love practical things that make my life easier! Especially when you have some health challenges, they have lots of stuff that can make it simple for you.
If you want to see how a Seoul home looks like, check out this video and you will see what I am talking about!
Busan was also on my bucket list because when I met my friend, she was studying there and she told me so much about it! I got very curious about it.
It's not just a city by the sea, it has a lot of culture too and lots of great temples that I haven't seen anywhere else!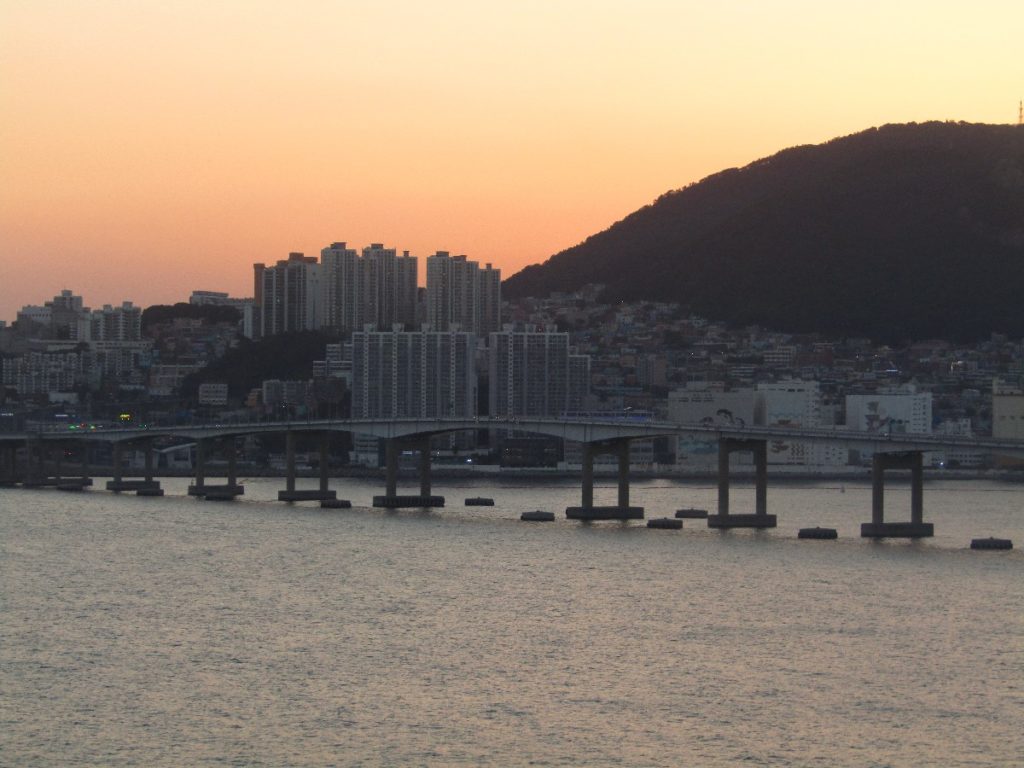 Lovely nature with lots of rice fields, lots of history and temples. Gyeongju is a must if you travel to South Korea!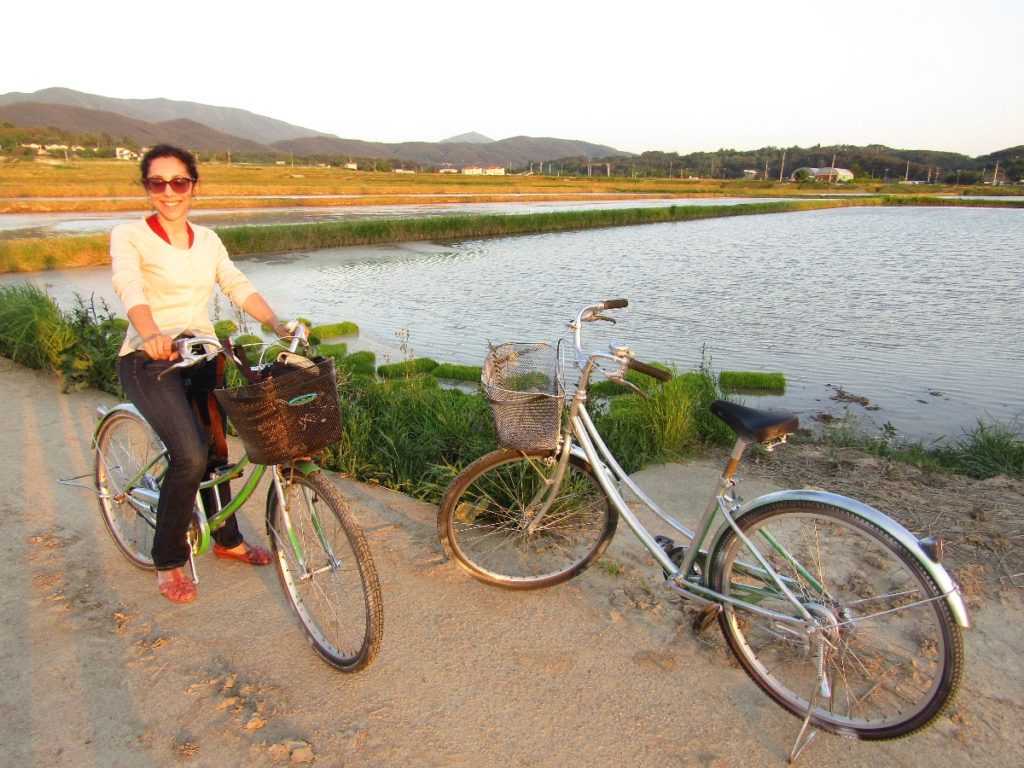 We rented a small studio in the countryside and it was really worth it because I enjoyed the peace and quiet after the buzz of Seoul and Busan! Our host picked us up at the bus station and at any bus stop needed! So it was actually not an issue at all.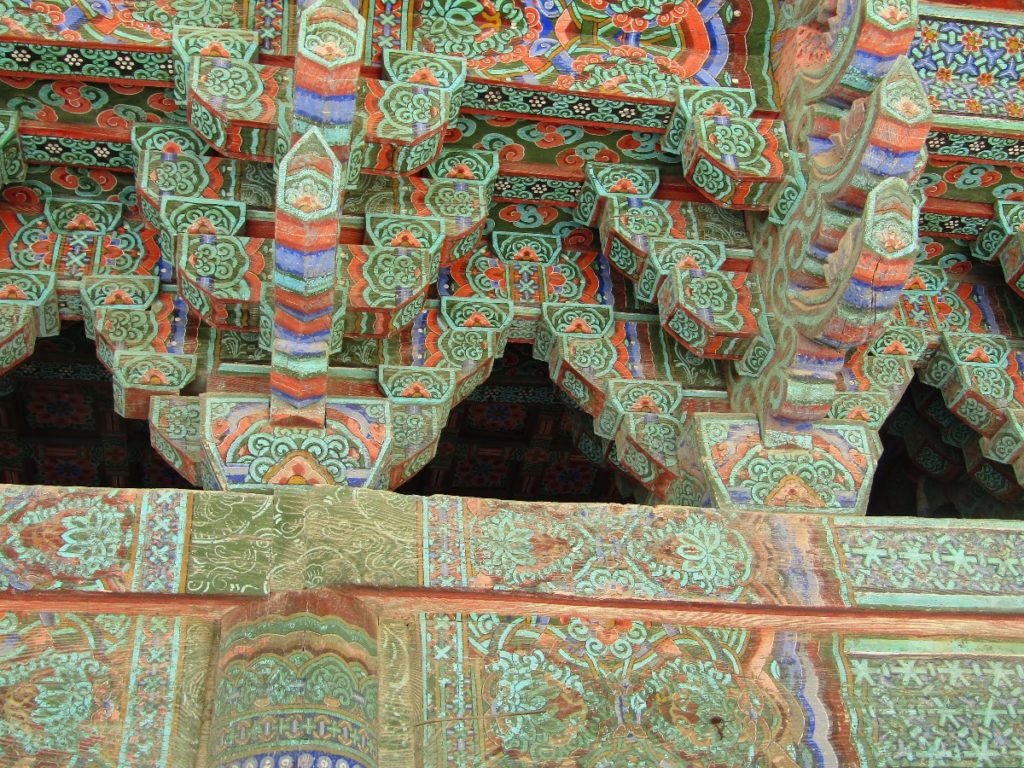 My Korean friend immediately told me it was the best place to eat in South Korea when I told her I was planning to stop there for a few days. She was right: the food is amazing!
And Jeonju is not only a great culinary spot, it has also a rich history and is one of the best places to see and experience hanoks, the traditional Korean houses. I actually didn't find any hotels when I searched online, only hanoks.

We were lucky to come during the history festival. That's the beauty of going with the flow. If you are flexible and open to adapt, surprises can come along the way. And even though we don't speak Korean, it was really great to be there at that time of the year!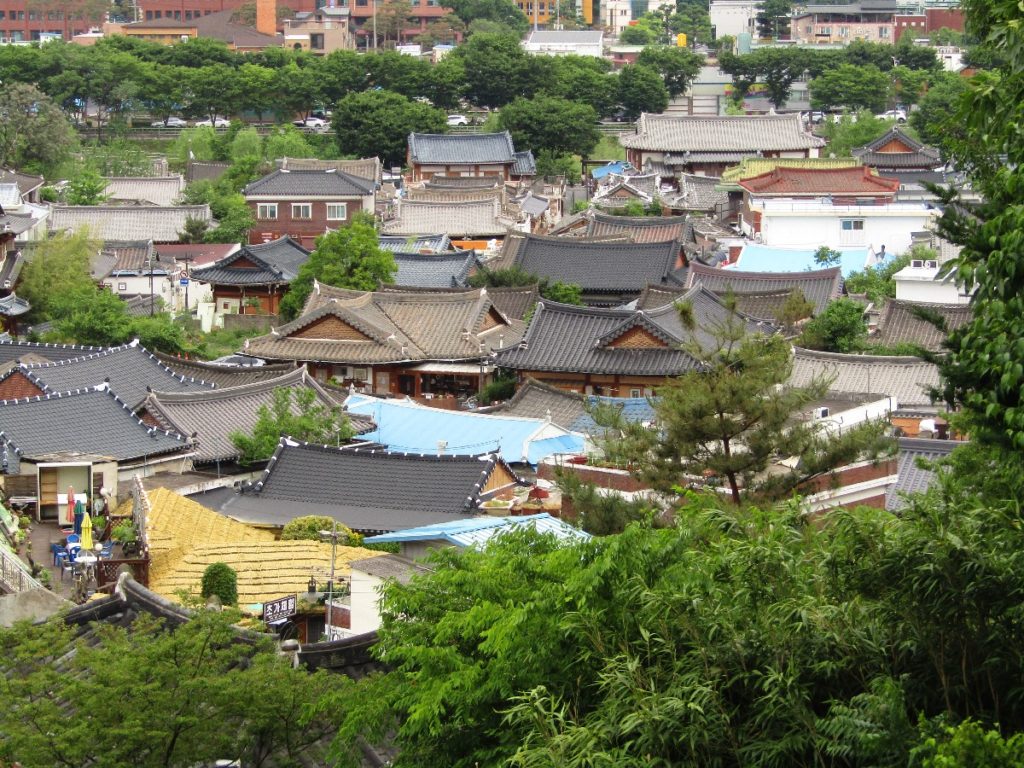 My Korean friend immediately told me it was the best place to eat in South Korea when I told her I was planning to stop there for a few days. She was right: food is amazing! And Jeonju is not only a great culinary spot, it has also a rich history and is one of the best places to see and experience hanoks, the traditional Korean houses. I actually didn't find any hotels when I searched online, only hanoks.

We were lucky to come during the history festival. That's the beauty of going with the flow. If you are flexible and open to adapt, surprises can come along the way. And even though we don't speak Korean, it was really great to be there at that time of the year!
Check out my earlier posts about Jeonju, and stay tuned if you want to find out more as I will probably write about the other cities too!
What to expect in South Korea
Korea is a mix of a modern and traditional lifestyle and has been greatly influenced by its geographic position right next to China and Japan.
The people are very nice, helpful and hardworking too! Some places were deserted during working hours as everybody was at the office!
An interesting thing to know as well: they only get four days off a year, apart from a few other bank holidays, so the majority don't get to travel a lot. And they are usually happy to meet foreigners!
Modern South Korean Cities
Korea has state-of-the-art-buildings, especially in Seoul and Busan.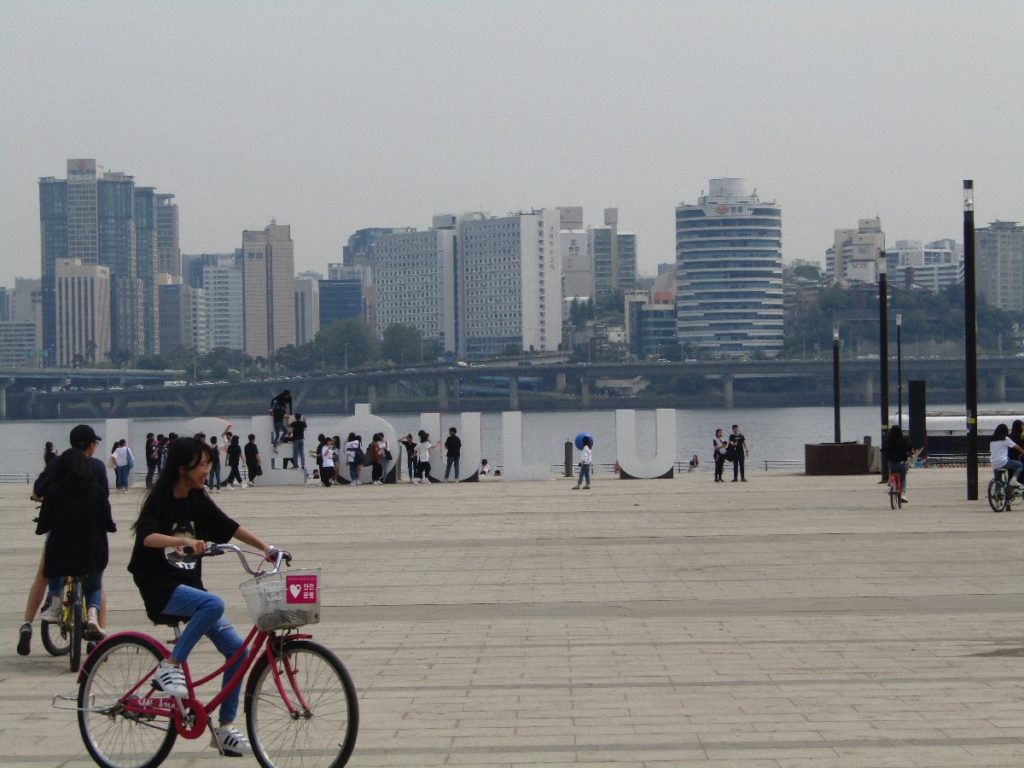 As well as everything that goes with it: shopping malls, skyscrapers, financial districts, etc. Not my cup of tea, as you know if you read my blog! Although my friends asked me to shop for some beauty products for them, I decided to try a couple for myself too. I haven't been disappointed!
The fact is, Korea has that consumerist side I didn't particularly love, but nobody is perfect! It's just part of what South Korea is.
The day I arrived, as we drove to my friend's condo, the only thing I could see were buildings. But not the kind of nice buildings you see in the city centre.
How can I explain… A photo is better than one thousand words so see for yourselves!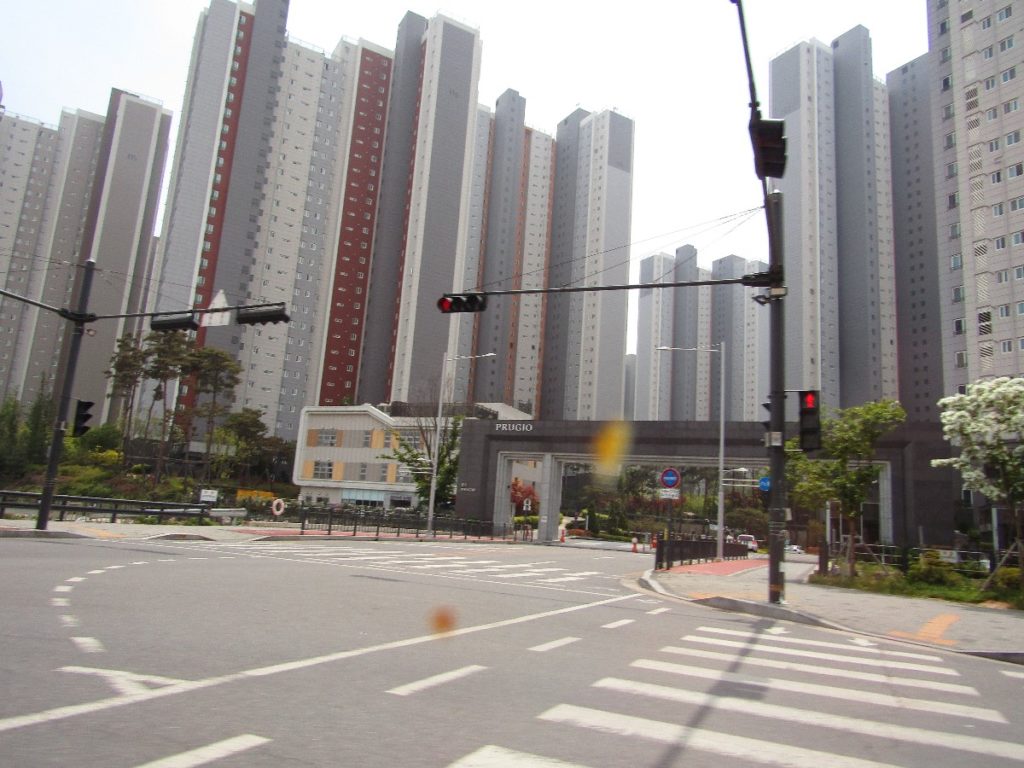 It reminded me of ex-communist cities. Not very attractive!
I was a bit overwhelmed and wondered what I was going to do in these kinds of places. My friend was explaining to me that they were luxurious apartments worth a lot of money! I thought it was ridiculous! It's true that inside, it's very nice and there are lots of parks around for kids. It's just a style that I didn't particularly enjoy!
Thankfully, in the end, I discovered another, more traditional, facet of the country, which I could really enjoy! Actually, I really fell in love with South Korea!
I guess you can't judge a book by its cover!
Traditional Korean Hanok Villages
My favourite places in Korea were all the ones with tradition and history. And that can be found in hanok villages.
Although it is true that most of the traditional hanoks have been preserved to attract tourism, I was still surprised to find true hanok areas where people live and have nothing to do with the tourist economy.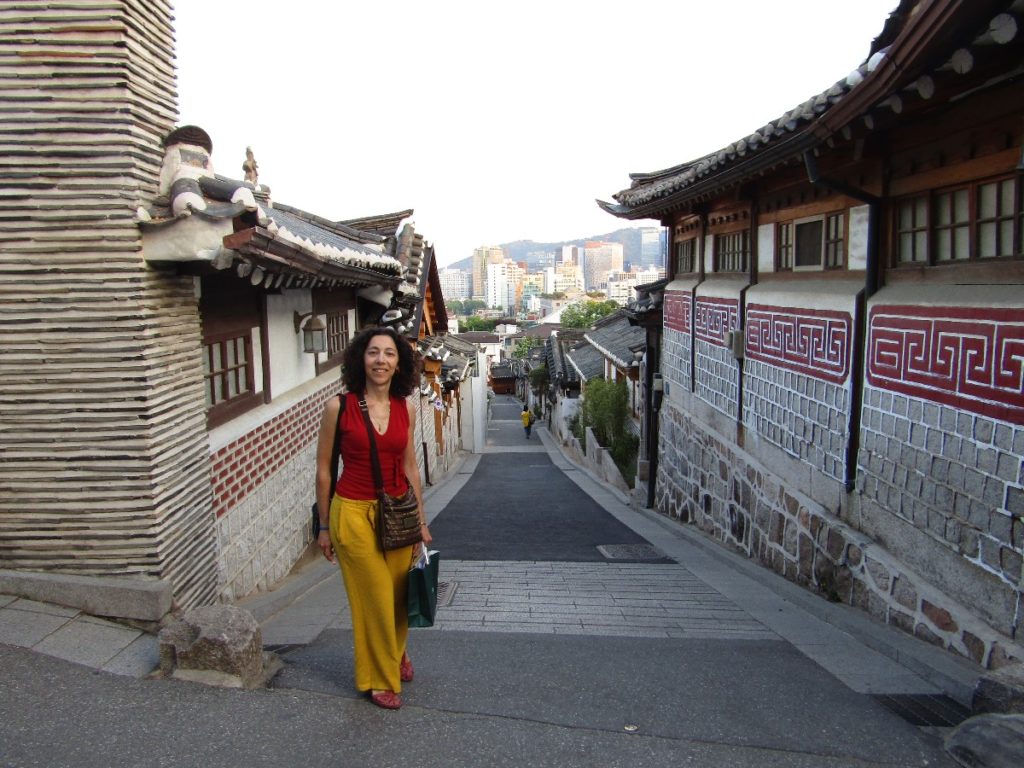 Actually, even in Seoul where the Hanok village is highly recommended by every tourist office, there are signs asking travellers to keep quiet as it is a residential area. And that's what I love.
I found similar places in other areas, like Jeonju.
Temples in South Korea
Other important traditional sites are the temples, which are mostly Buddhist, although Confucianism is also present because of the strong influence of China.
They all look quite similar compared to the variety you find in other areas of Asia.
Still, they are really worth visiting to understand the history of the country.
Food in South Korea and how to survive with special diets
Spicy food
What you need to know is that if you go to South Korea, you have to be prepared to eat spicy food.
And if you ask for milder flavours, you will end up with something spicy especially if you are outside the more touristic areas. And when you tell them it is still spicy, they might laugh at you, thinking you are exaggerating.
Fortunately for me, there are other people who can't eat spicy food: if you have a fragile digestive system with an intolerance to spices, you can always explain that and order food like a parent would order it for their children.
The most effective way to get non-spicy food was to ask for the sauce to be served separately, as most of the time, it's the sauce that is spicy. The food is usually very good in the end. They do lots of vegetables, and steamed food, which is great when you have an irritable bowel!
So even if you have food intolerances, or follow special diets, you needn't worry. You just need to get familiar with the vocabulary that will allow you to explain your special restrictions.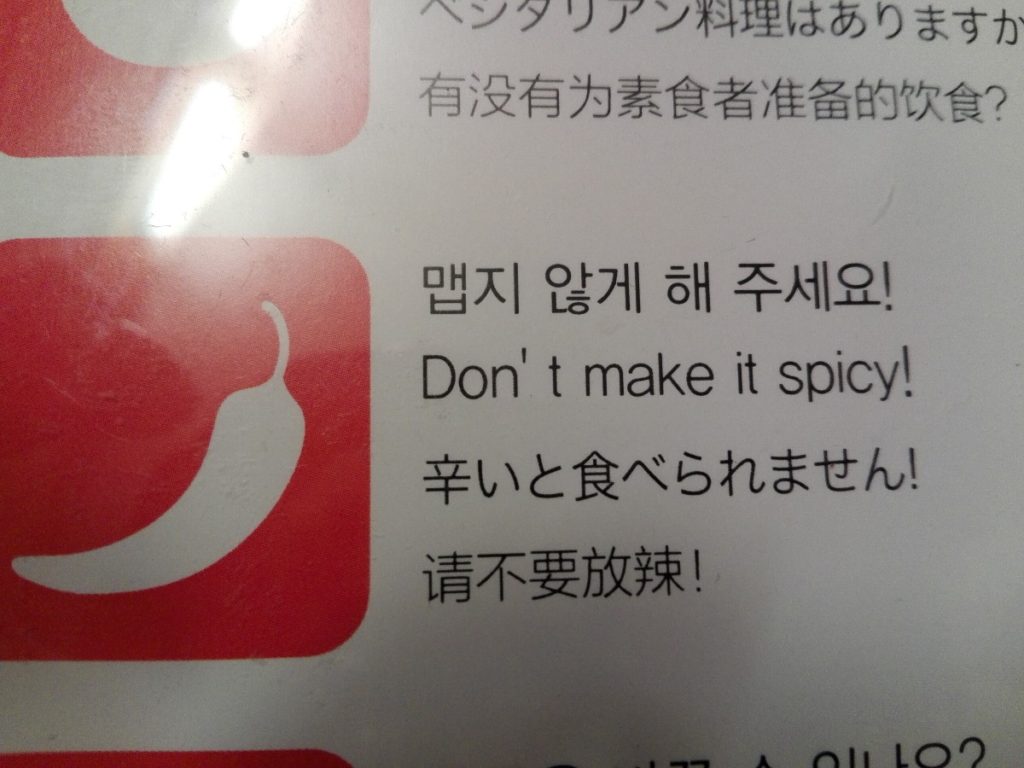 Gluten-free Korean food
Eating gluten-free can also be challenging but with so many rice-based products, and with a few translated keywords, you should be able to get by! However, if you are celiac, you have to be careful because they are not too bothered by that sort of things and they may mix a plate of rice with things that contain gluten.
FODMAP diet in Korea
In the case of people following a FODMAP diet, there are options. My favourite is the Bimbip Bap. It's a plate of rice (Bap means rice!) with plenty of other things (bimbim means ingredients)!
You have to check what those other ingredients are, as it will depend on the area, or even on the restaurant! Usually, it's a mix of veggies, sometimes it can include meat and eggs. But if you are on a vegetarian or even a vegan diet, you can get bibimbap that will suit your requirements! That's why I liked it so much over there. And with the sauce on the side, I had no problem whatsoever!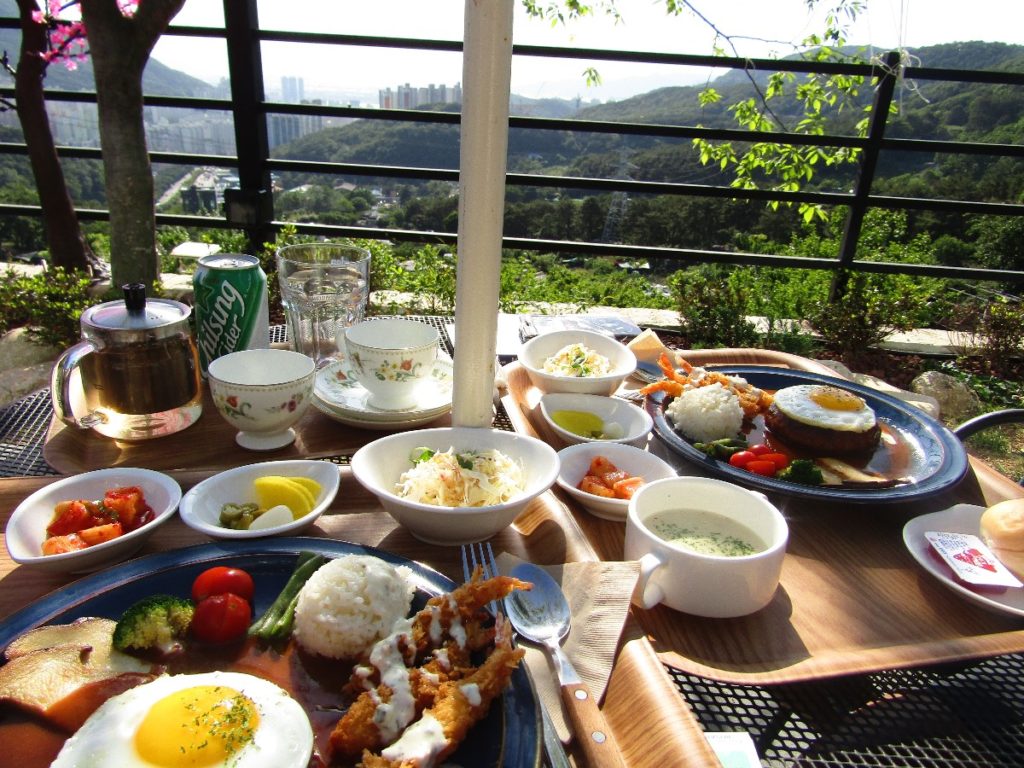 Korean Super Food: Kimchi!
Kimchi is also very important in South Korea! My friend even has a whole fridge just for storing Kimchi! I think they serve it with every single meal! You are probably aware of what kimchi is, it's become so popular lately! It is considered a superfood. I am not a big fan to be honest and it is too spicy for me anyway. But Korean people are just crazy about it!
What if you are a vegetarian or vegan travelling to Korea?
Korean people love meat, especially pork and beef. But they also have such a range of seaweed and rice recipes, that vegetarians and vegans are bound to find something they like.
Food shopping in South Korea
I was quite disappointed by food shopping. My friend took us to a supermarket, but I hate plastic, and it was almost impossible to find anything not wrapped in it… even bananas!
I tried to not focus too much on that and look instead for products I don't find in my country. And there were a few unusual items – vegetables and fruits – like persimmons (gam) and the oriental melon, and dried seaweed (Gim), Korean red ginseng, and the famous Korean alcohol drink Soju.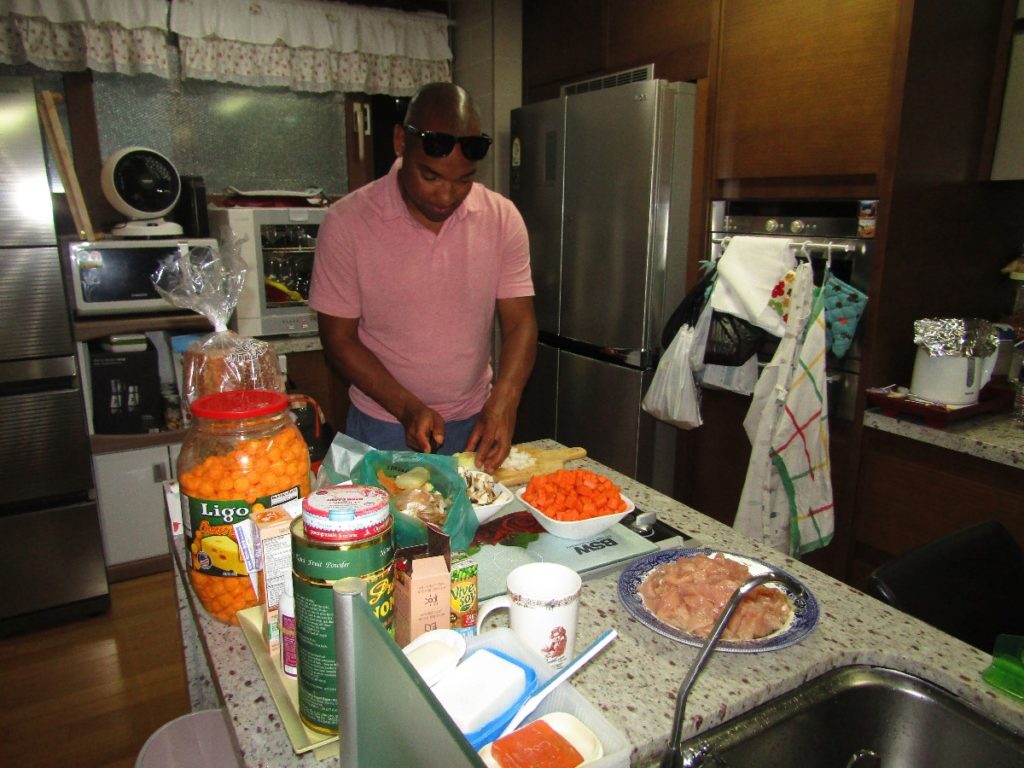 One thing that is good, though, is the BYOB (Bring your own bag), which avoids consuming more plastics… Some chains like E-mart don't even sell plastic bags so you better bring your own, and that's good! They also have boxes sometimes if you forget to bring one.
Actually they are very good at recycling their waste, and every household is very well educated about it. So it's not all bad!
My friend lives on the outskirts of Seoul so we didn't have any other nearby options – except for the fruits and vegetables sold directly in the street near the train station.
However, there are traditional markets, too, with independent vendors selling fruits and vegetables in bulk or wholesale, and usually cheaper than in supermarkets, as certain products come directly from their farms.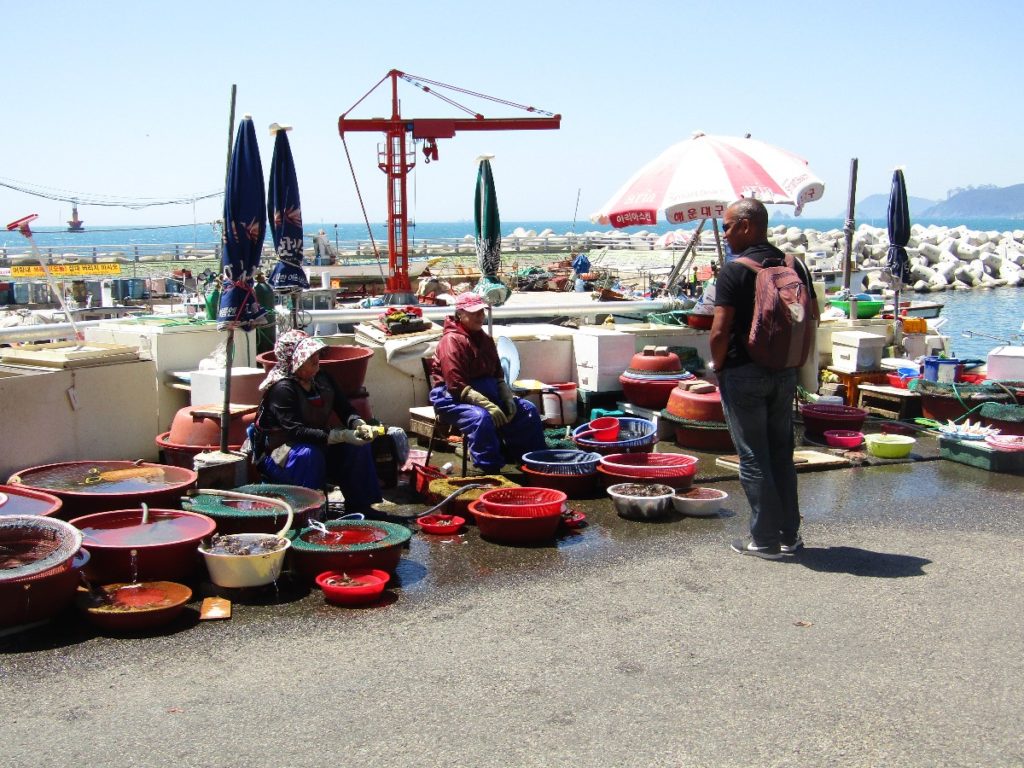 There are also lots of food markets, but that's a little different. You go there to eat, not to buy stuff to bring home. That's why it's more lively at night. In Seoul, there are several, like the Gwangjang Market, Dongdaemun Market, Myeongdong Food Market.
I didn't go to these markets in Seoul, but I did go to Jeonju.
And there is a new trend too with zero waste shopping, which hopefully will grow in the coming years in South Korea!
Transport in South Korea
When we arrived, we didn't have to take public transport because my friend came to pick us up at the airport, which was great!
I quickly realized Korean people who live in the suburbs of Seoul have similar habits as Americans. What I mean by that is that they always take their car to go almost everywhere!
To the kids'school, to the grocery store, to the restaurant next door… It doesn't matter if it's only 10 minutes walk. And they are lucky enough to have nice sidewalks, not like in some places in the US. But they like to take their car: it's more convenient.
That's very different from my vision about sustainability.
So I made it a priority to take public transports and not rely on my friend!
The train in South Korea
It's efficient, fast and affordable if you compare it with some of their neighbours.
However, the network does not cover the whole country and you might need to take an intercity bus. This is the reason why we decided to not take the rail pass as we did during our trip to Japan. It was not worth it in our case.
Coaches throughout South Korea
I was extremely reluctant to take a coach for long distances as I suffer a lot from lower back pain when sitting for too long. What's great with the train is that I can stand up for a stretch and even walk.
But surprisingly, some of the coaches we took were actually more comfortable than the train! (And the train is very comfortable, in case you're wondering!). I had no pain whatsoever, during the almost 3 hours I was on the coach! Really great experience. It also stops for toilet breaks so it was ok.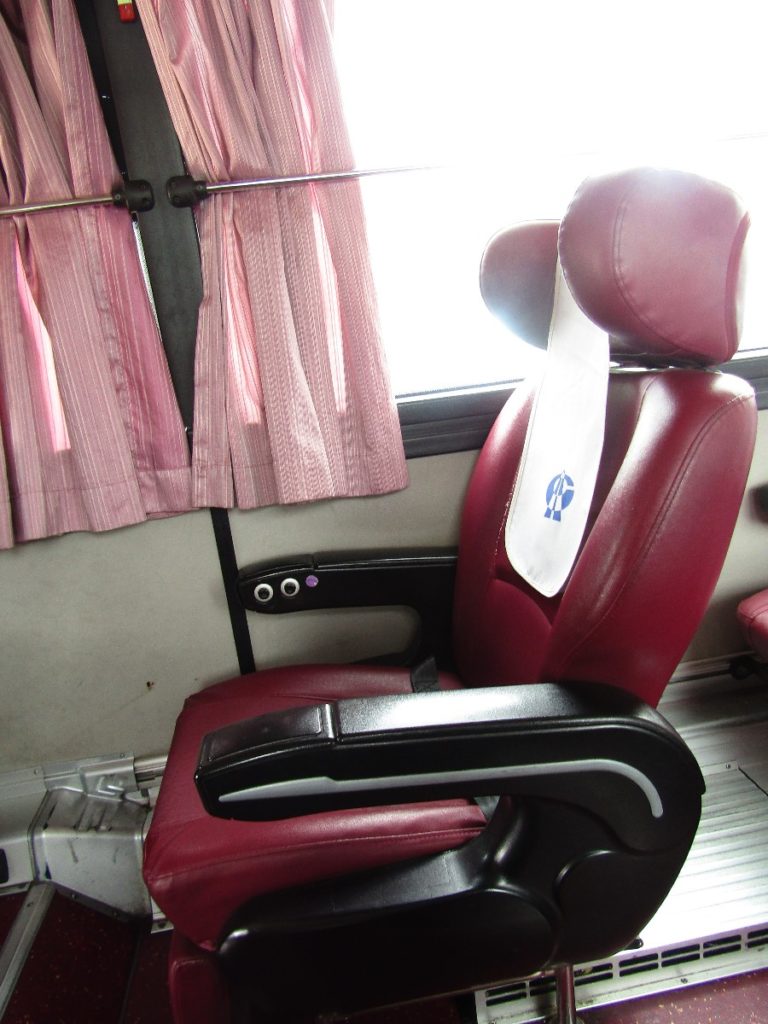 The only thing you need to know is that there are lots of companies so there are possibly varying levels of comfort. We took two. The first one was average but only went from Busan to Gyeongju, so it was a really short journey – nothing to complain about actually!
The second was luxurious and not cheap, but not expensive either! It ran between Gyeongju and Jeonju.
So even if you don't usually take coaches, do have a look because they are extremely convenient and comfortable!
Public transport in Korean cities
It obviously depends on which city we are talking about, but in general, it is quite a comprehensive network, as you have probably guessed.
In Seoul, we managed to go from another town outside Seoul into Seoul city on the same train that goes to the 2 airports Incheon or Gimpo. It's fast and wide, but it can get very busy at peak hours. That train is also great for pregnant women, as there are special seats for them.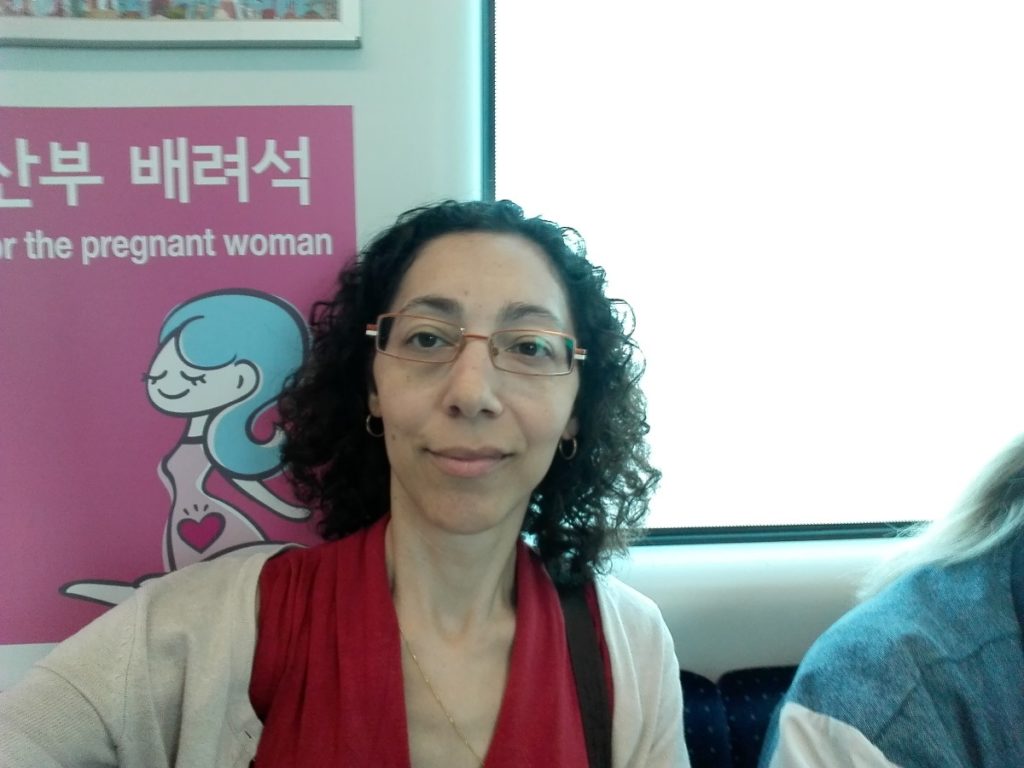 There are also great subway and bus networks.
They are very easy to use even if you don't speak Korean. You just need to look at the line colour and see in which direction you are going. Once on board, you will hear the name of the direction and next stop as it approaches and not just the name of the end destination as happens in so many other cities. It's good to know as I got a little confused at the beginning. It's actually better that way because the lines can be very long!
Bus journeys can be very long, but it's actually better sometimes because stations or the major metro stations are huge. So if you need to transfer to another line, you will spend a long time walking in the corridors!
In Busan, the buses are very efficient and easy to catch but depending on the places we wanted to visit we took one or another.
Taxis in South Korea
Taxis are a good option when public transport gets a little complicated, which was the case for us at one of the beautiful temples in the hills of Busan. Prices are really cheap so you should not hesitate! Just prepare and bring the name of the place you want in Korean, as most of the taxi drivers don't speak English
Accessible South Korea
Wonderful news for people who struggle standing or who even need a wheelchair 24/7. South Korea makes tremendous efforts for people with physical disabilities!
Most of the parks have wheelchairs at the entrance you can borrow if you need to. You just have to show your ID most of the time. It really made a difference.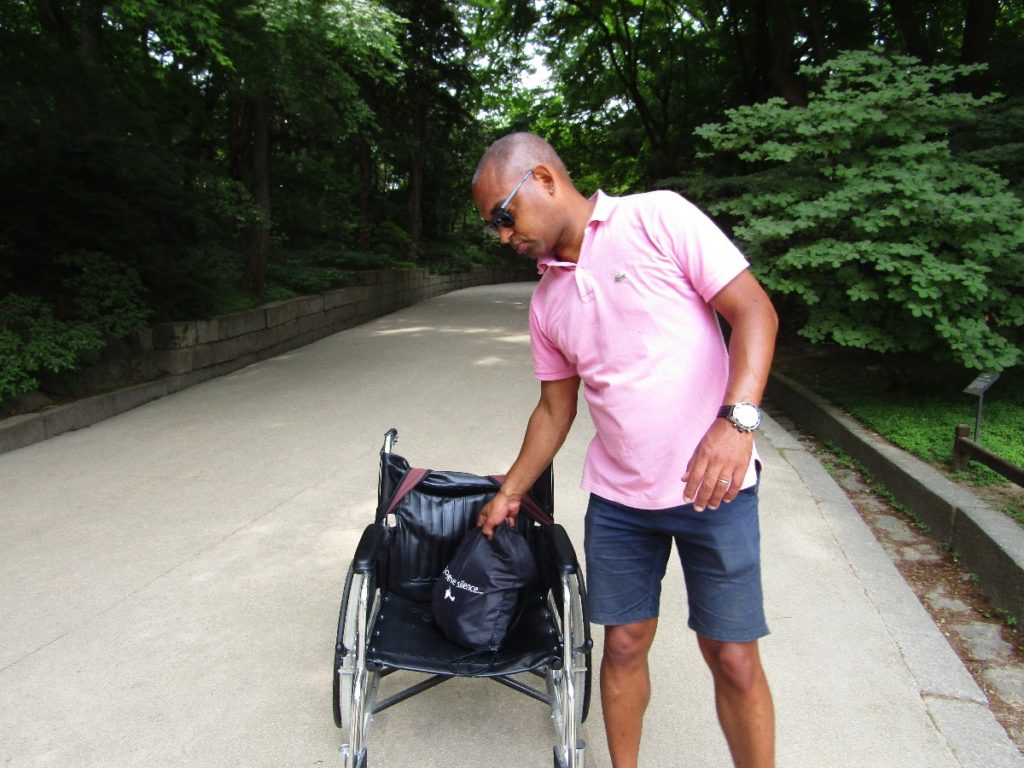 I think that's probably why I got to enjoy the country so much. Standing for long hours, or even minutes, is crucifying for me. This is common among many people who have invisible disabilities. We get quickly tired. I had no problem whatsoever so thank you South Korea for that! I guess they are thoughtful towards their ageing population and want to make sure everyone is able to enjoy the experience.
You're still not fully convinced about this destination? Check my Youtube channel, Facebook page and my Instagram stories for amazing pictures and videos of Korea. And follow my blog, because I will probably have more posts about Korea coming up!
Share this story with your friends on social media to enjoy this beautiful virtual trip in this time of lockdown, and don't hesitate to comment for any feedback or question!
You May Also Like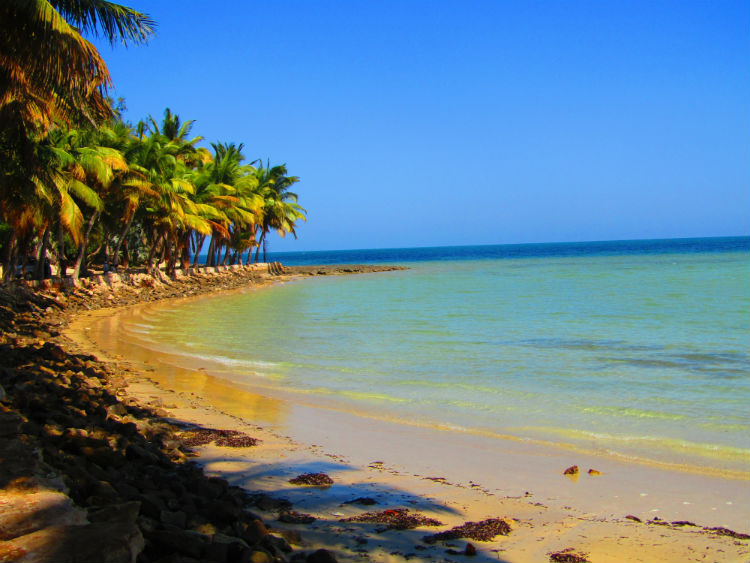 December 31, 2019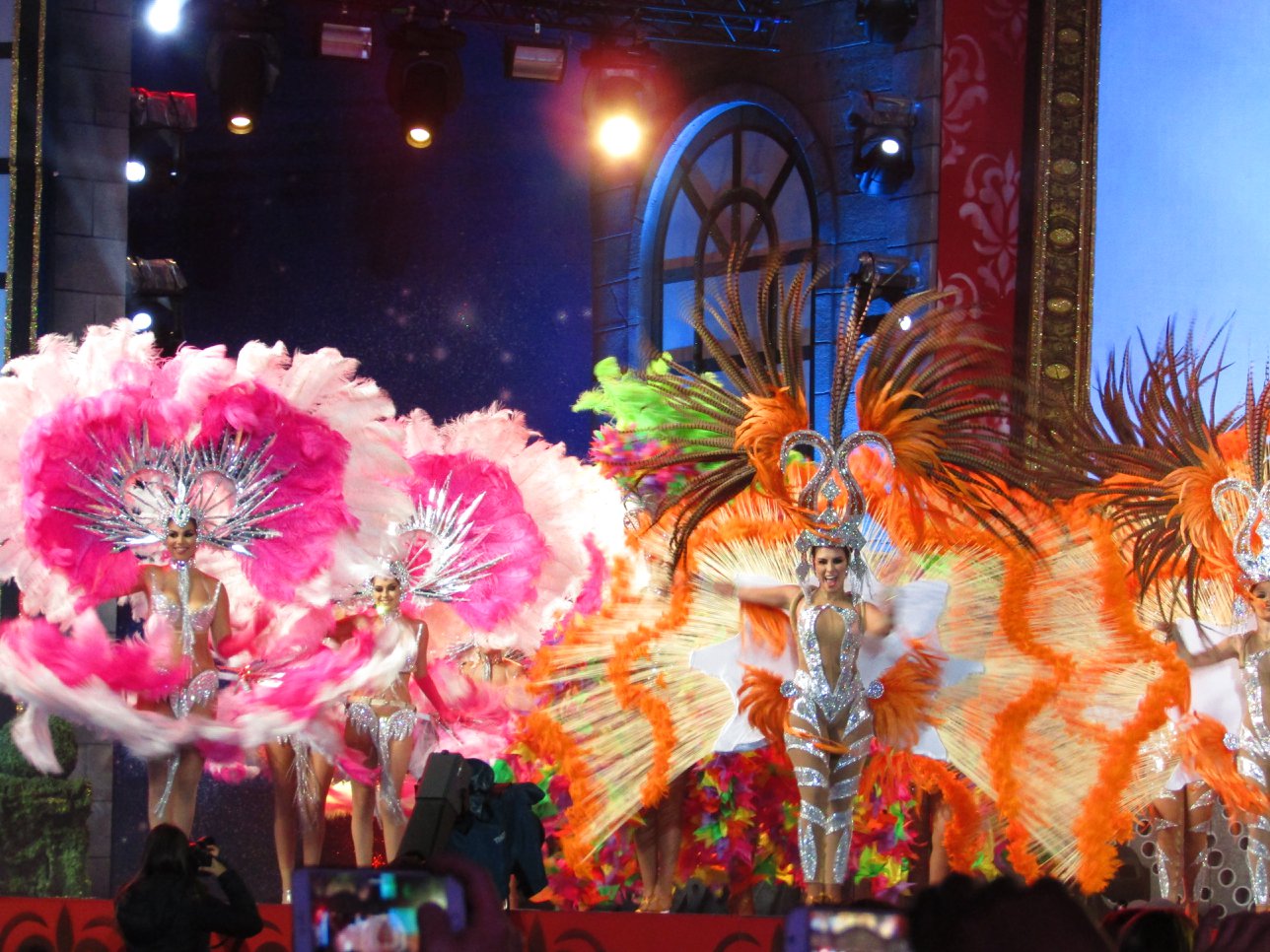 February 15, 2018