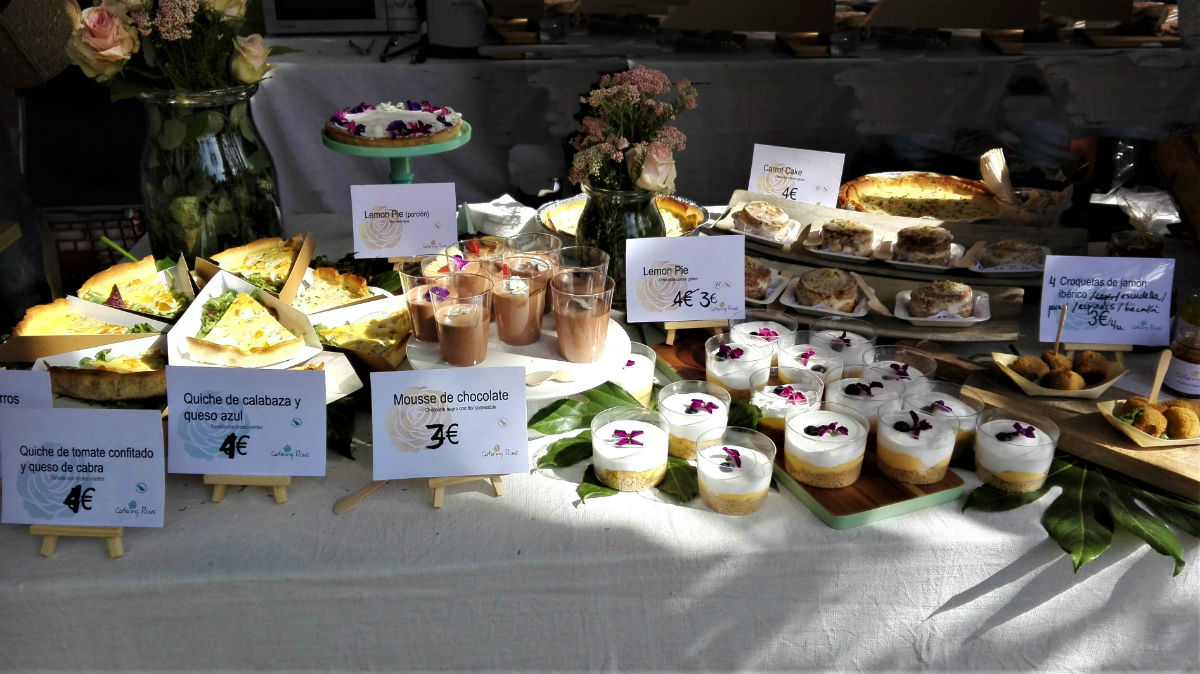 How to find the best restaurants in Barcelona
World Travel Able is proud to present its first video: How to find the best restaurants in Barcelona, an interview with a food lover, world traveller and YouTuber, Antonino Lombardo.
Subscribe to my YouTube Channel for more videos to come!
I am interviewing Nino to share his tips on how to get the best food in Barcelona or simply the most suitable restaurants depending on the occasion:
How to get discounts
Romantic dinner, fancy dinners and best fine dining in Barcelona
Special Diets
Best tapas restaurants in Barcelona
International food
Lunch near shopping malls and business area of Glories
TGIF bars with nice snacks
Waiting for a bus, train or plane!
See below for the transcript of the video!
Tips to find the best restaurants of Barcelona summarized
Website to get discounts and book your restaurant in Barcelona: eltenedor
Check reviews on TripAdvisor
Best tapas and pinchos: area of Poble Sec
Best vegetarian restaurant in Barcelona: The Green Spot
Most romantic restaurant in Barcelona: Torre de Alta Mar
Great place for after work in @22 (Porta 22, business district of Barcelona, Glories): Kalamata in Rambla Poblenou
Best places for business lunch in @22 area: L'Actiu, Swad-The Indian Restaurant
Favourite Italian restaurant in Barcelona: L'Osteria del Contadino
Best Food Market: Palo Alto Market, usually on the first weekend of the month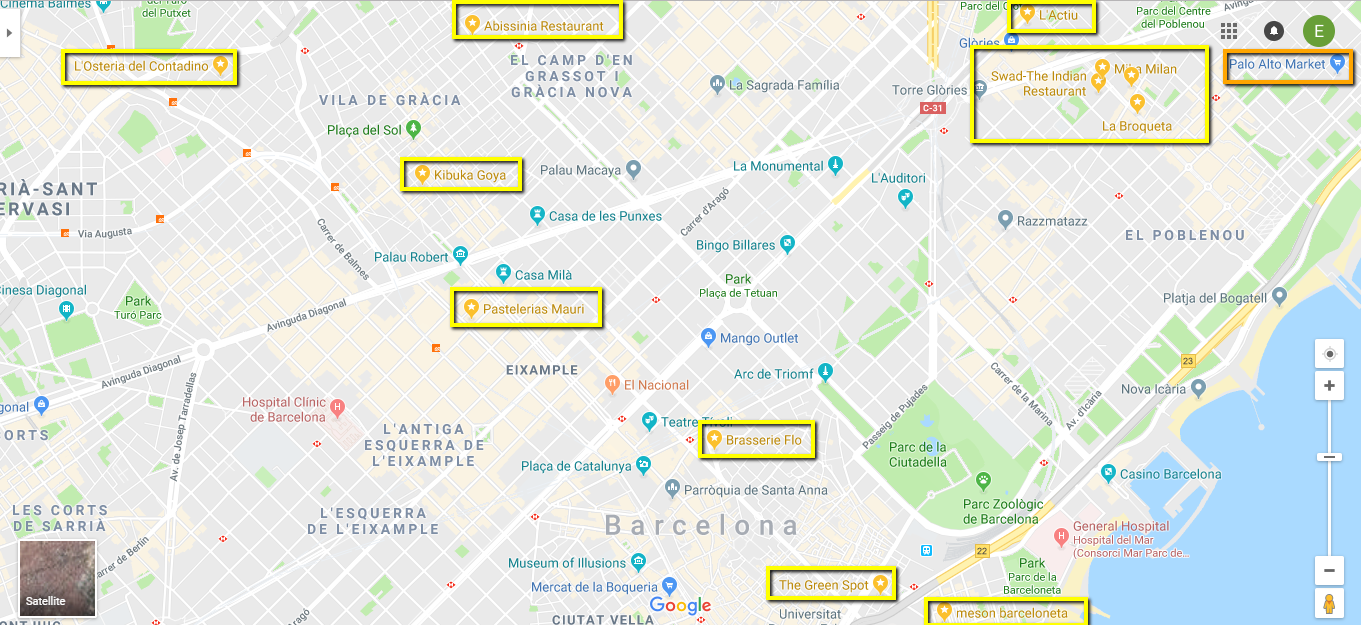 Additional great restaurants from World Travel Able community
O'Príncipe in Poblenou: Italian and Mediterranean food
Can Toni, a traditional bar-restaurant in Poblenou offering cheap menu, tapas, sandwiches.
Brisa (Cheap and good quality in Poblenou)
La Marbella, a traditional restaurant in Rambla Poblenou
Fenicia, a Lebanese restaurant near the railway station of Barcelona Sants: great decoration, inexpensive and good quantities served
Veggie Garden: a great place for vegans in the city center (Gran Via Universidad area)
Santoni Cafetería Vegana: a tiny place offering very low price menus and good quality
La Perla Negra in Via Laietana: one of the best traditional Italian restaurants of Barcelona
Gino's is also a place that offers special menus for celiac
El Rey de La Gamba: probably the best paella and fideuàs in Barceloneta, Passeig Joan de Borbó
Mirabe: probably one of the best restaurants with a view in Barcelona! I have discovered this place recently and I loved everything: the atmosphere, the views of both the city and the sea, the Mediterranean food, the service, the staff. Wonderful experience at a reasonable price!
And you, what is your favourite restaurant in Barcelona? Please do not hesitate to add your tips in the comments! And share our video and blog post on the social media!
Transcript of the Video "How to find the best restaurants in Barcelona"
Welcome to World Travel Able channel!
My name is Ella, I am a blogger and today I am doing my very 1st video for my blog worldtravelable.com about restaurants in Barcelona!
We are recording from the Palo Alto Fest event in Poblenou district. I thought a local food market would be the perfect setting to talk about restaurants!
Barcelona is a cosmopolitan city with plenty of choices to eat, so many that you may wonder where to go to have a great experience.
Nino is a world traveller, an epicurean, a YouTuber, and a Barcelona resident since 2011.
So, at WTA we thought he would be the ideal person to ask for tips for the best places to eat in Barcelona!
WTA- Hi Nino, thank you for spending some time with us sharing your insights and experience with us about restaurants in Barcelona. You live here for many years now, and I believe you love food and enjoy having a lunch or a dinner out from time to time. Can you tell us what are your favourite types of food?
NL- Hi Ella, thanks for this opportunity. I'm quite open to different types of food, both eastern or western style. I love vegetarian and seafood.
WTA- You have lived in many countries of Europe, what do you think of Barcelona in terms of culinary choices?
NL- Barcelona is a big city with a lot of options for food. Mainly Mediterranean cuisine but you can find many different types of restaurants around. Of course, you need to make a good research for it as being a big touristic city you can also find a lot of low standard situations regarding eating out.
WTA- Or ask an expert like you, right! My husband always says you have to ask the locals!
Tips for the best cheap restaurants in Barcelona
WTA – Do you have a few tips to get discounts for travellers or locals in Barcelona, without losing on quality?
NL- If you want quality and service you need to pay for it, everywhere in the world. Forget quality at a low price, it doesn't exist. To have a good compromise you can try the tapas restaurants in Poble Sec area, where you can find decent food at an affordable price in a nice atmosphere. Another option is to check online. I recommend El Tenedor web site. There are many restaurants that apply a huge discount on a meal if you book with El Tenedor. Another tip: always check people reviews online, I recommend Tripadvisor.
WTA- Great, thanks for the tip Nino!
WTA- If you need to prepare a great dining experience for a special event, how do you manage to get information and choose the appropriate place?
NL- I would ask to colleagues or friends first. Also as I said before I would search online and check people's reviews.
Barcelona fine dining
WTA- Can you tell us your best experience ever in terms of restaurants, and why it was so exceptional?
NL- Barcelona has a lot to offer if you pay the right price. One of the best experience I can remember it's a celebration with a romantic dinner in Torre De Alta Mar, near Barceloneta. The restaurant is situated on top of a Tower where you have the best panorama of the city, the ports and the sea. Excellent atmosphere, very elegant restaurant, excellent professional service and of course delicious seafood. It's perfect for a special event. Not the cheapest option but totally worth it.
WTA- Ouaw! I didn't even realize there was a restaurant up there!
Best vegetarian restaurants in Barcelona & special diets
WTA- Can you give us some tips for people who have restrictions on food for instance vegetarian, lactose intolerant, wheat intolerant. Do you know some good places for those kinds of diets to enjoy great food at an affordable price?
NL- There are always options for people with special needs regarding food (intolerances). Just don't forget to avoid cheap low standard restaurants and always ask. You can always search online and check reviews. My favorite vegetarian restaurant at the moment is The Green Spot, near Barceloneta metro station. Just great. Great atmosphere and excellent food.
Best tapas restaurants in Barcelona
WTA- What area of Barcelona you find most choices and variety? Can you give us a couple of examples?
NL- For Tapas and pinchos definitely Poble Sec area. It is also a great place where you can find a lot of affordable options in a young nice atmosphere. It is an area also full of nice bars, good for nightlife, not really quiet to live there though. In the center you can find all kind of restaurants, just avoid touristic areas. High standard restaurants are located all around the city, you just need to get information
I am taking advantage you are saying that to tell our viewers to go on my website worldtravelable.com where I will add a section with further information on Barcelona restaurants based on this interview so make sure to check it before going eating out!
Note: We are starting to pile up a list of healthy and eco-friendly restaurants in Barcelona and other regions we have visited on our new website www.planetasana.com . If you have some tips, don't hesitate to contact us!
WTA- What different nationalities of restaurants have you tried out in Barcelona? Which one was your favourite and where was it exactly?
NL- Indian, Italian, Thai, Japanese, Catalan, Ethiopian, Vietnamese.
I strongly recommend Abissinia, a fantastic Ethiopian restaurant in Gracia.
The food is great, the owners are super friendly and you can really taste a great atmosphere as you really were in Ethiopia.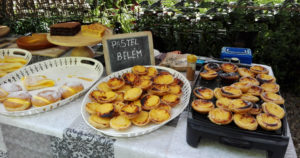 WTA- Can you give us a couple of restaurants where you are going very often and why?
NL- Abissinia as I mentioned before. Brasserie Flo (in Urquinaona) it's a brasserie where you can taste a Belle Epoque atmosphere, with excellent service and delicious food. Kibuka is a Japanese restaurant in Gracia, with cooked food but also a big variety of sushi (fusion style).
WTA- Can you share a few tips for nice restaurants in (or near) shopping malls like Glories or Diagonal Mar, which are also a huge working hub where a lot of companies have their offices?
NL- Diagonal Mar and Glories are not the best areas for restaurants, with not many options. I like only a few in the Glorias area: Swad-The Indian Restaurant and L'Actiu (local Catalan open only lunchtime)
Best Spanish restaurants in Barcelona
WTA- Since we are in Spain, and we want to enjoy typical Spanish or Catalan food, do you know restaurants where we can enjoy nice paella and nice Catalan food and not a tourist trap?
NL- Paella, in general, has to be avoided in Barcelona, it's not typical, better go to Valencia. For what I know I can recommend "La Broqueta" in the Rambla del Poble Nou where they serve great local food.
WTA Actually, I went a few years ago to the Passeig Joan de Borbo in Barceloneta called MESON and it was not great, but it was okay. We had a good experience I must say! In case you don't have time to go to Valencia and still want to try a nice paella!
The community also recommended El Rey de la Gamba in Barceloneta for the best paella.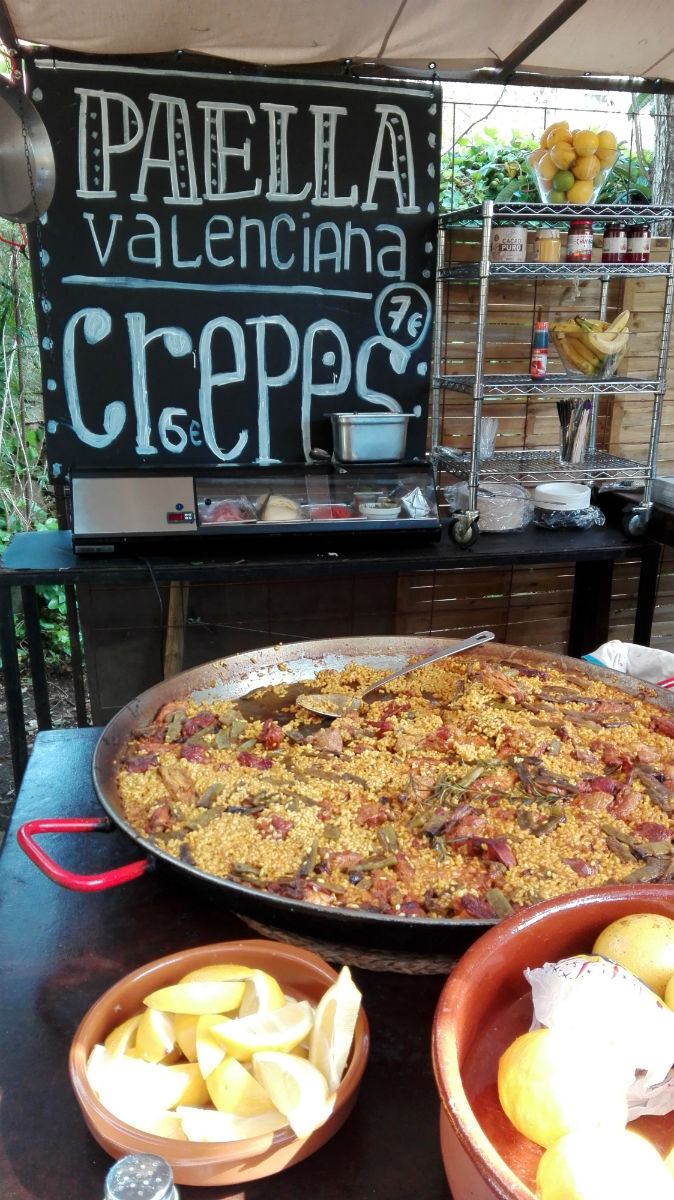 How to find the best Italian restaurants in Barcelona
WTA- You are Italian, how do you recognize a good Italian restaurant in Barcelona? Can you name one that you think is really worth going?
NL- If the restaurant is owned by Italians it's always a good sign. Avoid touristic areas. Avoid places where there are owners in front of the door who try to convince you to enter their restaurant (always a bad sign!). Then you need to use your instinct unless you already know where to go.
An excellent Italian restaurant where is definitely worth going for the reasons you mentioned is L'Osteria del Contadino, in Sant Gervasi – Sarrià area.
WTA- On a Friday many times we want to simply go for a drink with colleagues or friends, and maybe have a snack. What would you recommend in that case?
NL- Everywhere in Barcelona you can find places like that, you just have to make research if you are looking for quality. In the area near where I live, I can recommend Mika Milan (this restaurant has closed down since the interview) and Kalamata, both located in Rambla del Poble Nou area. Good for a drink and snacks.
WTA- Finally, for our travellers, any restaurant tips at Barcelona airport, at the Sants Railway station, or in the city center / Plaza Cataluña area, waiting for a bus?
NL- Unfortunately those places are not good at all for a nice dining experience. For sure there are plenty of options, mainly fast food, sandwiches and things like that. Ok for travelling but nothing special.
WTA: Yes, that's really true. If I can try to eat before going to these places I do! One place I know is Mauri. It's a traditional bakery since 1929, where you can enjoy a quick menu or find delicious pastries for an afternoon snack/tea time!
It's on Rambla Catalunya, near Diagonal metro station, just 15mn walk from Plaza Cataluña.
As of the airport and the train station, terminal 1 has some options, even if not great… Mussol is one of them. Even if we didn't love it, we could still eat despite my intolerances. As of Sants, I guess if you go towards Plaza de Sants you can find some stuff! If you can go to Plaza España, a place we love is Watatsumi, a Japanese restaurant at the Arena shopping mall with great views!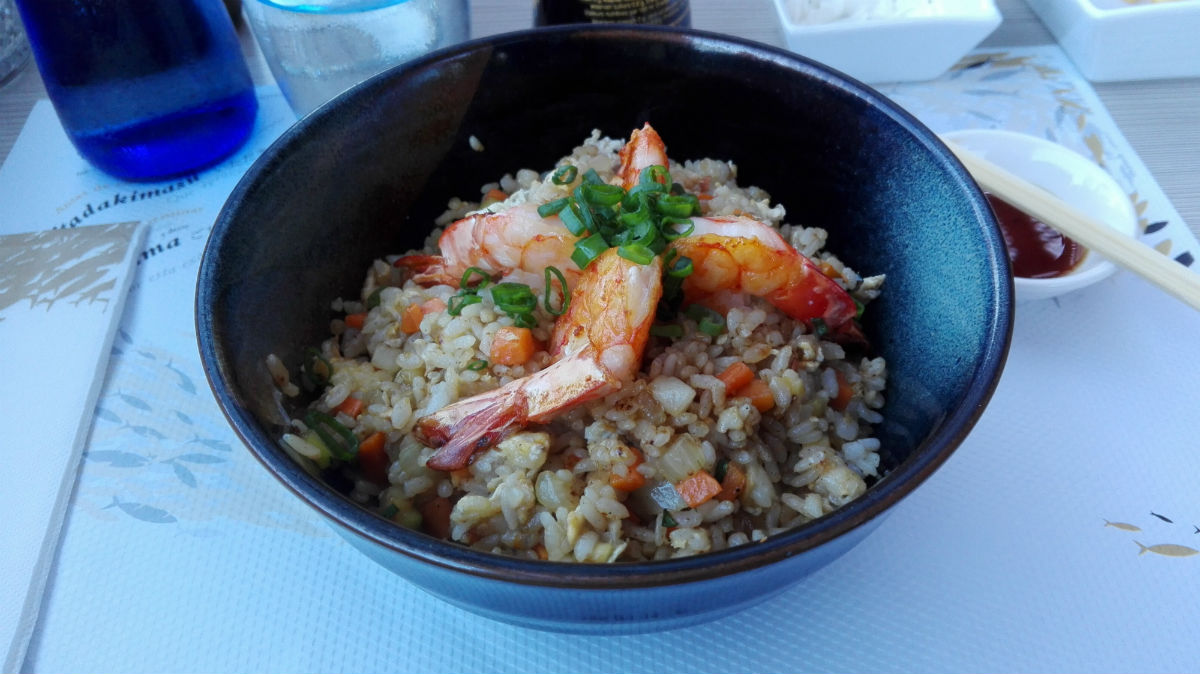 Let's see if WTA community has some tips to share with us, in case we are stuck there or have our flights at odd hours!
Thank you Nino for sharing all of your knowledge and experience to help WTA followers enjoy a great culinary experience in Barcelona!
If you want to know more about this show, you can find a written version of this video on my website worldtravelable.com and also follow us on my Facebook page  or on Pinterest, Twitter and on Instagram.
My blog is aimed to inspire you to travel, no matter your circumstances, and always keeping the environment in mind. On some articles, we also mention useful tips for travelers with special needs.
This is my first video but we will, of course, do a lot more so follow Worldtravelable on youtube too!
Thanks for watching and Bon appétit!
Also a special thanks to Lydie for the filming part, and to Nino for the editing!
You May Also Like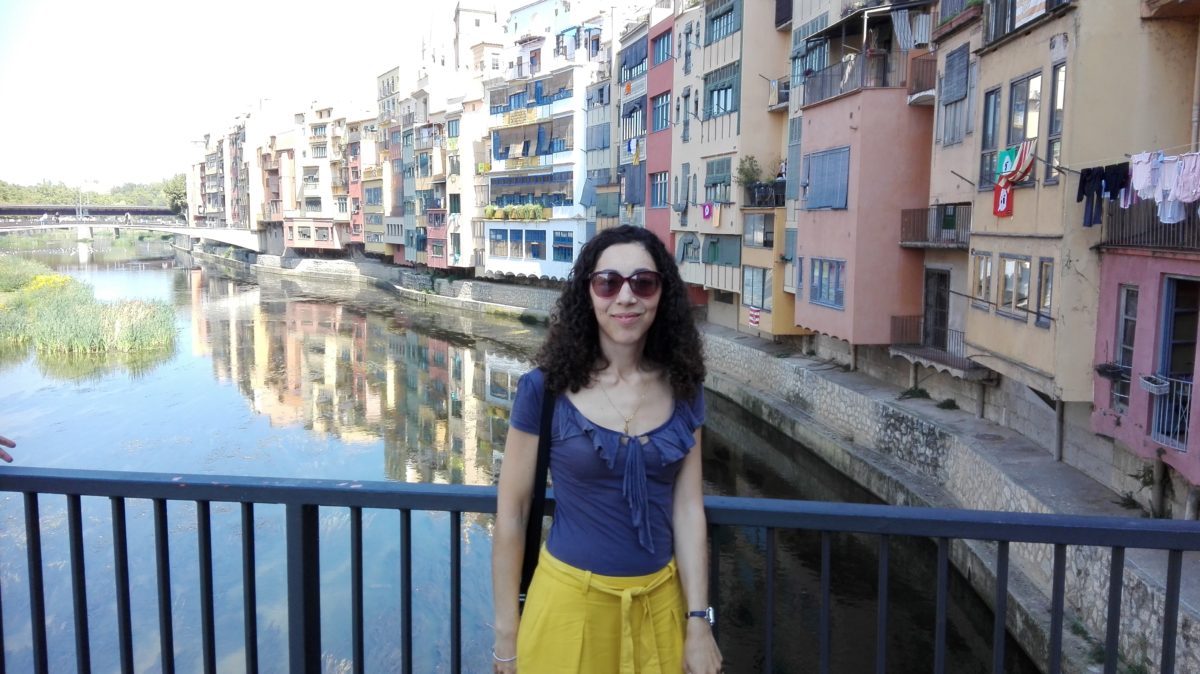 April 27, 2018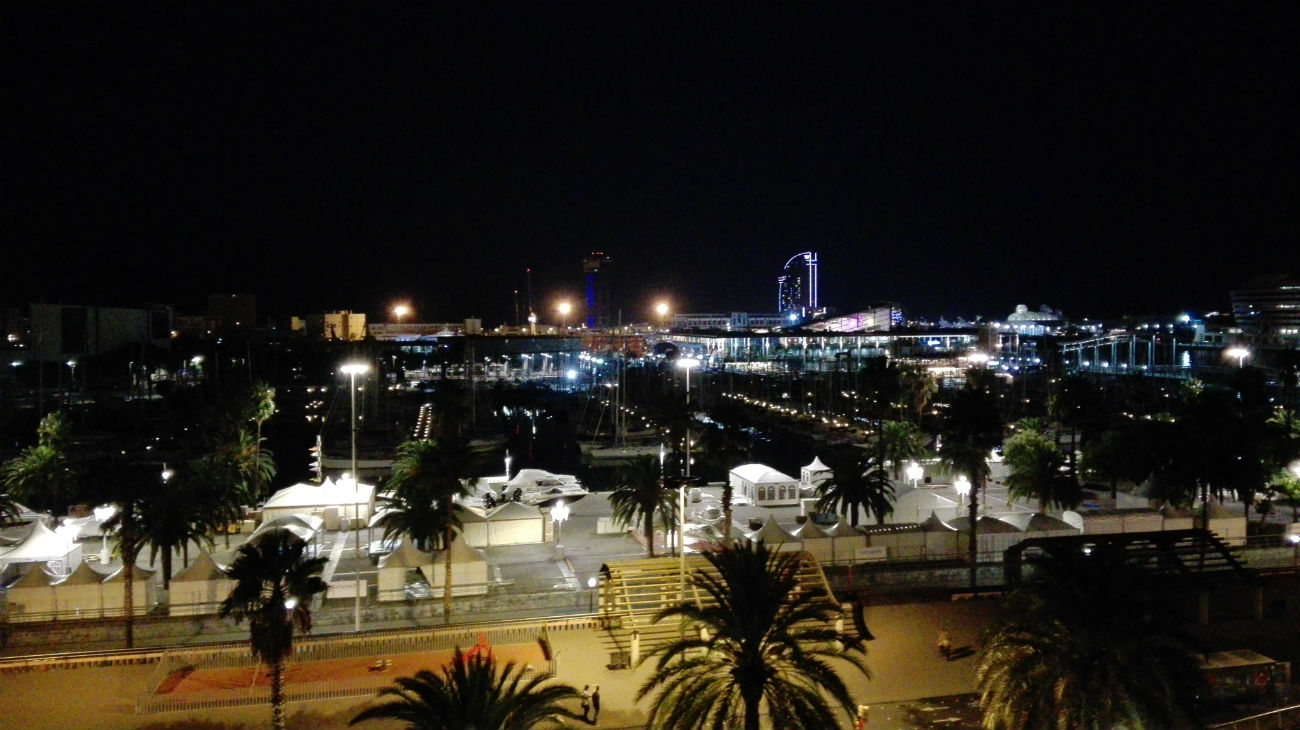 February 11, 2019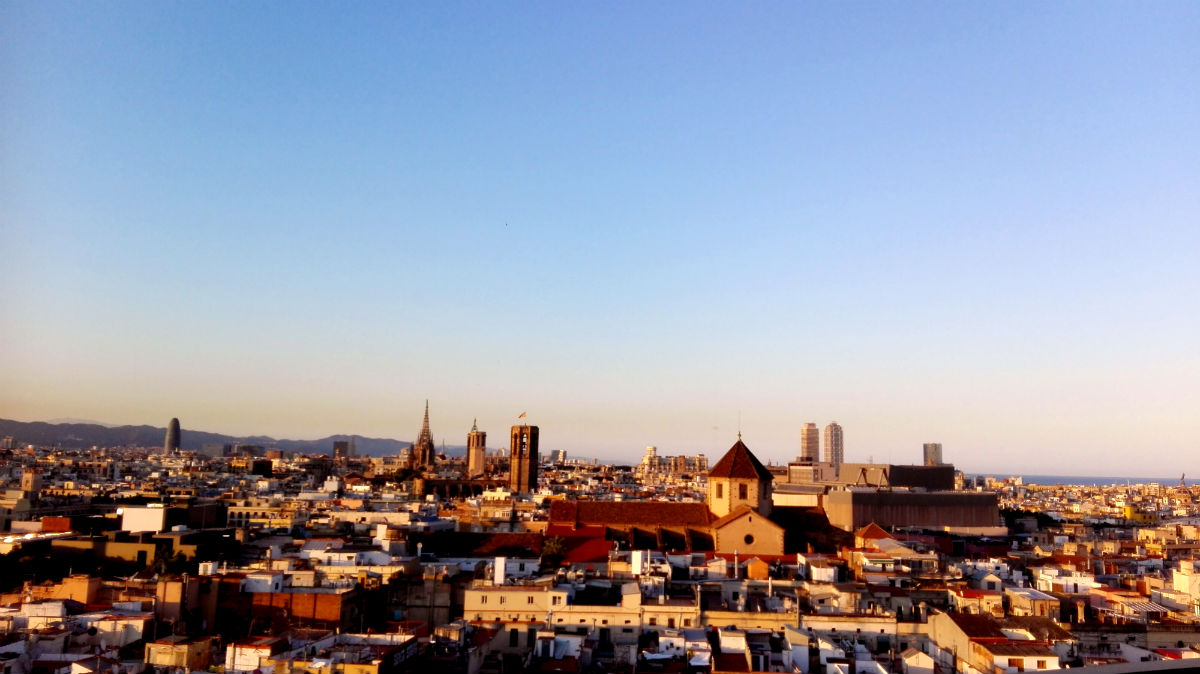 August 9, 2018