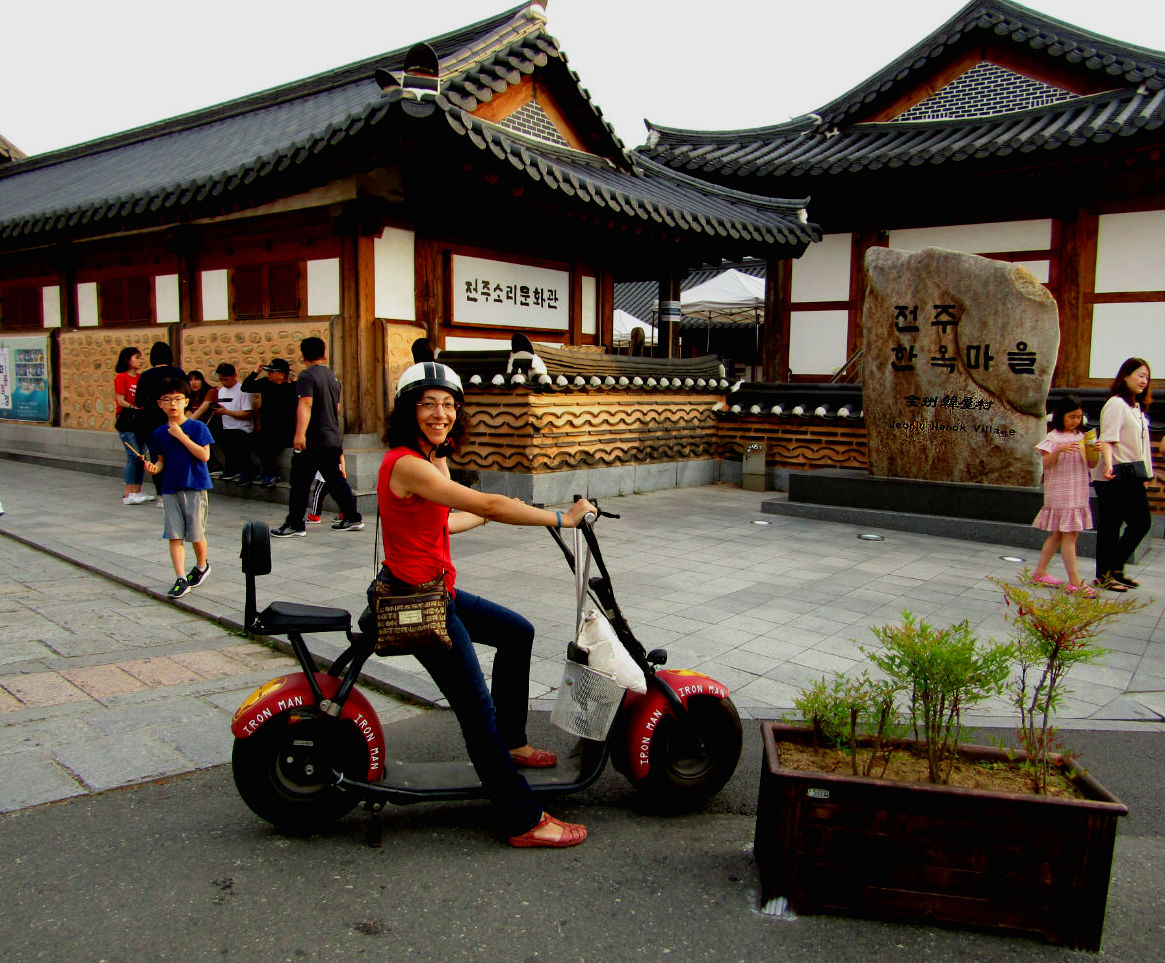 Experience the best things to do in Jeonju Hanok Village
There are plenty of things to do and see in Jeonju Hanok Village, South Korea.
This is actually not a village but rather a city, with over 600,000 inhabitants. However, the most interesting part is located in "Hanok village" as it is called. It is defined as a "heritage village", a "cultural village" or a "folk village", mainly because of its traditional houses.
Korean people love Jeonju and it is one of their favourite spots in the country, and yet it is not so well-known internationally, although things are changing with some of the most interesting food events worldwide around their famous bibimbap and fermented food.
So here is the list of my favourite places to visit, the main attractions as well as activities in Jeonju, and you will understand why you can't miss it when coming to South Korea!
Jeonjodong Catholic Church
This church is one of the most beautiful in Korea.
A French Missionary built it between 1908 and 1914. This is the oldest and biggest Romanesque building in the Honam region and the first place where the martyrs lost their lives.
Jeonjodong is also home to one of Korea's three major Catholic churches, along with Myeongdong Cathedral in Seoul and Kyesan Cathedral in Daegu.
Taejo road filming location
This is a famous street as it is the gateway to Jeonju Hanok Village where Koreans have used this location to film lots of movies. It is close to the Jeonjodong Catholic Church and the Gyeoinggijeon Shrine.
Traditional Tea house: Haegwon Cafe
This tea house exists since 1928 and is one of the most beautifully decorated tea houses in Jeonju Hanok Village.
I love tea in Korea because it's usually fruity and has some kind of health benefit.
I have tried many different ones. My favourite one is Yuja cha made from the Yuja fruit.
Koreans cut the fruit in slices and usually mix it with honey. It has a citric flavour but it is not a lemon.
It's the tea that Koreans usually have in case of a cold. It was very efficient in my case! I felt better within 2 days!
Jeonju Jeojunchun River
Nature always has its place in any city and you can enjoy a relaxing stroll along the river to refresh on a hot day.
You can rent a bike or simply relax at the Hanbyeok bridge. There is a Pavilion called "Hanbyeokdang Pavilion" where people simply sit or lie down.
Jeonju Nambu Market
What better than a video for you to understand what this market is all about! Food of course! Jeonju is the capital of food in South Korea, and at Nambu market, you will find all the best (and weirdest!) street food.
There are also other things that you would find in any market like raw food, clothes, and more.
If you are interested in knowing more about Korean food, I highly recommend you check out my former post which explains why Jeonju is the Korean capital of gastronomy!
Pungnammum Gate
During the cultural heritage night festival, there were many activities around this gate. First a concert on the top of the gate, with traditional Korean music and instruments, then other things related to their traditions.
And even without any festival, it's worth coming here to admire the beauty of its architecture as this is one of the most significant cultural assets in Jeonju. It is obviously related to the Joseon Dynasty when the gate was used as a south entrance of the fortress surrounding the city.
Pungnammun gate is the only one left of the 4 original city gates.
It was actually been built before the Joseon Dynasty, but as it was burnt by the Japanese, and the Joseons rebuilt it and named it that way.
Gyeonggijeon Shrine
This shrine, containing a portrait of King Taejo, is surrounded by a wall and gardens. But for me, it was the whole site that I found worth visiting, not only the photo enshrined!
We were able to enter it free of charge at night during the cultural heritage night. It was best to go at night as it was around 35ºC during the day in May, and we appreciated the cool night air. I particularly enjoyed the bamboo forest trail. It's also a location preserved for historical drama and movie filming.
What I also liked during the festival was the tea ceremony explained to the people. It's too bad I don't speak Korean but I have observed them and it looked like they were explaining how the tea should be served. Couples would sit down and the person holding the ceremony would serve food and tea and explain everything about it.
Jeonju Korean Traditional Wine Museum
This was smaller than I expected but still interesting to visit.
You can find out how Koreans make the rice wine and which tools they use.
Handicraft Workshop village
When you get to this traditional house, you are first amazed by the beauty of its garden. Then on your left, you will see people creating art. They use the Korean traditional paper Hanji to create figurines.
They use different techniques, from form frottage to brass rubbing, collage, and manage to create art in a very detailed way that only paper can achieve.
Korean traditional music centre
We were invited to enter while they were live on the Jeonju radio! They invited a young girl who was apparently a winner of one of the shows of the day before during the festival.
She sang along during the radio show and it was a privilege to be there and watch the show live!
Relax at a gazebo
That's what we did on the second day of our stay! This is completely normal in Jeonju. You will find several gazebos at different points of the city, inviting you to sit down and relax. A great way to recharge when you are spending the whole day visiting sites.
It's especially handy during those festivals because you don't sit at a restaurant. People usually buy street food and drinks and then they can come here to rest. Literally, a rest because as you can see in my video, many people even lie down!
That's another advantage of visiting a "slow" city like Jeonju. A place of rich history where we can take the time to relax between each visit.
Omokdae and Imokdae
The Japanese invaded Korea and this is evident all around the history and monuments found in the country.
This place is known to be the site where YiSeong-gye stopped to celebrate his victory on his way home from a battle in 1380.
It's also a great way to have a view over the Hanok village typical roofs.
Jeonju Hyanggyo Confucian School
What I liked the most there was a huge old gingko tree! It's unbelievable to think that some of those massive trees came into existence way before us, and are still living after 4 centuries!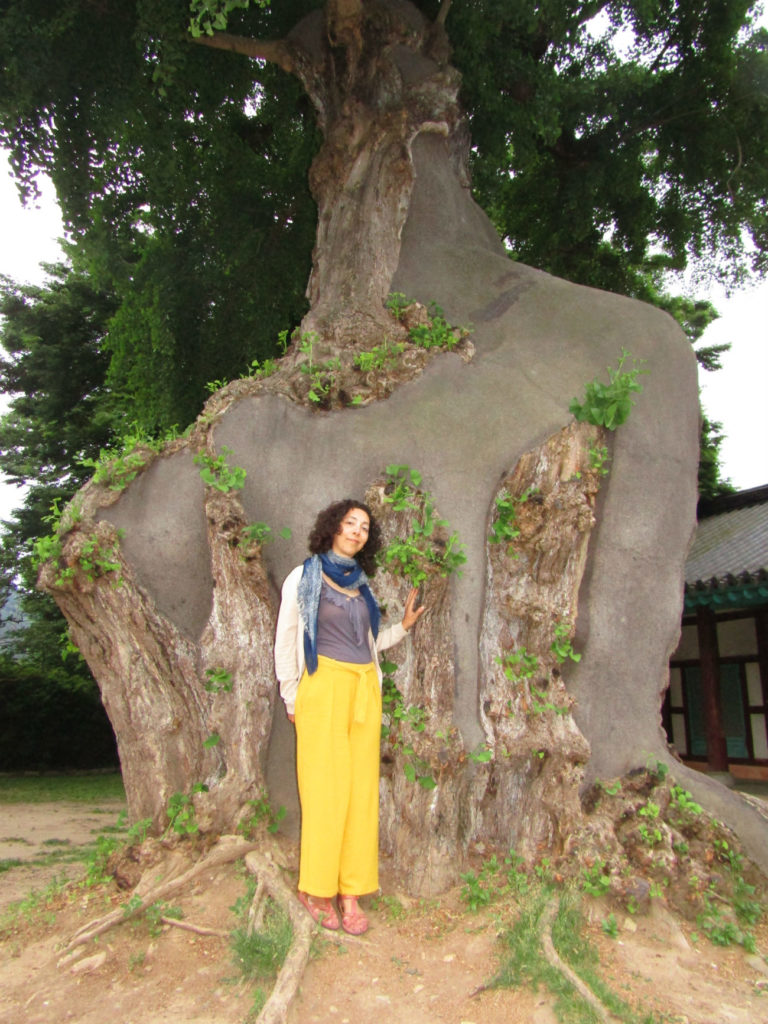 As of the Confucian school, Jeonju Hyanggyo is one of the best-preserved Confucian schools in the country and is worth a visit.
It's the equivalent of a high school today. The ginkgo trees were planted there as a wish for students to grow as well as a ginkgo tree: with integrity! It's estimated to have been planted in 1603 when the school was established.
Jeonju Jaman Mural Village
Located on top of a hill, it's the perfect place to escape the crowd, enjoy beautiful wall paintings, and have a great view over Jeonju Hanok Village!
We also found a charming tea house serving in the traditional way. The reason I like tea houses so much is because of the calming effect they have on me. They are peaceful places, always with a garden in the centre, inviting you to savour your tea quietly!
Jeonju Art galleries
I loved the café down in the art gallery. They were so kind to us! They suggested we stay outside as we arrived just as they were closing. So we could still enjoy a rest and a tea/beer before going back to the city.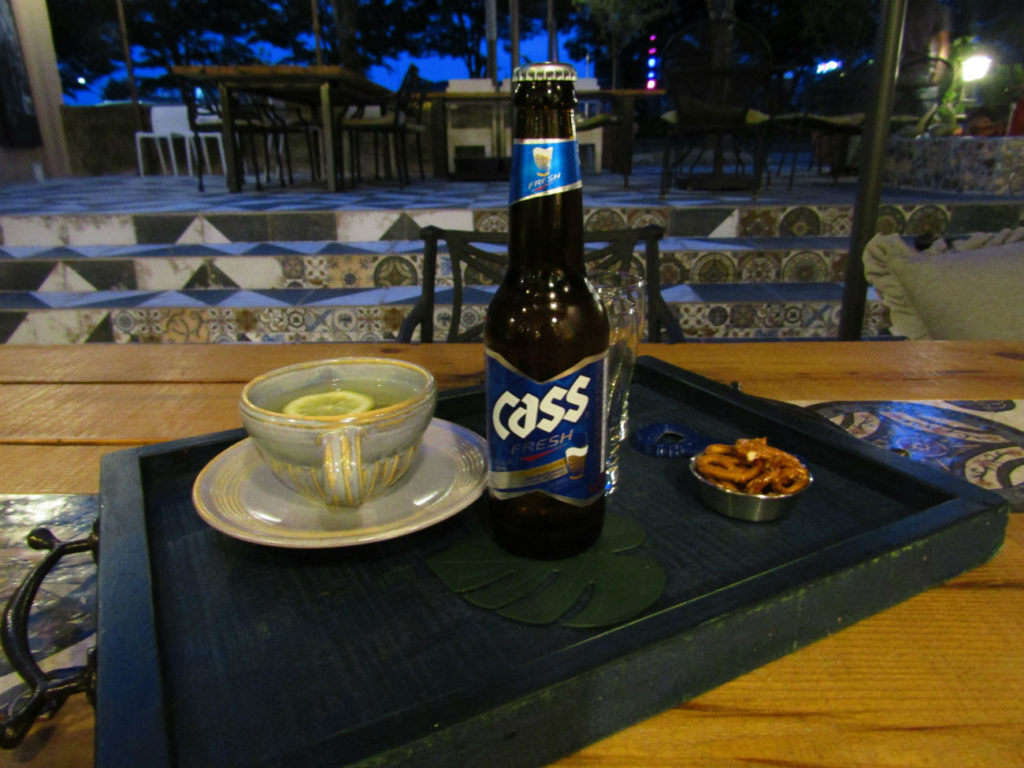 That's another thing I like about Korea. It is safe and people don't worry about their stuff. They don't need to. They know we will not steal their glasses even if they are left there all night.
We also had time to see the art gallery showing a photo exhibition.
Experience a Hanbok
Hanbok is a Korean traditional garment. We were able to see plenty of them during the Heritage Festival!
Most visitors enjoy renting one and go around the Hanok village dressed in it, just for the pleasure of wearing a beautiful and authentic piece of art, but also to take pictures of themselves! That's a great way to have the feeling of going back in time!
I really could have stayed more than 3 days in this wonderful Korean city and I'm sure you will want to visit Jeonju Hanok Village now that you know a little more about it!
Have you ever been to Jeonju? Do you recommend other things to do or see? If not, which of these attractions seem the most attractive to you and why? We are interested to hear from you so don't hesitate to leave us a comment!

You May Also Like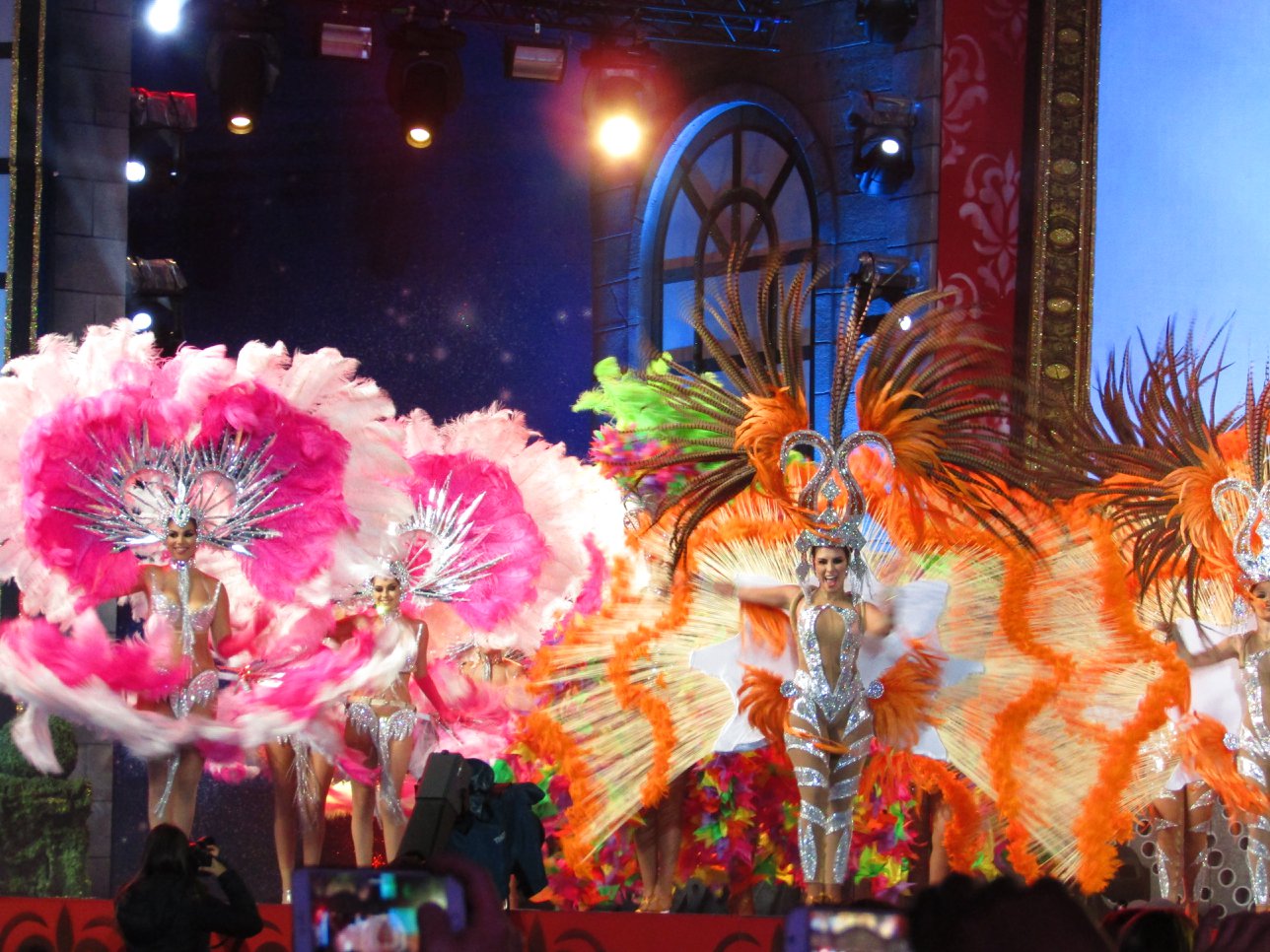 February 15, 2018