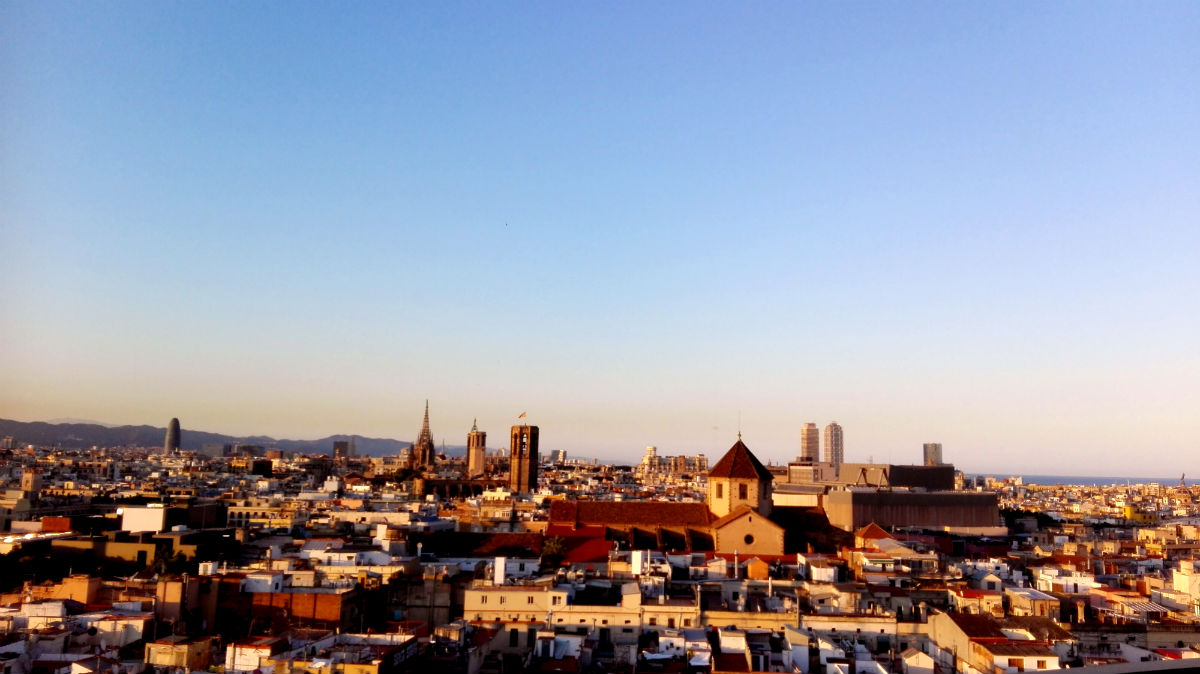 10 best things to do in Barcelona in the summer
Barcelona is a great city all year round. But if you come from other regions of the world where the summer is not that hot and humid, you might want to figure out if it's actually nice to come to Barcelona in the summer.
Let me give you a sneak pic of the best Barcelona summer activities!
Barcelona Climate
Before you consider coming to Barcelona, you might wonder if you can handle the Barcelona weather.
Although the city has a usual hot summer, Barcelona temperature can vary easily and is less predictable than before.
Climate change has probably something to do with it, and there is no one summer like the other!
Some years, the heat starts very late but can hit us strongly, although maybe less than other regions of Spain.
We are lucky to have the sea close by which makes the temperatures a bit milder… normally!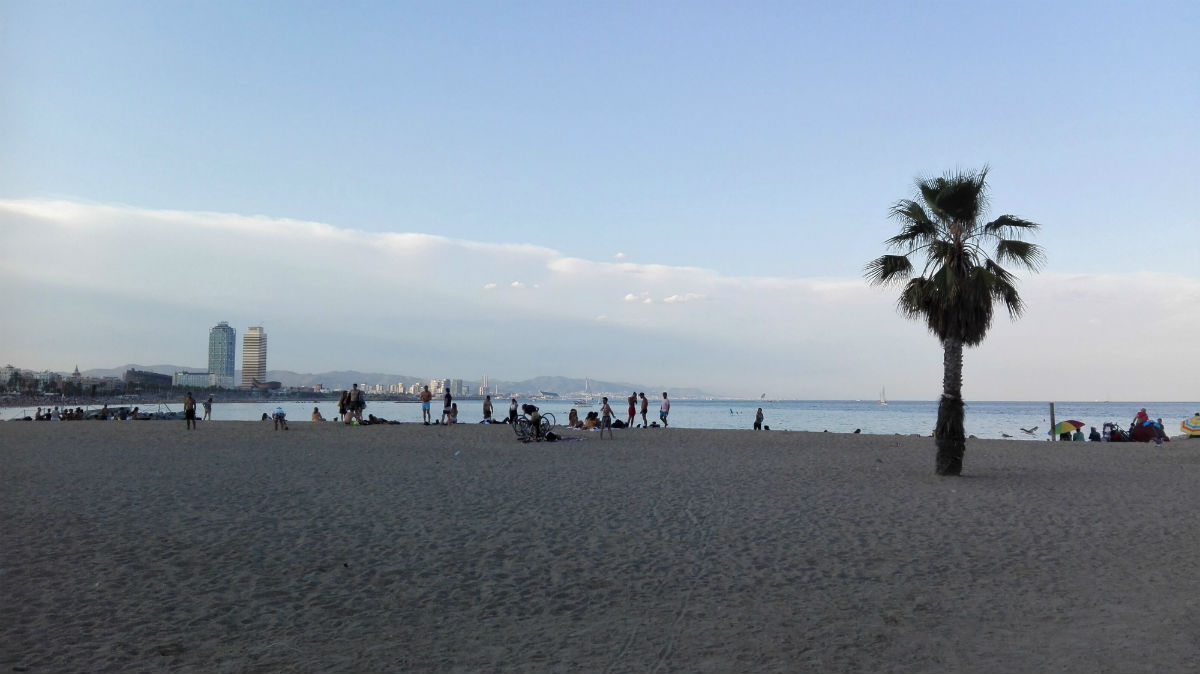 But that's not always the case!
As I wrote this article in mid-August, it was 29ºC!
29º C? You might think it's not bad, right?
Oh sorry, I forgot to mention, it was 29ºC at 11 PM! And it stayed that way all night!
When temperatures don't drop at night, it can feel overwhelming.
So, you might consider 3 things to do in Barcelona if you easily pass out with the heat:
Avoid Barcelona city and go outside
Visit air conditioning sights (although there's a new law since August 2022 to save energy)
Live only at night!
Oh wait, I have another option! Follow my tips below and you will find out some ways to enjoy Barcelona escaping the heat!
Reasons to come to Barcelona in the summer
On the other hand, I want to highlight some good reasons why Barcelona is a great destination in the summer months.
Your reasons might be very different.
Whether you are here for Spanish summer courses or taking advantage of the kids holidays to come and visit Barcelona, there is something to do for everybody!
The good weather (obviously!)
The beach
The parks
The museums
The festivals and events
The views
Less traffic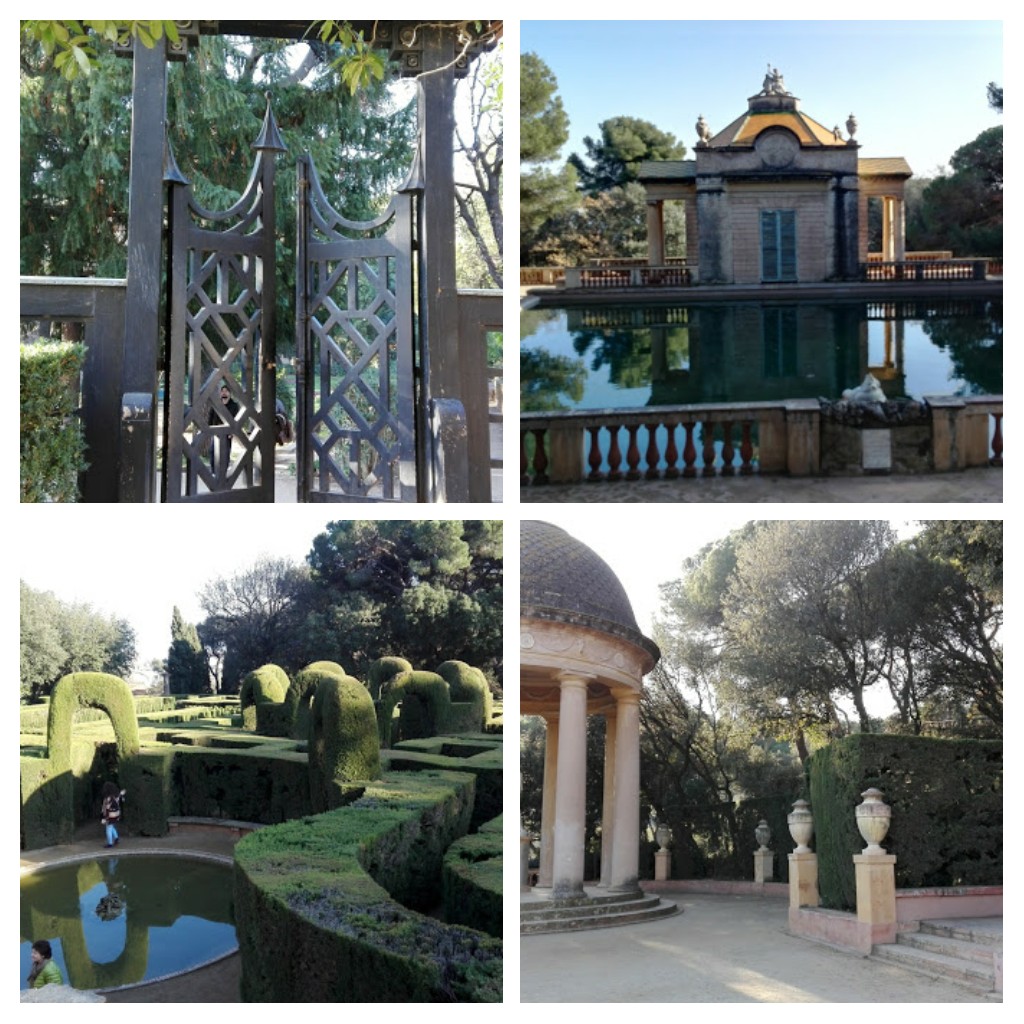 My recommendation list of the best things to do in Barcelona in the summer
Relax under a tree of one of the numerous parks of Barcelona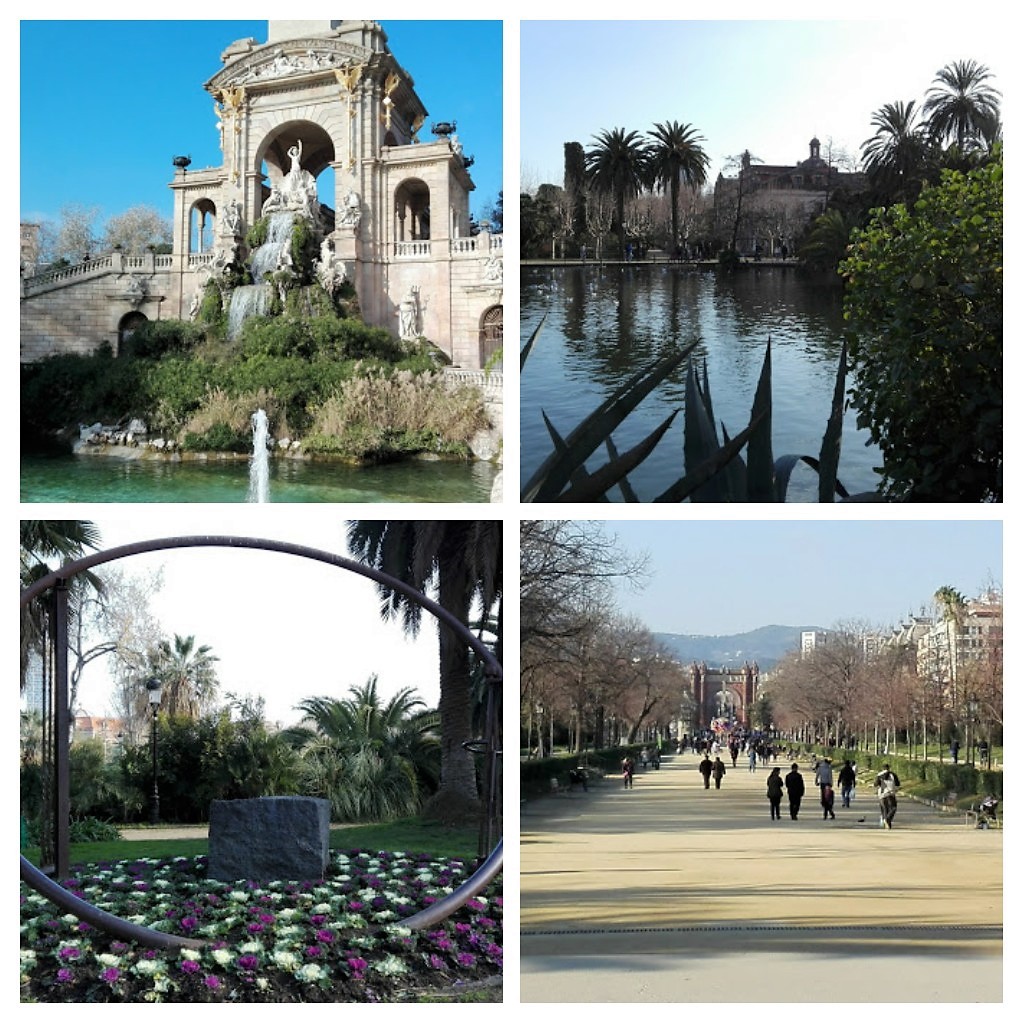 Barcelona has lots of parks, where you can go with friends for a picnic, to read a book on your own or simply to day dream observing the different trees, flowers and birds around!
My favourite park is Montjuic.
You have different gardens and there is something for everyone!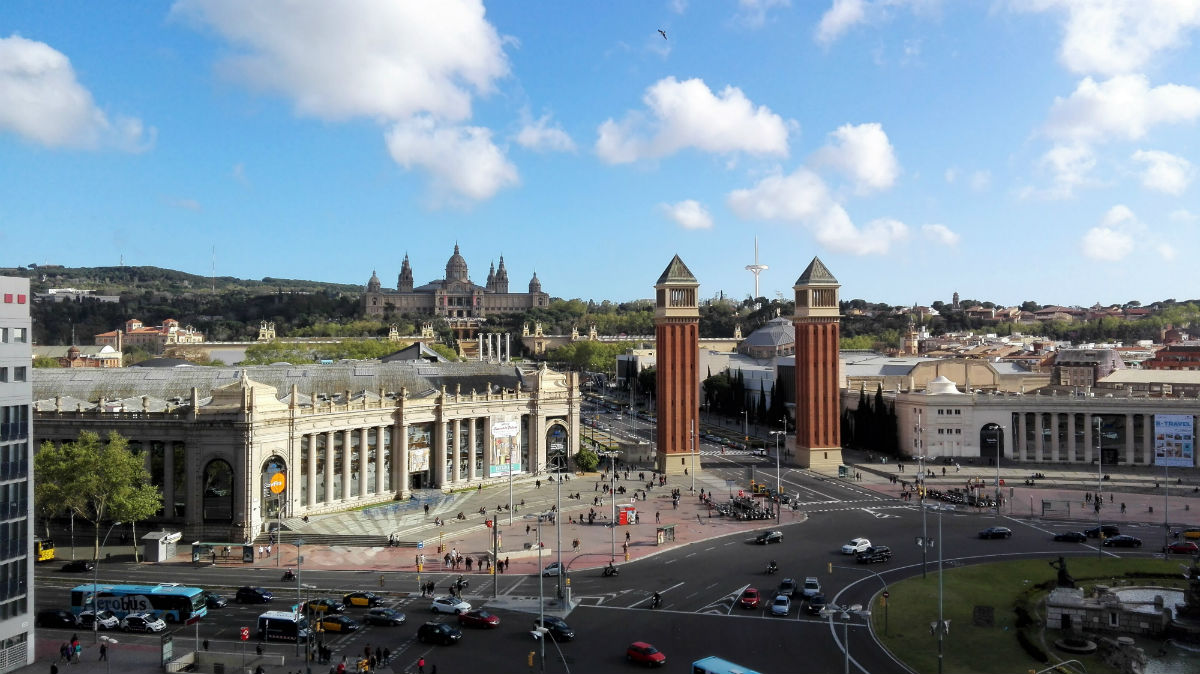 Tip: With this heat, I recommend to avoid the efforts of walking to the top but rather take bus 150 at plaça Espanya, go to the top, and walk down to all the gardens you like!
Go to the beach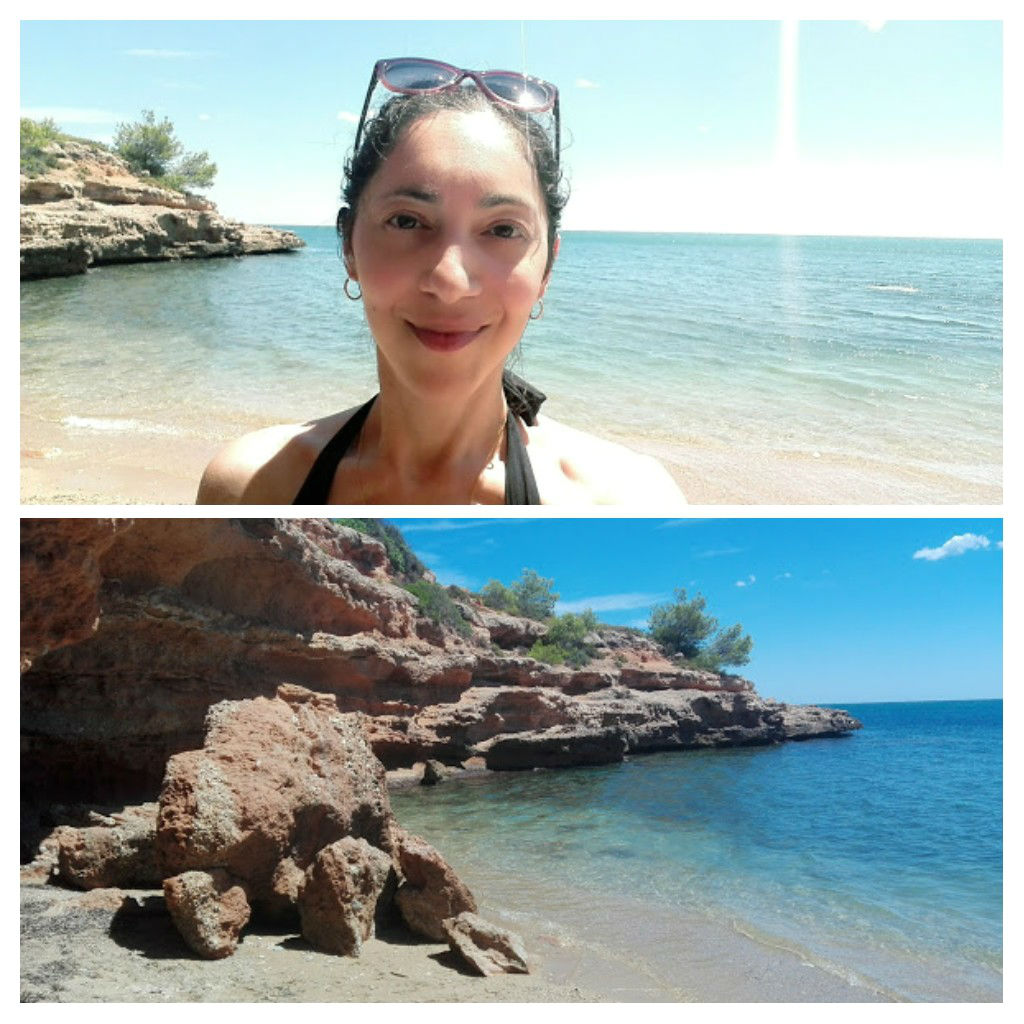 But not to any beach… There are many beaches in the city but they are too crowded and too dirty.
If you really want to stay in the city, and what you are looking for is to relax, then I would suggest going to the nude beach of Mar Bella.
If you don't really like the idea of a nude beach (by the way, you don't have to take off all your clothes to go there!), then just go to the one before or after (Bogatell or Nova Mar Bella).
Even better if you can, take the train at Sants station and go to Castelldefels beach. Walk a little further than the first beach you find and you will find lots of space to enjoy.
If you have a car, even better! Drive a little further towards Sitges and find some nice spots with fewer people! And if you really have time, go around Ametlla de Mar, after Tarragona, it's very beautiful there!
Another option is to go north and go around Sant Pol de Mar. By train or by car, and try to walk a little further away from the station to find a nice spot to enjoy the clean sea and the sun!
Unfortunately, that's what it takes to be able to find clean waters now. Maybe one day we will understand we need to forget about plastic straws, bottles, cutlery, etc. All this crap plastic polluting mess damages our seas, oceans, kill marine life, and end up in our food chain!
Get out of Barcelona towards the interior
There are other places than the busy beaches to enjoy a refreshing moment in the water and under a tree!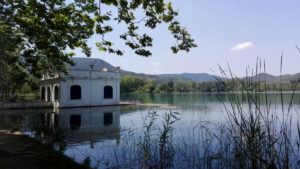 Recently I have discovered 2 nice places just 1h30 away from Barcelona towards Girona: Banyoles lake and a small village called Besalu.
You can walk around the lake, it's huge! But I would not recommend it in the summer!
Instead, go to the swimming area, and enjoy the facilities to swim in the clean lake water!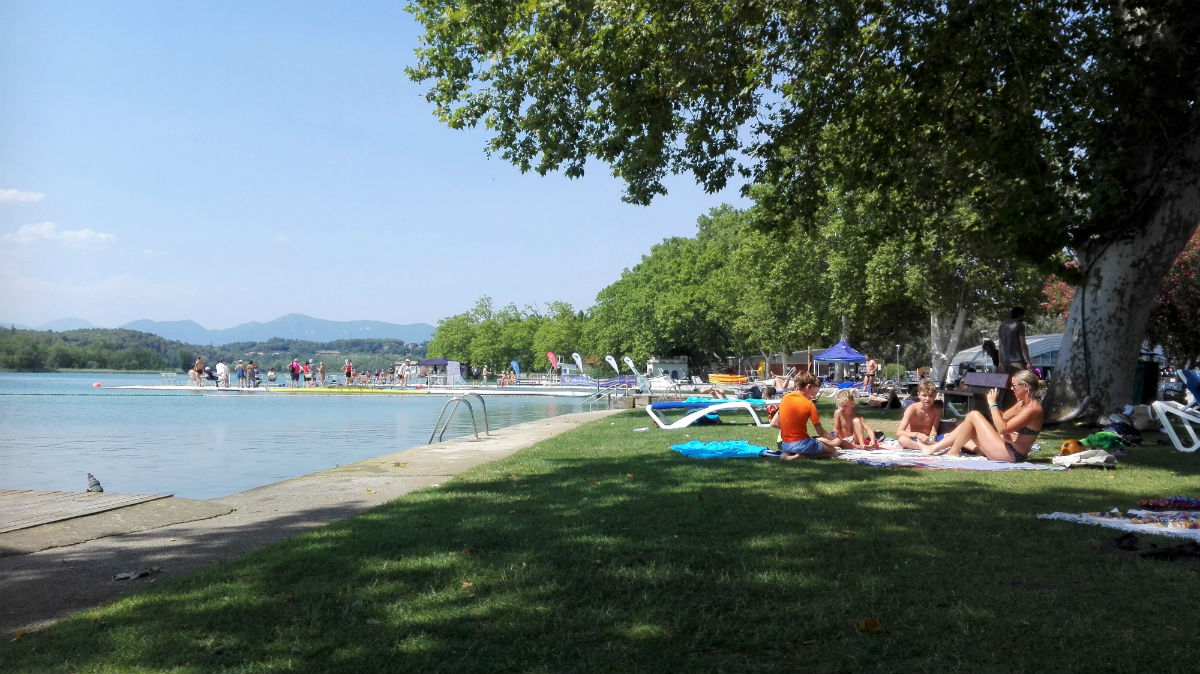 There are loads of trees so you can even stay in the shade before and after bathing!
Besalu also has several rivers where people bath. I haven't tried it as it was kind of smelly where I was. But in any case, you should definitely pay a visit to this beautiful village and understand its rich history!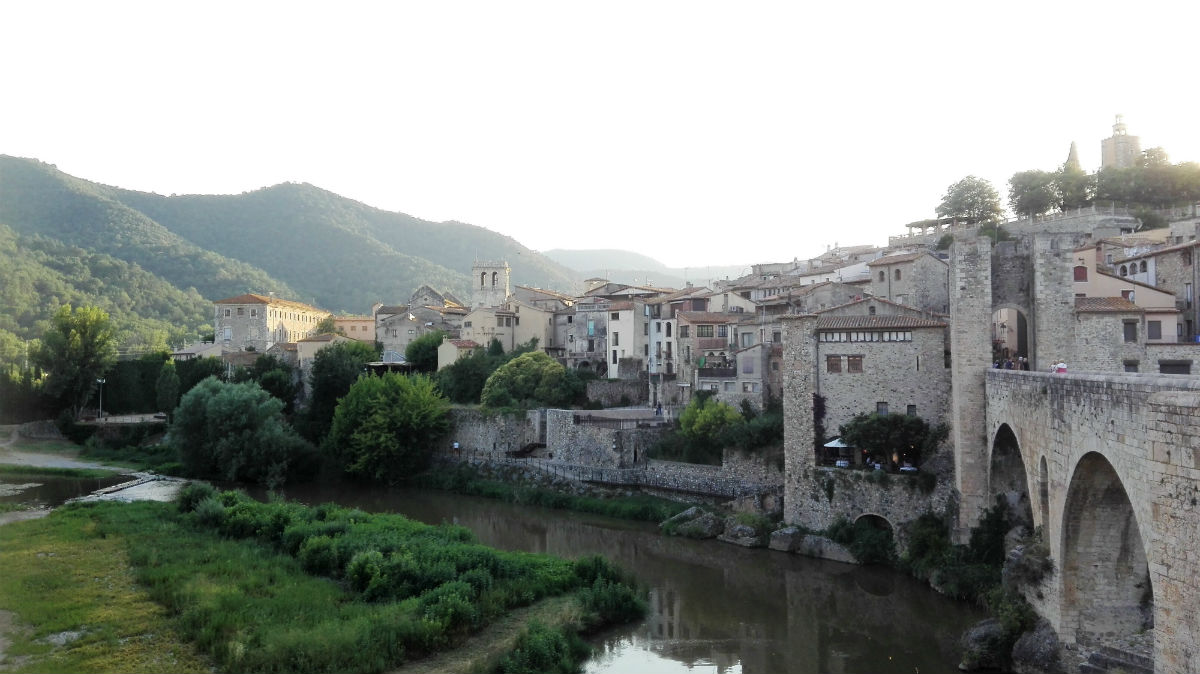 Mura and its national park
We have also written this piece about another nice area of Catalunya called Mura. The surrounding park is worth the visit. Read on by clicking on the below image to find out more.
Visit Barcelona museums and art galleries
Summer is a great moment to enjoy air-conditioned museums and escape the heat!
There are so many!

Picasso in Ciutat Vella, Fundacio Joan Miro in Sants, the MNAC in Plaça Espanya, the CCCB in Raval, are just some examples.
At night, I would also recommend going to the art galleries, most of them are situated in Eixample like Galeria Mayoral, Senda, Project SD…
Just go and explore the museums and art galleries of the city!
Enjoy Barcelona views from the best hotel rooftops!
There are so many hotels with a nice view of the city!
I cannot tell you all of them in this article and I probably need to dedicate a whole chapter about this! There is even an event of one week in spring to visit hotels terraces of Barcelona, so you understand how big this is!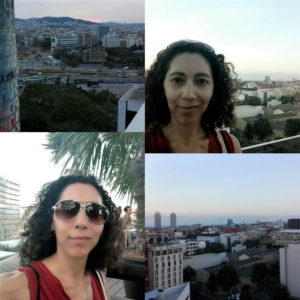 Many hotels have small swimming pools and amazing views!
My favourites? Terrassa 360ª at Barcelo hotel in the Raval and several hotels in Glories!
Breathtaking views, and so much wind that you will not have it hot!
Enjoy Barcelona tapas bars and restaurants
During the day, just look for a good air-conditioned restaurant.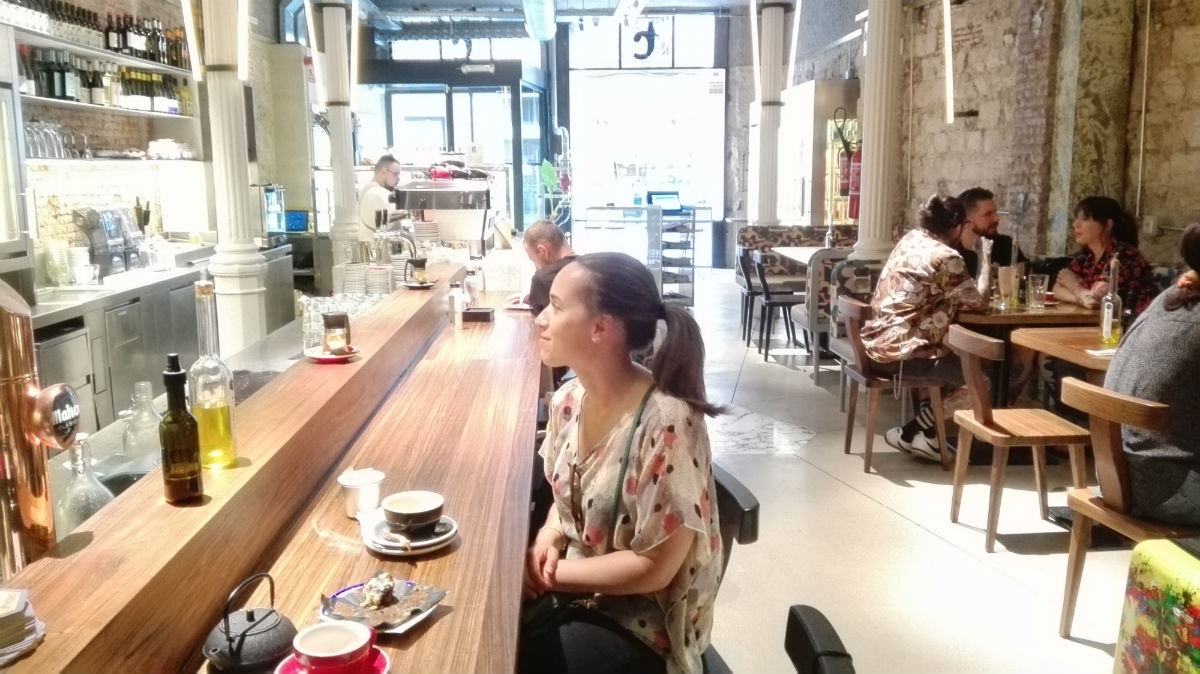 I have already made an interview to a food lover and resident of Barcelona if you want to check for some good restaurants!
And during the night, just go to barrios like Born or Barceloneta and sit down at one of the numerous terraces to enjoy delicious Catalan food! Or simply have a drink!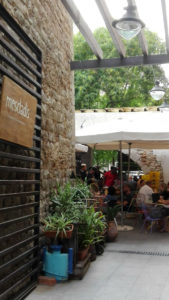 My favourite bar: Antic Teatre in Born district!
One of my favourite bar restaurant in the summer that I have just discovered: El Jardi in Raval
Go shopping
That does not mean you actually need to buy anything! You can have a look without buying, can't you? It's called "window-shopping" if you have never heard of it before!
Of course, I would really not recommend that if you cannot help buying anything you like.
In that case, what you could do is simply leave your credit card at the hotel and only take a 10€ bill with you!
But if you can, hey! They always put their air co full blast so it's a good way to escape the heat! Although since August 2022, they will need to follow a new law to save on energy, by setting up their temperature at 27ºC maximum. Which is still better than outside!
My favourite places to shop in Barcelona: Gracia ! It is full of very nice shops, plenty of eco-friendly businesses and they are also very trendy and out of the ordinary!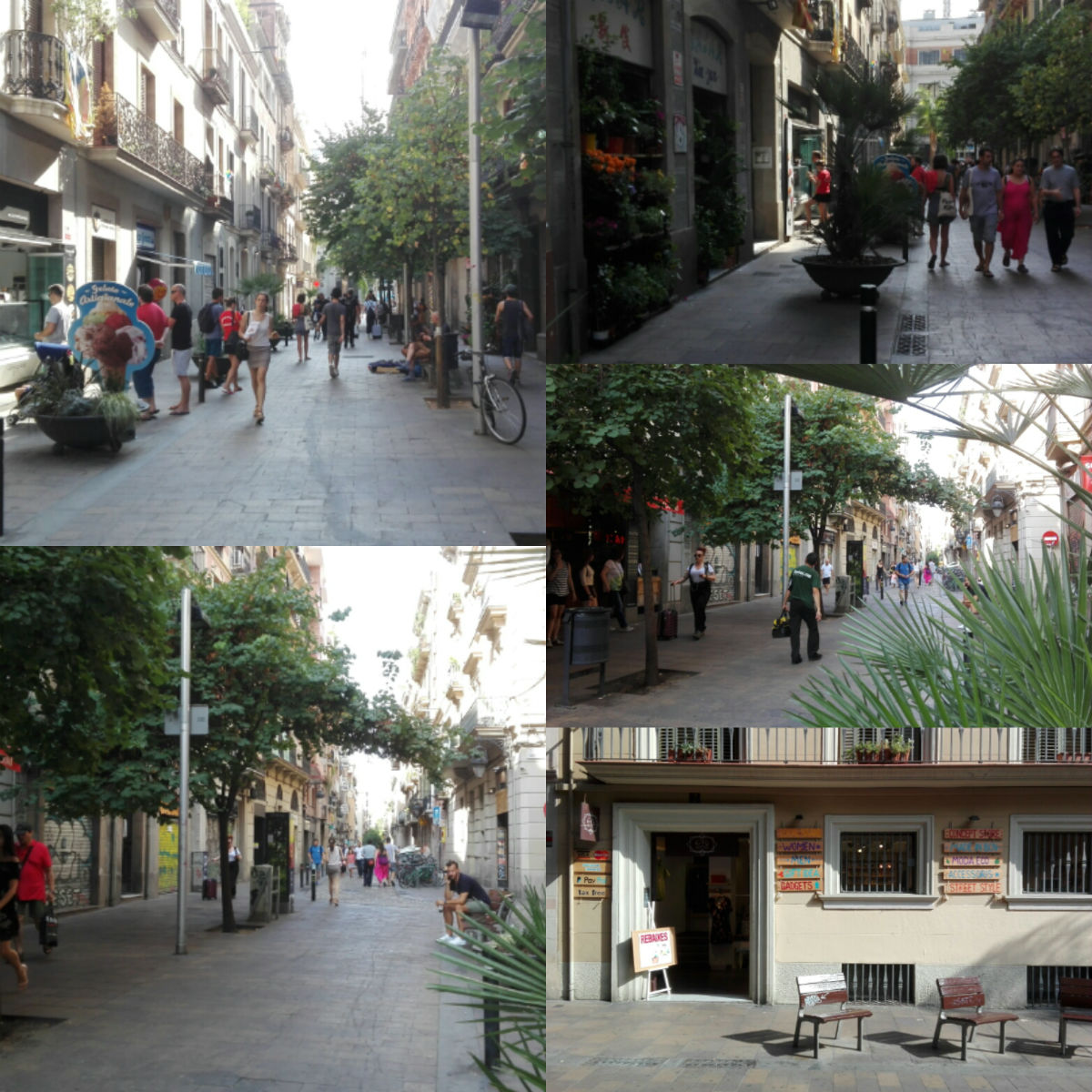 I don't know about you, but I love those kinds of shops, where we are able to admire the quality of the product and the authenticity, behind any marketing packaging!
With our new website Planeta Sana, we want to promote these kinds of businesses that care for the planet and our health. Don't hesitate to add suggestions to our collaborative address book!
Go to the cinema
That's one of my favourite activities in the summer!
In Yelmo, you can find the movies in their original versions, subtitled in Spanish.
So if you don't speak Spanish, check an English speaking movie and enjoy some cool air, big screen and why not, some popcorns!
Barcelona summer festivals
Barcelona has so many festivals in the summer, you really need to decide that in advance though. If you don't plan it, it quickly gets sold out!
The most famous ones: Cruilla in July, DGTL festival in August and let's extend to June with the Sonar Festival! If you have time you can also go to Benicassim international festival. It's 2,5 hour away from Barcelona.
And then you have the districts festivals like the famous Fiesta de Gracia!
My tip: Go after 6 pm, as the heat might be overwhelming during the day!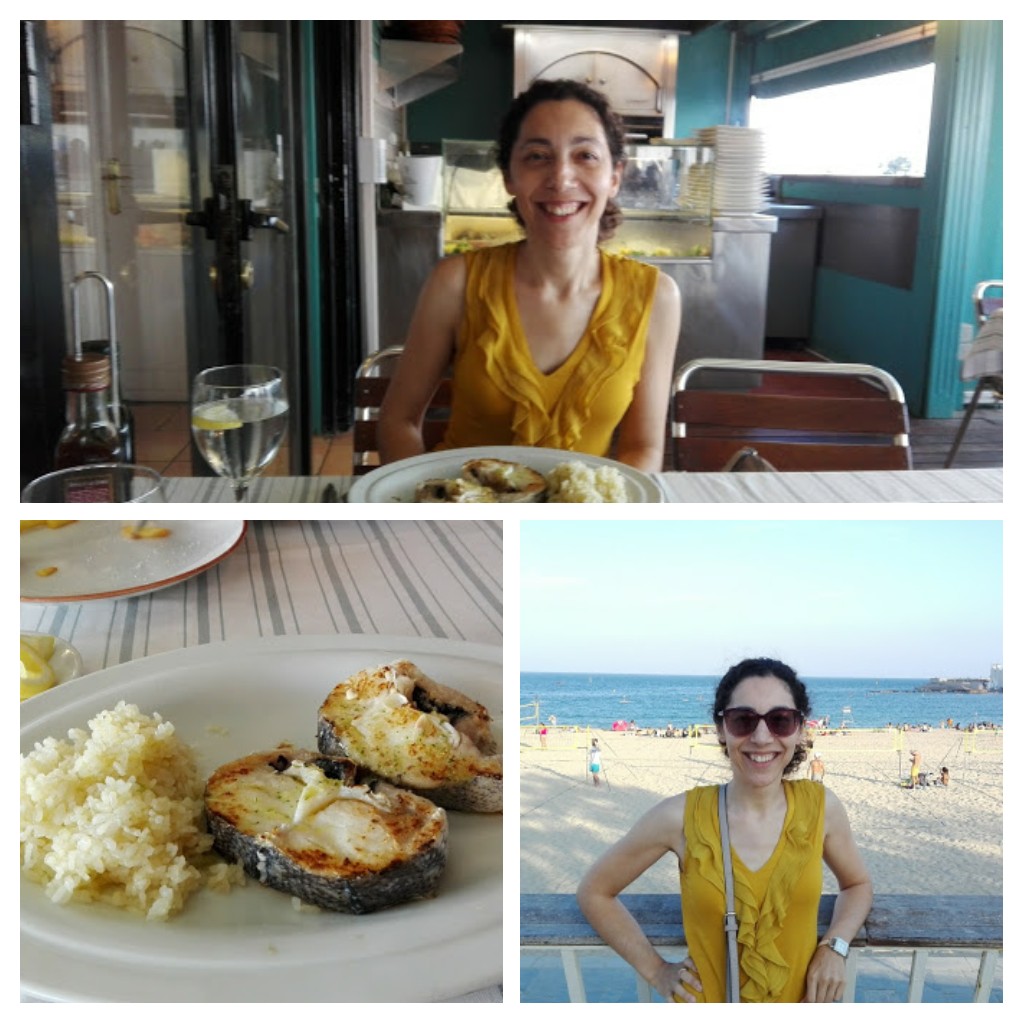 Cinema a la Fresca
That's another great thing that Montjuic is offering! And also other places like Badalona beach or even Barceloneta beach.
My favourite is the one at Montjuic. It starts at the end of June and ends at the beginning of August.
You can rent a chair there but the best is to bring your food, drinks, and towels so you can enjoy a picnic while listening to the band before the movie, and then relax to see the movie!
Things you should definitely avoid, and not only in Barcelona in the summer!
The metro
If you can avoid it, better. Because it's so hot to get there! Once you are in the metro it's fine. But all the way down temperatures may raise up to 40 to 45ºC for sure! If you can't avoid it, then get water, a water spray for your face, and a fan! That's the way I survive it!
Illegal shopping
There is a huge dilemma in the city, and if you believe in responsible tourism, then I urge you to stop buying things from the people selling in the street, the subway or the beach.
Manteros vendors
We call these people the "manteros" because they put all their goods on a big piece of clothe to easily run away if the police come.
If you buy from them, you are participating in a shady economy. Yes, let's say the big word: Mafia!
They are also practically taking over some spaces, making it difficult for people with wheelchairs to move around for example, or even people to walk.
And don't forget, these people who sell are actually paid very bad as the ones who are making lots of money are the mafias, not them! They are like slaves because they have not many choices. And you are actually not doing them any favour buying their stuff…
Also, we often complain that the school system is bad, the roads are bad, and wonder what the government does with our taxes, right?
But then we think it's ok to buy cheaper at an illegal vendor just to save a few euros, rather than buying at a shop, where the vendor pays for his rent and taxes?
Well, if you take a second look, you will see that our complaint does not make so much sense…
Let's not forget to travel responsibly!
"Cerveza Agua Beer!"
As of the drink vendors shouting all day "cerveza, agua, beer", have you ever thought of where those drinks actually came from in order to keep them cool in the middle of the summer?
Let me give you a hint: it's the same place where rats live…
Now you are still thirsty? Well, if you don't want to pay for a drink at the chiringuito bar of the beach, I would suggest to go to a store before reaching the beach and get some drinks then.
As long as you take them back with you when empty, then I don't see why not!
I love to bring my stuff, but especially go to the beach very early in the morning or very late in the evening, as the lights during this time of the day are just so much more beautiful!
Also, you will not feel so hot then!
I hope I gave you some good ideas for a great Barcelona summer program!
There's also more information in this article about Barcelona events if you're interested.
And you, what is your favourite thing to do in Barcelona in July and August? Do not hesitate to share further ideas in the comments!
You May Also Like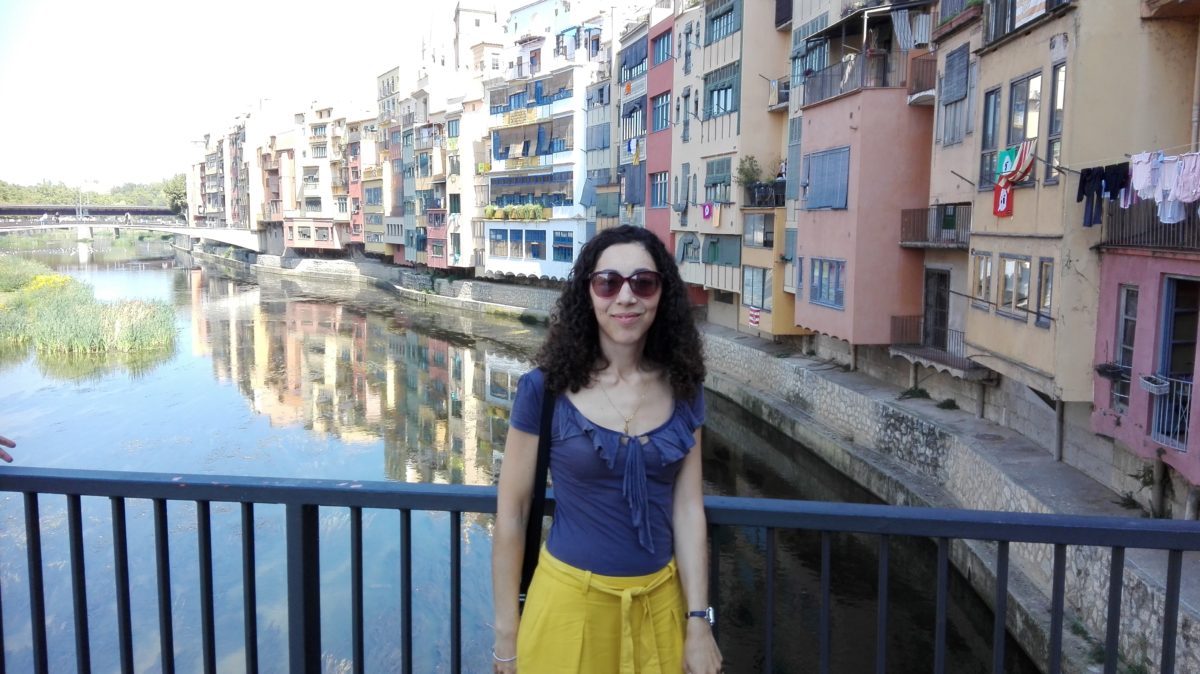 April 27, 2018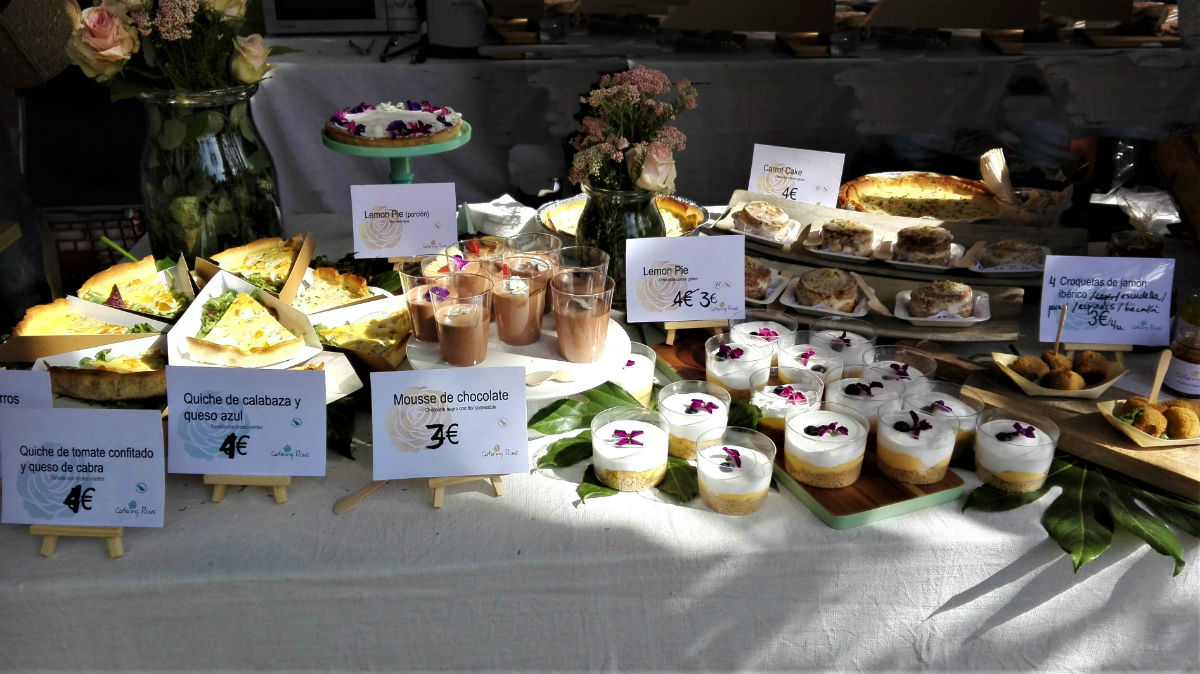 April 21, 2018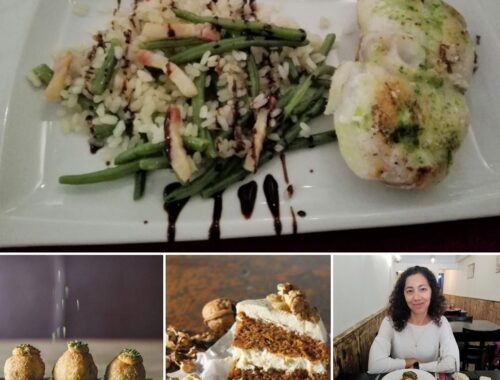 December 10, 2020